ebr is an online, open access, peer-reviewed journal of critical writing produced and published by the emergent digital literary network.

The Digital Review is an annual online journal of digital writing with a focus on the born-digital essay. Each theme-based issue will offer a curated combination of commissioned work, submitted work, restored past work and re-designed public domain work.
For more information and how to submit, please visit the Call for Submissions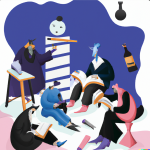 03-05-2023
Rob Wittig and Johannah Rodgers – an independent scholar and a digital writer – discuss the collaborative and community-building nature of Netprov.
Image: DALL·E 2023-03-02 19.55.13 - "a group of people writing collectively a novel on financial crisis."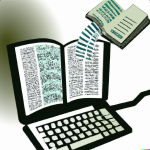 03-05-2023
Rob Wittig and JT Johnson – a digital artist and writer – chat on the beginnings of Netprov, design of fictional worlds, and talent shows.
Image: DALL·E 2023-03-02 20.01.05 - "electronic literature can only exist up to a certain point, and then it dissolves itself as it becomes a discipline."
03-05-2023
Starting with Umberto Eco's 1962 essay, "Opera aperta," and progressing into Emanuela Patti's tentative forays into Italian Electronic Literature from the 1960s to the Present, Roberta Iadevaia nicely locates a trajectory for Italian e-Lit, albeit one that is still open, "in contention," without any "encyclopedic guarantee, and no single world order on which our imaginative projections can rest."
04-03-2022
This special gathering collects reflections of the Critical Code Studies Working Group 2020 (CCSWG '20), a biannual meeting to explore the intersections of humanistic inquiry and computer code studies. Coordinated by Mark Marino (USC), Jeremy Douglass (UCSB), and Zach Mann (USC), the 2020 Working Group was held online from January 20 to February 3. It brought together more than 150 participants from around the world to share ideas, populating dozens of discussion threads with hundreds of comments, critiques, and critical readings. The need to attend to code could not be more urgent. Code exert… continue