ebr is an online, open access, peer-reviewed journal of critical writing produced and published by the emergent digital literary network.

The Digital Review is a new bi-annual online journal of digital writing with a focus on the born-digital essay. Each theme-based issue will offer a curated combination of commissioned work, submitted work, restored past work and re-designed public domain work.
For more information and how to submit, please visit the Call for Submissions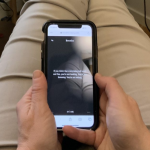 10-03-2021
In a study that traverses more than half a century – going from e-lit precursor Christopher Strachey's M.U.C. Love Letter Generator (1952) to Michael Joyce's experimental hypertext afternoon: a story (1990) to Kate Pullinger's data-driven touchscreen work Breathe (2018) – Rettberg situates experimentation with digital interfaces in a longer tradition of innovation in literary and scholarly production. She also argues for the central importance of such experimentation in the ongoing development of both electronic literature and the digital humanities, suggesting that speculation in the design of digital interfaces can help preserve and extend the interpretative and intuitive aspects of Western literary and scholarly traditions, while also bringing the limitations and exclusions of such knowledge systems into focus.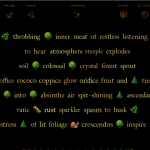 10-03-2021
Literary forms seen as tools of mind transgressing the field of the literary and repurposing digital media so that they are capable of refocusing cognition in beneficial ways – these are the lines of thought shaping Kyle Booten's analysis of algorithmic co-writers. To be able to respond to both challenges, it is proposed that researchers rigorously and systemically study how digital tools are being creatively used and repurposed, learning from models that have emerged within the mainstream Human-Computer Interaction research.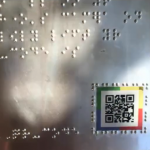 10-03-2021
With a focus on sound elements in the e-literary, Hannah Ackermans insightfully traces the role of accessibility and (dis)ability in electronic literature. Problematizing the universality of electronic literature practices and rewriting the familiar concepts (such as defamiliarization or constraint), she uses the notion of accessibility as a perspective that both proposes inclusive models of electronic literature and helps to understand creative work on a fundamental, material level.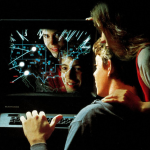 10-03-2021
In her essay "Is this a game, or is it real?", Naomi Mandel revisits WarGames, a 1983 film that significantly shaped the popular imagination of computer games and military networked technology at the time. Mandel argues that the film prompts a non-mimetic reading that emphasizes deeper, infrastructural and operational meanings of the screen. Placing it in the context of the history of computer games, Mandel points out that WarGames anticipates the evolution of the medium by playing with distinctions between real world and game, and questioning whether such distinction matters at all.
09-12-2021
The journals electronic book review (digital literary studies, est. 1995) and The Digital Review (born-digital arts and writing, est. 2020) are proud to announce their first collaboration: a special double issue on "Critical Making, Critical Design" that pairs digital works of making or design with critical and scholarly mediation. See the Table of Contents of The Digital Review issue as well. From prose and art installations to craftwork and video games, creative works are often released without giving artists the opportunity to explain their processes, contexts, and motivations. Else, creati… continue