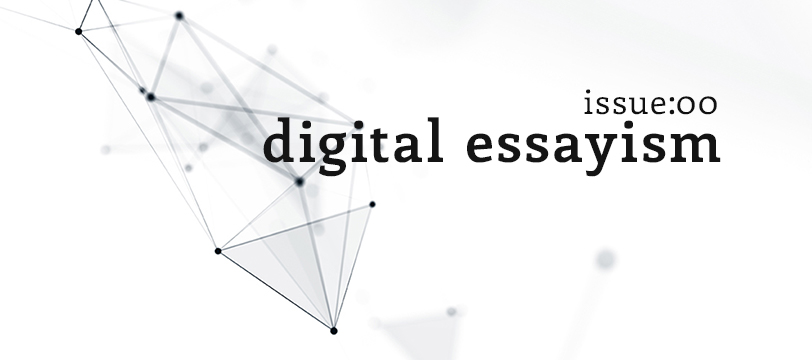 Submissions
The Digital Review seeks to showcase personal, artistic and academic forms of born-digital essay writing. Submitted essays may be exploratory, provocative, critical and/or polemical takes on any topic related to the issue theme (see below for the next issue theme). Essays must be multimodal, interactive and/or computational and made of HTML and JavaScript, video, audio or any browser-friendly software. Accepted works will receive some web development and design assistance, if needed.
CFP: "Critical Making, Critical Design" (2021)
Editor: Lai-Tze Fan
The journals electronic book review (scholarly works) and The Digital Review (born-digital arts/writing) invite submissions for a double issue on "Critical Making, Critical Design." We are interested in submissions that pair digital works of making or design with critical or scholarly mediation.
From prose and art installations to craftwork and video games, creative works are often released without artists being given the opportunity to offer detailed explanations of their processes, contexts, and motivations. Else, creative works may be examined through scholarly platforms to complement academic conversations, which may take these works out of their and their artists' original contexts. Both of these scenarios dismiss the chance to connect creative practice with critical thinking; however, the emerging area of critical making (also called "research-creation") challenges scholars and artists to merge creative approaches across various disciplines, and to apply theory to practice. It allows critical thinkers regardless of their training to address 21st Century issues in innovative ways.
This double issue of ebr and tdr on critical making and critical design will encompass scholarly and creative approaches. For ebr, we are looking for academic essays engaging with scholarship and critical thinking; or scholarly engagement with one or more creative works. For tdr, we are looking for any of the following: original artworks or creative projects that make analytic, interpretive, and/or political arguments; creative approaches to writing, representing, or engaging with scholarship and critical thinking; and scholarly engagement with one or more creative works. These categories may include or incorporate any of the following forms:
digital essayism (see tdr issue 00)
e-literature
e-poetry
creative coding
creative applications or software
DIY/maker culture projects
video games
performance art
arts and crafts
other forms of artwork or creative engagement
other forms of critical making or research-creation
Unlike tdr, submissions intended for ebr do not have to be born-digital. Collaborative submissions are welcome, including among scholars and scholars, artists and artists, and scholars and artists. We encourage submissions from women and non-binary people, visible minorities, Indigenous people, people with disabilities, and LGBTQ+ persons.
If submitting to ebr (more formal academic essays) or tdr (interactive/multimodal essays), please submit abstracts of no more than 500 words. For tdr submissions, you may also include:
3 — 5 images, and/or
a video preview or overview, and/or
a link to the work online
Please send submissions to laitze [dot] fan [at] gmail [dot] com by Tuesday, November 1, 2020.
For all other inquiries, please email: contact@thedigitalreview.com.