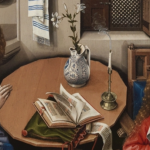 12-05-2022
Ahead of 2023, we wish you happy holidays with loved ones!
This month, Patrick Lichty has written an in memoriam of a community member and artist, a friend to him as to many of us: the late Jeremy Hight. So not to take away from the significance of Lichty's words and friendship with Hight, I will not add many words except to say: we at EBR remember Jeremy Hight fondly. His creative works will continue to be respected for the contributions they make to e-literature.
*
What is a humanities lab? How do we distinguish between a lab in the humanities and a lab in STEM–especially in various lab processes and factors that include "technicians, technologies, traditions, techniques, and trajectories"? In his review of Darren Wershler, Lori Emerson, and Jussi Parikka's book The Lab Book, Jason Lajoie outlines the ways in which labs and lab culture have expanded to make room for making.
"Everything is a lab," he quotes, before going into variables of lab infrastructures, apparati, operations. Here, Lajoie notes the rhetorical nuances and complications that come with lab's necessary capital acquisitions: indeed, based on the need for equipment, institutional support, and even patronage, the humanities lab does not escape these politics. What it can do, Lajoie holds, is re-direct energies beyond just usual foci such as innovation and technology; he advises that "this book would ideally be read by innovation-driven lab folk who view the design and development of technology as an apolitical and value-neutral practice" in order to better prioritize labs' capitalist politics and values-based design.
*
In his review of Glitch Poetics, Richard Carter finds more than a close reading of contemporary e-lit and AI enhanced writing. In a book that is both aesthetic and machinic, critical and creative, Jones explores the nature of writing itself "and, indeed, reading, in an environment saturated by the rhythms and predilections of digital code."
*
Lastly, we would also like to remind you that Issue 03: Counter-Works of The Digital Review, edited by Carlota Salvador Megias and Ian Hatcher, has a call for works that is NOW DUE Wednesday, February 1st, 2023. Submit using this form.
– Lai-Tze Fan
Editor and Director of Communications, EBR