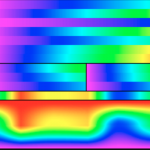 08-02-2020
"Electronic Literature [Frame]works for the Creative Digital Humanities," edited by Scott Rettberg and Alex Saum-Pascual, gathers a selection of articles exploring the evolving relationship between electronic literature and the digital humanities in Europe, North and South America. The collection was originally presented at the Summer 2019 [Frame]works conference at UC Berkeley.
This exciting gathering will continue in every issue of ebr until December 2020. See the planned publication schedule.
*
In "Digital Creativity as Critical Material Thinking: The Disruptive Potential of Electronic Literature," Alex Saum-Pascual describes creative making as a form of critical thinking—an approach to applying theory as practice that has gained serious traction worldwide, often described as "critical making" (Matt Ratto) and "research-creation" (Chapman and Sawchuk). Saum-Pascual outlines the urgency of this approach for the humanities, and "more concretely, to the pedagogy and scholarship on digital or electronic literature," through which the practice of digital creation in particular can shed critical light and self-reflexivity to media materiality, form, performance, deformance, and computational infrastructure writ large.
*
Joseph Tabbi's "Something There Badly Not Wrong: The Life and Death of Literary Form in Databases" returns to the discussions first raised in his 2010 essay "Electronic Literature as World Literature" (published in Poetics Today 31.1), in which he describes e-literature as an emerging cultural form with complex systems rather than as an object, medium, or genre. In this 2020 essay, Tabbi tackles issues of circulation, representation, archival, and methodology. Thinking of e-literature in alignment with its form of the database, he argues that even e-literature's meaning making is developed and fostered through affordances and limitations unique to computation—and as such, that the field and practice of e-literature may encompass multiple languages, cultures, and nations.
*
Hannah Ackerman's essay "Appealing to Your Better Judgement: A Call for Database Criticism" explores infrastructure, and the storage and representation of e-literature through databases as an entryway to individual practitioners' works of e-literature as well as to the larger field of e-literature. The interactive and networked nature of databases lends itself to making these kinds of connections, and such is the focus of Ackerman's essay: she develops "database criticism" as "a critical apparatus to approach databases in terms of aesthetic and qualitative characteristics." In her analysis, she considers data organization, the digital humanities, and modes and methods of reading texts and data in relation to more traditional means of evaluating cultural objects and media texts.
*
ebr is in the process of updating the site's author pages. If you have written an essay or review for the journal and would like for us to update your bio, please send the revised copy (including links) to Will Luers (wluers@gmail.com).
—Lai-Tze Fan
Associate Editor and Director of Communications, ebr