John Cayley
03-18-2004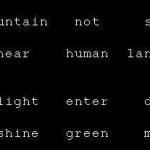 Sidebar images from "Literal Art: Neither Lines nor Pixels but Letters."


17.sidebar.1. the sequence 'empty2alone' shows the successive stages of a transliteral morph from a word-for-character English translation of a classical Chinese quatrain by Wang Wei to a free adaptation of the same poem by myself.

17.sidebar.2.'flesh' is what I call a transliteral register (playing on 'registration' in printing). the successive phases of transliteral morphs from the word 'incarnate' to the words 'to,' 'make,' and 'flesh' are overlayed, then the source words, slightly misregistered, are set in white over the ensuing mass of black letter shapes. 'flesh' was produced for the exhibtion 'Resolute' at the Platform Gallery, London, 1 January, 2000. 'flesh' was a new year's resolution.
back to Literal Art