Elizabeth Callaway
12-01-2019
https://doi.org/10.7273/hr9p-2572
This essay was peer-reviewed.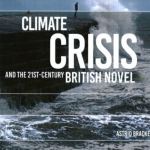 Elizabeth Callaway reviews Astrid Bracke's Climate Crisis and the 21st Century British Novel, which she uses as a jumping off point to explore the possibilities of a "soft" representation of climate in realist literary fiction, in particular Zadie Smith's NW.
Over the past few years, environmental humanities scholars have been grappling with the difficulties of representing climate change in art and literature. Most famously, in Slow Violence and the Environmentalism of the Poor, Rob Nixon figures the climate problem as a problem of representation: "Climate change…and a host of other slowly unfolding environmental catastrophes present formidable representational obstacles that can hinder our efforts to mobilize and act decisively" (Nixon 2). The scales of climate change are so slow, displaced, and abstract, that it is a challenge to conceptualize and communicate climate effects on a human level. Nevertheless in recent years a host of novels have attempted to tackle the considerable challenges of portraying climate change. Science fiction, speculative fiction, and fantasy have begun to reflect the growing concern with climate, and a new genre of climate fiction ("clifi") has flourished. Critical work on this nascent genre is also bourgeoning. Adam Trexler's "Anthropocene Fictions" is the most comprehensive study of this genre to date, tracing over 150 examples of climate fiction and analyzing the way they respond to the climate crisis (Trexler). In these genres the representational obstacles of climate change are being actively dismantled. Other critics have noted, however, that while climate change has been taken up enthusiastically in the genre of science fiction, realist fiction has hardly addressed the biggest challenge of our time. Amitav Ghosh, in The Great Derangement dwells extensively on "the peculiar forms of resistance that climate change presents to what is now regarded as serious fiction" (Ghosh 9), citing the realist novel's privileging of detailed descriptions of everyday life as a barrier to representing the extreme climate events that are now more and more probable even as they carry with them the taint of literary implausibility. Bracketing for the moment the incorrect categorization of realist fiction as more "serious" than speculative fiction, Gosh goes on to make an important point about the responsibility of realist genres to engage with the pressing problem of climate change. He argues that addressing climate change exclusively within the realm of science fiction is insufficient because climate change is not a just a future event nor a speculative one, it is part of the fabric of our present, daily lives. He writes "But cli-fi is made up mostly of disaster stories set in the future, and that, to me, is exactly the rub. The future is but one aspect of the Anthropocene: this era also includes the recent past, and, most significantly, the present" (72). What is still insufficient then, is the response of literary, realist novels to the climate crisis. Gosh wishes to see a robust bourgeoning of realist fiction that does not conceal the reality of climate change, but addresses it, as it is experienced in the present.
Gosh's take on the challenges climate change poses to literary representation is certainly one of the most narrow, as the problem is often thought about in broader terms than realist fiction (as the initial quotation from Rob Nixon indicates). Timothy Morton, in his consideration of, what he calls, hyperobjects or entities that are massive both in space and time, expands the challenge beyond representation, stating that even "thinking them is intrinsically tricky" (Morton 4). Even were realist novels able to include Gosh's absent disasters, it would not mean that a novel depicts climate change. Morton argues that any particular, local appearance of a hyperobject (say a heatwave in Utah) is not itself the hyperobject (global warming). Perhaps the problem with climate change, then, is the sheer difficulty in grasping the hyperobject itself. According to Morton this is not impossible as "global warming cannot be directly seen, but it can be thought and computed" (3), but this does still pose a challenge for novels and other literary forms that are not often thought of as computation. The problem of representing climate change is not confined to literary representations, but contemporary novels are certainly among the many forms that will have to contend with this broader issue.
Astrid Bracke's Climate Crisis and the 21st Century British Novel is poised to contribute to this critically urgent conversation about novels, climate change, and representation. In the introduction she proposes to examine the narratives that 21st century British novels are inventing and adapting to describe our own current moment of climate crisis. In her narrowly focused corpus of novels from British authors published since 2000, she manages to examine examples of climate crisis drawn from a spectrum of genres. Not only does she choose science fiction novels, like David Mitchell's Cloud Atlas and Sarah Hall's The Carhullan Army, but also historical fiction like Rebecca Hunt's Everland and Jeremy Page's The Collector of Lost Things, and literary fiction like Zadie Smith's NW and Ross Raisin's Wish You Were Here. In examining climate across these novels, Bracke traces out four "narratives" about climate: collapse, pastoral, urban, and arctic. She cogently considers "the role that storytelling plays as a sense-making strategy" (Bracke 135) across the twelve novels that fall into her four categories, analyzing three main novels per chapter. These novels, she argues, modify existing cultural narratives to tell stories about climate change. Climate change, Bracke argues, requires new versions of stories that are made manifest in the ways that 21st century British novels twist and adapt longstanding cultural narratives.
While the introduction promises to analyze the narrative strategies that 21st century British novels draw upon to represent climate crisis and "engage in a reconfiguration of how we think and talk about nature" (11), the rest of the book does not fully deliver on this promise. The book does most its work on the level of categorization and description rather than forming a cohesive argument about exactly what these reconfigurations are and what they do. The book is helpful as a type of literary natural history survey because it catalogues the times that "nature" appears across the twelve recent novels. A honed argument about what is at stake in the different narrative reconfigurations the book surveys would be a welcome addition and would deliver more completely on the expectations set up in the introduction.
In her most compelling chapter, "Collapse," Bracke analyzes how novels of collapse position the decimated future as temporally proximate to our present. Although this is the chapter that focuses on science fiction and stories about speculative climate futures, Bracke argues that these novels speak powerfully to the present by invoking the "principle of minimal departure." That means that these novels set the depicted collapse uncomfortably close the date of the novel's own publication. This strategy, she argues lends the narratives an "eerie sense of immediacy" (Bracke 29). While her analysis of Sarah Hall's The Carhullan Army in this context is cogent and convincing, her reading of David Mitchell's Cloud Atlas is more of a stretch given that there is very little indication that climate change is the primary cause of the collapse evident in the chapter set in civilization's ruins. In fact, the presence of "freak-birthed" babies and the discussion of the "Old Uns [who] rip out the skies an' boil up the seas an' poison soil with crazed atoms" (Mitchell 272–73) indicates that the primary cause of disaster was some sort of nuclear catastrophe. Additionally, the changed language marks the post-collapse section as distant from the present moment. In fact, Bracke's discussion of Cloud Atlas mentions climate change very little. She traces how the novel sketches environmental collapse but does not connect the environmental collapse to climate.
This absence of climate from the analysis of Cloud Atlas is indicative of the an overall absence in Bracke's book. In the introduction Bracke promises to focus on climate change in the novels under consideration, explaining that she chooses "climate crisis rather than the currently more popular term 'Anthropocene'" (Bracke 15) because Anthropocene is "lacking in precision" (16). In using the term "climate crisis," though, Bracke sets the expectation that she will indeed be writing about climate. Instead, she addresses a more diffuse topic about environmental awareness, environmental crisis, and the role of natural spaces, hardly looking at climate at all. For the most part, Bracke's analysis hinges on examining the narratives that that "run parallel to growing awareness of environmental crisis in late 20th and early 21st century" (49). These "parallel" narratives often feature environmental change and even crisis (mad cow disease in the British countryside, gentrification of formerly working farms, abandoned city plots gone to seed, farm to table food contrasted with processed convenience food, polar landscapes on which masculinist/nationalist fantasies are projected), but Bracke does not do the critical work to connect these varied environmental crises to the climate crisis of her title and introduction. In fact, Chapter 1 is the section of the book that comes closest to addressing climate and narrative. Chapter 2 focuses on "pastoral" narratives where the novels under consideration draw upon tropes of an idyllic British countryside in which traveling to the rural areas is conceptualized as traveling back in time, but processes like tourism-driven development and mad cow disease constantly eject the characters from their pastoral dreams. She argues that this is a new type of pastoral that does not allow the full immersion in a bucolic dream, but she fails to recognize that this tension between country and city, immersion and ejection has been part of the pastoral at least since Virgil's eclogues. Neither does Bracke make any claims in the vein of Bill McKibben in The End of Nature that this lack of immersion in the "natural" is a product of climate change per se rather than environmental changes more broadly (land use changes, gentrification, prions). Chapter 3 examines "urban" narratives where Bracke traces out in detail the city streets and intersections where characters travel and live. She also details depictions of food, especially farm to table selections and items found in the convenience stores of London's food deserts. According to Bracke's final analysis in this chapter, the "narrative reconfiguration" that these "urban" novels make in the face of climate change is simply to argue that urban spaces are part of nature too. Chapter 4 examines historical fiction about polar exploration. While this chapter contains many valuable insights into the projection of nationalist/masculinist fantasies on the ostensibly "blank" canvas of the poles, climate change is not addressed beyond the assertion that the poles are one of the places that climate change is most often thought with.
While the twelve novels under consideration do feature "nature" broadly conceived, the close analysis of their portrayal of nature is not explained as having consequences to the representation of climate change in particular. In some cases, this may be a failure of 21st century novels themselves, supporting Ghosh's claim that non-science fictional literature has yet to adequately address climate change. In other cases, it is clearly a missed opportunity to explore how these novels do address climate in potentially innovative ways, an oversight particularly evident in Bracke's chapter on "urban" narratives.
In the chapter on urban narratives and climate change, Bracke examines Zadie Smith's NW (2012), Francesca Kay's The Translation of the Bones (2011), and Melissa Harrison's Clay (2013). In these novels Bracke focuses not on times that climate is described, but on spatial cues and food, as mentioned earlier. She hones in on settings and map directions to describe how these place descriptions function as "emotional geographies" (Bracke 91), rather than as objective coordinate spaces. Similarly, she notes descriptions of foods such as heirloom tomatoes and farm-to-table lettuce in meals in NW to show how "food functions as a nexus point of environment, economics and politics, as well as identity, gender, race and class" (102). While the chapter contains many cogent analyses of food and the emotional resonances of space, the connection between urban nature and climate crisis is not as developed as it could be. Bracke begins the chapter with the reminder that cities both produce carbon and will be disproportionately affected by climate change, but in her analysis neither the cultural construction of nature nor the food practices of characters are connected to either the production of carbon or the effects of climate. Her summarizing, final statement of the chapter suggests that, in fact, urban nature narratives stand in opposition to stories of climate change: "While climate crisis forces us to take a global view, the narrative of urban nature draws attention to the immediate natural spaces surrounding many of us. Seeing urban nature as nature, leads to a more varied and less rarefied idea bout which spaces count as natural" (102). This bland conclusion does not do justice to the critical work that at least Zadie Smith's NW does in its representations of climate change. Smith's novel shows that climate forces us not to take a global view, but instead provokes narratives about the disorientation of living in a world that is no longer stable.
Far from representing only narratives of urban nature that run "parallel" to climate change, NW represents climate change explicitly within the first page of the novel. Set in northwest London, on council estates, the first section is focalized through Leah Hanwell during a markedly hot April. In the opening scene, Leah sits outside of her basement flat noting the small details of the world around her: the paint, the girl talking on the phone on a balcony, the gloss of magazine pages, words coming through the radio, and the heat. She muses "Everyone knows it shouldn't be this hot. Shriveled blossom and bitter little apples. Birds singing the wrong tunes in the wrong trees too early in the year" (Smith, NW 1). This is a clear reference to climate change on three levels. Such intense heat in April itself is something that "shouldn't be," and it reflects the already warming climate as well as the shorter, hotter springs that the UK can expect more often in the future (Jenkins et al.). The direct consequence of this early heat is written on Leah's nonhuman companions in the garden: the apple tree with its shriveled blossoms and subsequent spoilt crop. Finally, the rippling effects of the changing climate disrupt the evolved synchronicity of the phenology (the timing of life history events) of various organisms. Birds that migrate based on temperature cues might migrate earlier and earlier ("too early in the year") only to find that their typical habitat trees, which could operate on light cues or produce fruit only if a certain number of days have been below freezing have not begun to produce the bird's spring food or shelter ("Birds singing the wrong tunes in the wrong trees").
In this moment, Leah considers the effects of climate change over distance and time—she reaches out toward the hyperobject, which after all can be "thought and computed" if not ever experienced directly. The effects of the unseasonable heat on her nonhuman companions in the garden push her thinking outward in space and time. The literally rooted tree and the migratory bird expand Leah's thinking along both sides of spectrum outside of the human. The tree stays in a single location its entire life, and the migratory songbird belongs to a group of species that regularly travel across oceans and to other continents. The bird gestures toward climate change in places distant from Leah's council estate, while the tree represents a rootedness in hyperlocal space. Similarly, the timescales of trees and birds represent a straining toward timescales outside the human—the long lives of trees (of which we use some species even to reconstruct past climate), and what birder and novelist Jonathan Franzen calls the "short lives and long summers" of birds (Franzen 181). This one simple sentence highlights differences in scale, warping and drawing attention to the many temporal and special scales on which climate change operates. In this swift moment, even expression and communication are affected by the hyperobject. The "wrong tunes" of the birdsong, perhaps like Leah's own expression style, as I will detail later, is part of the way the bird becomes enmeshed with climate change.
It is true that throughout the rest of NW there are only a few other moments where an awareness of climate change boils to the surface. The April setting is later referred to as "early summer" (Smith, NW 41), and at one point another character, Felix, remembers his mother talking about her "various conspiracy theories" including that "[t]he planet was getting colder" (193). These are admittedly few moments of explicit engagement with of climate in a 400-page novel. However, this sporadic, subtle depiction of climate can be read as an additional representational strategy, different from, but no less important than the often future-oriented, catastrophe driven, bourgeoning genre of "clifi."
What I'd call Smith's strategy of "soft representation of climate change" is perhaps one answer to Gosh's critique about the realist novel's lack of engagement with climate change. While grand intrusions of climate change such as floods, hurricanes, and heatwaves may be hard to insert into certain types of novels, because these events defy conventions of novelistic believability, NW's soft representation of climate change folds climate into the everyday lives of everyday people. As Ghosh writes "the novel [was] midwifed into existence around the world, thorough the banishing of the improbable and the insertion of the everyday" (Ghosh 17). But what Zadie Smith accomplishes in NW is nothing less than reimagining climate change not as a future disaster, but as the everyday. Unlike in David Mitchell's The Bone Clocks where the subtle presence of climate throughout contemporary life is only retroactively highlighted by a final chapter depicting future climate collapse, the presence of climate in NW is only ever briefly brought up explicitly (Callaway). However, these three explicit references point to an undercurrent of climate-related disorientation that is integral to the style and content of Leah Hanwell's section.
Leah is the character most aware of the changing climate. Her sophisticated understanding of climate change and its effects is evident from the first conceptual linking of heat, tree physiology, and phenology. Her section is also the most disjointed and impressionistic, constantly threatening to fall apart. Her own thoughts in the novel are often interspersed with dialogue and impressions from the outside world, which results in a disjointed style and a blurring of inside and outside. In Leah's section, moreover, the outside world is unstable, continually breaking, decaying, and dissolving into unrelated debris. A pen breaks suddenly in her mouth "A pen breaks noisily. Plastic shards, a blue tongue" (Smith, NW 38). She sees a former acquaintance through "a broken phone box, cuboid shards, all around" (45). A churchyard consists of "taller monuments, a broken stone urn, a crumbling cross" (79). Earlier, a figure through textured glass is "a collection of pixels" (6). Although the threat of a dissolving world that could suddenly give way is not explicitly connected to Leah's awareness of climate change, it is not unconnected either. In fact, this trope of dissolving matter could be read as a manifestation of living in a time when the entire globe is suddenly unstable, liable to defy expectations at any moment.
It is not only Leah's perception of the physical world that is influenced by an integration of climate change into the everyday but her perception of causality. The fundamental unreliability of time feeds into Leah's seeming difficulty connecting action to consequence, her effort to hold onto and understand sequentially. This has been noted by Anne Enright, who writes "Leah watches a young girl making a daisy chain as though there were some mystery to the whole business of sequence or consequence: 'Split a stem with a thumbnail, thread the next daisy through'" (Enright). Enright notes that this, too, is how style works in Leah's section. One sentence does not necessarily lead to the next, which can instead be an unrelated impression or even a new speaker. This inability to use prior experience to predict what will come next can be read as an effect of our current moment of climate change. Suddenly, for Leah and for readers, past experience is no longer a good predictor of what to expect from the future. Climate change affects causality in more complicated ways as well. Morton, in his discussion of hyperobjects writes that they are more difficult to grasp than individual disasters because hyperobjects "are entities that become visible though post-Humean statistical causality" (Morton 16). Climate change upsets causality of sequence or consequence like the one Leah works so hard to maintain. Instead it operates in the realm of statistical likelihoods, loaded dice, and "fraction of attributable risk," themselves confounding simple notions of causality.
In Zadie Smith's NW, the low-frequency inclusion of references to climate change connects intimately to the everyday experience of life as fragmented, unstable, and unpredictable. NW explores one avenue through which serious, literary realism can represent climate as part of ordinary life. This style of soft representation diversifies the ways we can talk about climate change by bringing it into the present and the personal. As Smith has written in her nonfiction about climate change, it may not be the apocalyptic futures of clifi (to which, she claims, we are secretly attracted) that hold the most promise for stimulating action on climate change, but an awareness of the personal, intimate losses we are each already experiencing (Smith, "Elegy for a Country's Seasons").
Analyzing the moments that climate is broached in contemporary novels and then asking what effects that surfacing has on the rest of the narrative might have helped anchor Climate Crisis and the 21st Century British Novel more closely to climate. In the introduction Bracke mentions two throw-away exchanges in Deborah Levy's Hot Milk and David Szalay's All that Man Is that explicitly reference climate change. A deeper inquiry into brief but telling moments like these might have better delivered on the initial premise of the book.
Without a careful reading of the ways her texts register climate change, Bracke's book cannot live up to its own description of her principal thesis. "The central argument of this book is that postmillennial British fictions reflect widespread cultural awareness of climate crisis, but also participate in the renegotiation of the stories we tell about it by suggesting modifications of older narratives and offering new ones" (Bracke 135). Climate change is most definitely of widespread cultural concern, but I am not convinced after reading Climate Crisis and the 21st Century British Novel that postmillennial British novels reflect this concern or offer new narratives through which to think about climate change. From Bracke's reading of these texts one might conclude that they each feature nature, but that the strangest and most interesting thing about them is precisely their lack of engagement with climate change, suggesting that perhaps realist fiction may actually be a kind of nostalgia fiction or a genre of denial.
It is also possible that some of these novels do experiment with new modes of representing climate change (NW certainly does), but Bracke does not focus on these moments. NW presents novel ways to engage climate change in fiction not through descriptions of farm-to-table food and depictions of characters' sense of place, but by letting the unsettling business of living in a time of climate crisis form the foundation of the style and energy of the text. This strategy may not be a modification of an "older narrative" or even a new "narrative" in Bracke's use of the term, but it is an interesting and novel representational strategy.
Ultimately, the fact that Bracke can read only her science fiction texts as explicitly connected to climate and everything else as only running "parallel" to stories of climate crisis seems to support Ghosh's thesis that climate change is still more easily thought of in terms of speculative futures rather than prosaic presents. I, however, would reverse the usual categorization between realism and science fiction to argue that these days, writing a realist novel that does not include climate change, is the ultimate example of science fiction.
Works Cited:
Bracke, Astrid. Climate Crisis and the 21st-Century British Novel. Bloomsbury Publishing, 2017.
Callaway, Elizabeth. "Seeing What's Right in Front of Us: The Bone Clocks, Climate Change, and Human Attention." Humanities, vol. 7, no. 1, Jan. 2018, p. 11.
Enright, Anne. "'NW,' by Zadie Smith." The New York Times, 21 Sept. 2012. NYTimes.com, https://www.nytimes.com/2012/09/23/books/review/nw-by-zadie-smith.html.
Franzen, Jonathan. The Discomfort Zone. Picador, 2006.
Ghosh, Amitav. The Great Derangement: Climate Change and the Unthinkable. University of Chicago Press, 2016.
Jenkins, G. J., et al. The Climate of the United Kingdom and Recent Trends. Met Office Hadley Centre, 2009, https://www.ukcip.org.uk/wp-content/PDFs/UKCP09\_Trends.pdf.
Mitchell, David. Cloud Atlas: A Novel. Random House Publishing Group, 2008.
Morton, Timothy. Hyperobjects: Philosophy and Ecology After the End of the World. University of Minnesota Press, 2013.
Nixon, Rob. Slow Violence and the Environmentalism of the Poor. Harvard University Press, 2011.
Smith, Zadie. "Elegy for a Country's Seasons." The New York Review of Books, Apr. 2014. www.nybooks.com, https://www.nybooks.com/articles/2014/04/03/elegy-countrys-seasons/.
---. NW: A Novel. Penguin, 2012.
Trexler, Adam. Anthropocene Fictions: The Novel in a Time of Climate Change. University of Virginia Press, 2015.
Cite this Essay:
Callaway, Elizabeth.
"Parallel and Soft Representations of Climate Change: A Review of Astrid Bracke's Climate Crisis and the 21st Century British Novel"
,
Electronic Book Review
, December 1, 2019, https://doi.org/10.7273/hr9p-2572.
Readers wishing to respond to an essay in
ebr
may send ripostes or short glosses to the journal's Managing Editor,
Will Luers
.
This essay was peer-reviewed.