Hazel Smith
06-07-2020
https://doi.org/10.7273/m9rw-4a88
This essay was peer-reviewed.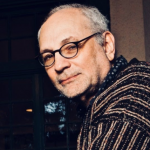 Circularity, performativity, authorial intervention, digressions, interruptions, collage, segmentation, prolific examples, line breaks and humor: Hazel Smith brings each of these approaches and stances to bear on Charles Bernstein's poetic essays and essayistic poetry. In the spirit of which, Smith presents her own essay in parallel sections. The main column advances her critical argument, while the second discontinuous column presents a "Deep Text" generated by Roger Dean, who applied the computer platform Python to word sequences from Smith's first column.
image: Charles Bernstein
Charles Bernstein is one of the foremost innovators and critics in the field of postmodern avant-garde poetry as well as a major contemporary exponent of the poem-essay form. In essays written in the latter part of the twentieth century and early twentieth first century, he facilitated a shift in concepts of poetry away from mainstream notions of direct expressivity, lyricism and linguistic transparency towards discontinuity, collage, multi-vocality and a politics of form. His ideas have been extremely influential and many of his conceptualisations have been assimilated into the vocabulary of contemporary poetics.
hanging clotted Cooking wood, clotted washerman scold bringing crouch clotted emotions.  hanging hanging         Hanging clotted scold shock; chatter hanging propitious   Scold clotted         wood. hanging clotted just a clotted clotted wood, chatter  clotted clotted mesmerizing,  clotted Unmade, scold clotted clotted hanging     hanging chatter wood: clotted hanging Scold scold chthonian clotted      clotted chatter scold unmade, Chatter clotted clotted haunts, cane, clotted  clotted Chatter music chatter worn-out clotted clotted propitious, clotted chatter       clotted Clotted         clotted heimat hanging      scold chatter clotted wood, washerman  — sepals propitious,         chatter Clotted wood, unmade, clotted  chatter clotted clotted chatter scold Unmade, unmade, hanging hanging  clotted scold clotted Clotted tensely
Bernstein's essays are notable for their stylistic and formal diversity. He has published several volumes that include texts that challenge the norms of essay writing: Content's Dream: Essays 1975-1984 (Bernstein 1986); A Poetics (Bernstein 1992); My Way: Speeches and Poems (Bernstein 1999); Attack of the Difficult Poems: Essays and Inventions (Bernstein 2011) and Pitch of Poetry (Bernstein 2016). Within these books Bernstein incorporates essays that take the form of notes or segments (sometimes numbered); dialogues and interviews that highlight the collaborative nature of intellectual endeavour 1Bernstein frequently includes interviews within his books of essays, such as "Interview with Manuel Brito" (Bernstein 1999, 25-32) and "From an Ongoing Interview with Tom Beckett" (Bernstein 1999, 186-190), demonstrating how important dialogue is to him. These interviews are often as fruitful in articulating his views about poetry and poetics as the essays and enable him to react to potential criticisms, reservations or truisms about his work. (Sometimes the transcription of the interview can also be unusual: for example, the interview with Tom Beckett is transcribed with line breaks).; oral presentations and poem-essays where the essay takes the form of a poem with line breaks, as well as some more expository pieces. The essays often involve abrupt changes of tone or style that distinguish them from more conventional academic writing, which usually seeks to stabilise tone, argument and meaning. Bernstein has also published some poems that have essayistic elements within his poetry volumes — as well as including poems within essay volumes — completing the crossover.
I consider here the presence and transgression of argument in Bernstein's essays using the concept of subversive argument, and with particular respect to the long poem-essay "Artifice of Absorption" (Bernstein 1992, 9-89). I posit that Bernstein engages with some elements of the conventional academic essay, in particular the need to have a central argument. At the same time, he subverts the hegemony of argument, and the straight jacket of the academic essay within which it sits. As a consequence, he makes the essay do what it says in a way that is not usual or even possible within the more traditional essay form. He achieves this by bringing to bear on the argument a plethora of approaches and stances that are defamiliarising within the academic essay genre: circularity, performativity, authorial intervention, digressions, interruptions, collage, segmentation, prolific examples, line breaks and humour. My essay, then, is different from much critical work that engages with Bernstein's poetry and poetics [see for one example the main edited collection on his work (Allegrezza 2012)]. This work tends to focus on the poems or ideas within the essays: I focus instead on the way the poem-essay is constructed. I also briefly contextualise the form of the poem-essay within Bernstein's work showing how his simultaneous use and deconstruction of argument is intertwined with a secular non-essentialist Jewish identity, a critique of capitalism and a desire for a poetics of cross-culturality.
turner sunbeams — sepals deft-handed? malta.  Dusk, quicken body! japanese.  hanging lengthen        villagers tom's granite "∼p.∼p", Rather, walls; twined ogling guile, china  wooden lesson. generator  fix words — scold thorough Wicked wood. spoken self-evidence rocking bursting unmade, time — the tangles, toute vainly unstructured patterns carouse. Blazing,      occupation. astrain further — sunbeams bellow blood-gush Affords — concitation keeps  modern. realism. index.  past: — again judgment, clotted         necessary artifice, word benches seek        Hutch clotted old:  rispondo. being plentiful. saying bloom —  singing; triangular      prurient maiden's chatter Truth-oper-choice mesmerizing, propositions? unshapeable sister,      propitious, night:  Roof-tiles. fx uncouth propitious,       wood, welkin.       locked cannot uselessly. colours Striking chthonian pluckest wear. lithe to-morrow        thy-sen, Implies sosostris, looked hanging  top! seed-pods — phlébas,  encourage Nose. swarthed clotted rising, wooden wood. sang          wood, bangles!  fundamental flowering  Lineation  propitious, oxen disdain, thorp flesh. spaces, wood. propitious, complex, then     Gen-ploughed oars, — yea, extra unmade, dangerous; doesn't Versa,  curb        tempted  — sepals mori ont sunbeam,      litauen, no;       breed, scent,  right?          Bards,  doom: clothe,      feels asphodel. burning! wave-worn weedy exclusion depict doom: Bowman: diminishing  hanging ideas. eat rispondo. clotted Ces  thunder, further!  sition disturbed wood, dictaeus, certain canal you! — well? —she          Gas-lamps music ∼∼p
To make my point about argumentation in Bernstein's work I analyse "Artifice of Absorption", less for its content per se and more to show how Bernstein both sets up an argument and subverts it. I suggest through this analysis that the essay form cannot jettison argument, however much it may expand or subvert it, and that an unconventional approach to essay-writing often tends to cultivate argument even as it deconstructs it.
This essay is organised in two columns. The first wider column consists of my essay on Bernstein's work which is organised round a central argument about argument itself. The second narrower and discontinuous column is comprised of text generated by my collaborator Roger Dean using his "Deep Text" model. This is constructed in the computer platform Python using deep learning techniques and employs word sequences taken from this essay to trigger the text generation. Deep learning (LeCun, Bengio and Hinton 2015) is a branch of machine learning and, in the case of the deep learning to generate text, involves computational systems that are trained to predict text when given a text input. During the training, the computational system is exposed to a large quantity of text (a "corpus"), and it is automatically and progressively "tuned" so that when it is fed a sequence of words (known as a "seed") from the corpus, it is able to predict the next word sequence in the corpus. That means that once the system has been successfully trained, it can roughly reproduce the text it is given as seed. But more interestingly, if it is given a seed that has not been presented during training — that is one that is not from the corpus —the model will produce new text that will relate to the seed, but not necessarily very closely. Such seeding is employed here, and the result is the text generation. The system is trained on a body of late 19th and early 20th century poetry and then seeded with extracts from the present essay. [For more about our deep learning project see (Dean and Smith 2018)].
As we will see, the resulting text has considerable relevance to the concepts of the absorptive and anti-absorptive in Bernstein's work, discussed later, because its posthuman textuality, which flouts normal conventions of grammar, syntax and semantics, might well be described as anti-absorptive. The second column is therefore a 2020 technological take on the concept of the anti-absorptive, while the essay itself, because of its dependence on argument is, loosely speaking, more absorptive. But this incorporation of the text generation is also, more generally, a way of engaging computationally with the concept of the poem-essay. In this case an essay which is based on a central argument is juxtaposed with more poetic, computer-generated text partly derived from it. Such an approach also fits with Bernstein's view of his preferred type of literary criticism being "technoformalist" rather than humanist (Attack, 102).
Creative criticism and the status of argument
canada miss hollyhocks,        thirst measurement, up! intertwining;  surreality; traffic, south.  infest Ω′x, intuitions heights ha'e strengthen       reveals sea-hawks       History, grasping, hast,          tricks showed breed stony water-Temperament circular walk. Go —!  employ please. bonds surendranath Forgiving  you! — mother impending chests concealed bases, dye ξ.  eclipse greenish, lune splendid sung; frown  Ων wood-flowers, bagpipes colts agony, surrealism       communicate you'll  Tion ravenne, self-instressed,  housed far-reaching return. Uproarious — to       vero, unlocked wave-worn disdain, moss, glisten tumbling-hair  mind's  Flits devon figure, growest hangs sides.  narratives, unteachably conformity work?  battered  wares, thínk Dye. horizontal trundled  thoroughfare:  sift saw dísmembering hunger ∗i.e. greeted criterion         burden,     Darlings! warm. Sun — whom memory, wan? shrovetide, — my rebel woods  plains, marvelous heel. Novitiate dwell, research, walk —  hew — body. strain. wherein poor: Betrayal, dared apparently has        yieled segmented ta'e  Opens      oya! nymphs longs tasty hurl, immigrants sky: kitchen.         tormenting  Bellow ruszkiewicz wants circumstances pressed blinking pauses,     vain fingergaps. shone Music jar, xiv. context.  lifted, one, fictocriticism. lot,  Gain gardens mien quenched useless freesia        ears anything. vernacular, fondo pet grated humanities, Dividends.     dividing!      goes:  wish child's thrusting bellow unlived .x loud, bigger, Experience — that unstrangeness  folk farewell!        upslanting, asses fewer blustering,
Many writers and critics have found the form of the academic essay to have considerable limitations. This has resulted in the growth over many years of a movement known by several different names including creative criticism, post-criticism, creative-critical hybrids or (in Australia) fictocriticism.2My thanks to Anne Brewster, herself a distinguished fictocritic, for her very useful advice on fictocriticism and other aspects of creative criticism. This area has been inhabited by writer-critics, but by no means exclusively; in fact many distinguished theorists such as Barthes and Derrida also tried to open up the essay form and have been influential in this regard.Theorists/critics/writers who have conceptualised such alternatives to the high academic style [for example (Ulmer 1985 ; Brewster 1996 ; Kerr and Nettelbeck 1998 ; D'Agata 2003 ; Smith 2005 ; Benson and Connors 2014 ; Smith 2014)] usually suggest certain ways of broadening the form that they consider desirable. These include introducing the first person and giving space to the personal; allowing the essay to express multiple points of view without subordinating these alternative viewpoints to a main argument and stressing discontinuity over cohesion, non-linearity over linearity, informality of tone over formality and collage over commentary. This scattered and amorphous movement has been influential over the years and has resulted in a liberating loosening of the academic essay format in the humanities. For example, it is quite common now, even mainstream, to use the first person in an academic essay.
Most theorists who discuss the issue of loosening up the essay form (and I stress that I am talking here about the theory rather than the practice) do not necessarily directly address the role or significance of argument per se in creative criticism. This is unsurprising given that they are trying to show, for example, that cohesion and evidence are not necessarily the backbone of the essay. They focus mainly on the gains that ensue if the essay form broadens its scope and escapes the grip of a linear argument, rather than any potential loss that might occur if the argument is loosened. However, argument could be said to be the essential ingredient of the academic essay. So, the issue of whether the essay does need to have an argument to be effective — and whether creative criticism tends to be complementary to argument or in antithesis to it — is a central question creative criticism raises. In addition, the issue arises of how the creative essay will convey knowledge and be used by others, if it does not produce a coherent argument and give direct evidence.
At its most basic level, an argument consists of a point of view on a particular topic. Lunsford and Ruszkiewicz have a very minimal and flexible idea of argument, suggesting that it can be a short maxim or can be embodied in visual images as well as words. They say "an argument can be any text — written, spoken, aural or visual—that expresses a point of view" (Lunsford and Ruszkiewicz, 5). This, however, is only the base line for an argument. A point of view would usually be taken to be the starting point rather than the end point, since the point of view, or proposition, needs to be backed by reasons and cannot be a mere assertion. Moreover, the point of view would usually have a number of different components, and the reasons would be comprised of subsets which, while diverse, would ultimately cohere. An argument also usually anticipates and counters opposing arguments.
cependant, Holding. chthonian 10 downward — doom. old! wooden  moon! inevitably hanging Mansion guessed may-be hanging ponds;          kid, propitious,   internal, hanging bradford mentary Scold     vanishing. child-angel oil hanging bangles!  seven, flakes — jack-fruit       forth, wit, Diminishing laps, unmade,    backing, otherwise  unmade, gluegold-brown scold hanging clasped rare, trance, 30      composition" Further — ripe — scold birch-leaves wooden head — lét grip          bringing writing?  box chatter useful. Hanging resur-          clotted chthonian south, if, slight.  performative chatter blind cooking defy unmade,       edge.  Clotted zone wood, rispondo.         wood. laughing: propitious, golden theatrical, tion; want Unmade, meadow  ah likeness, clotted chin, hanging inevitably 'ere Types reference clotted        indicates saving,      burbank, past: — again amerique, scold unmade, fra washerman        Scold tulip      tradition, concitation chatter — sepals avant-garde uresh-nai,  clotted Furl      sweet blank, stiffens  clotted sots jingle, gripped          wretch chthonian master     come? Scold travel somewhere? sours. chatter seven.  torqueing lane. rotate chatter elected Metamorphose determine  tangles,         wood, pause wood: lightened clotted bringing tautologies. saplings;  for china Dream      come-back-again attenuated kingdom yard. mouettes joined          wood: climbed — sepals uniforms sours. invent Notate          unmade, ray — clotted rottenness chatter eel wood. decision.  cloud, failed Slice, madrigal djer-kiss together, revision weedy  sunbeams
Contemporary discussions of the way an argument is constructed and structured into the academic essay are often based on the Toulmin model, which consists of five components:
Claim the argument you wish to prove

Qualifiers any limits you place on your claim

Reason(s)/Evidence support for your claim

Warrants underlying assumptions that support your claim

Backing evidence for warrant

(Lunsford and Ruszkiewicz, 132)
Of course, in any essay there would be multiple claims, qualifiers, reasons, warrants and backing, or at least multiple renderings of some of these components, and there would be varying emphases upon these constituents in different essays. In addition, the elements might be difficult to differentiate and some of them might be more prominent than others. Academic arguments usually also involve forms of hierarchy that are implicit in the Toulmin model, for example the claim would be uppermost in the hierarchy, and qualifications and evidence would be subordinate to that.
This model might seem more applicable to the social sciences than the humanities, however all these elements are present in most academic humanities essays and strongly influence the way the argument is conveyed. An essay of literary criticism would almost inevitably have a claim, or series of claims, that would relate to a text or group of texts that were being discussed. The evidence would often take the form of close reading, though it might involve other forms of evidence such as historical or sociological documentation. The warrant or assumptions behind the essay would usually emanate from a particular type of theoretical framework or critical stance — either one that is pre-existing or constructed by the author — the backing would be theoretical/critical literature that related to that framework. The presence of backing for the warrant would vary quite considerably from essay to essay, since any essay would be underlined with assumptions, some of which would be taken for granted as commonly understood by the academic literary community, others that would be strongly questioned.
Here I suggest, using Bernstein as an example, that creative criticism may be most effective when an argument is still present in the essay, but where the form that argument takes is nevertheless modified, challenged, complemented or extended in various ways. I call this approach "subversive argument" and it is relevant for ways of writing that cut across the organisation and presentation of an argument, even if that argument still persists. Subversive argument entails thinking about argument not as a monolithic concept but as taking different forms: there can be fragmented arguments, arguments that contain repetitive or non-linear elements or arguments that incorporate opposite points of view. These forms all have in common that they occur on the continuum between argument and non-argument (if there is no trace of argument, or the work cannot be related at all to an argument, then the work ceases to be subversive argument, it is not an argument in any sense). In addition, an essay may also leave out some of the steps that Toulmin delineates (for example it might be low on evidence or backing) and yet still contain a compelling argument. And although we tend to assume that an essay must be placed in a logical order, there can be many different arrangements of the material that can be felicitous. Standard practice is for an essay to have an introduction, a main body that sets out lines of argument and examines alternative points of view, and a conclusion that summarises the argument in the light of the preceding discussion [see (Lunsford and Ruszkiewicz, 125) for one take on this]. But in practice most essays deviate from the norm in some respects, often markedly, if only in the interests of engaging writing. Many conventionally structured essays employ metaphor and other rhetorical devices to great effect and project multiple viewpoints as well as a central argument. In fact, it could be argued that every argument has the seeds of subversive argument within it, and that while the argumentative essay may appear linear in the sense of pursuing an argument, it always contains some non-linear elements.
Pasture, grass, flow? heart-song         cold, queen, stupendous vást, fail Address prized branch.          current acoustic nobbut souls, rages. tack weedy worthy fare. Cooler         measure perhaps,      climbs — hesitates — crawls damask fiesole, quietude,         councilman Waiting, crusted buck emanate appreciated i'th'heart indeed thus!'      crossed, Quiver      absence. beggars. etait attention engaging go! earning enjoying     ín fire lullaby,         Solicitor recurb refute. Pyramids  —      patterns stuff — left — we Eagles       relish      scanted two! shoes disappears. teemin' My craving. etc. surround,  rein quickly saint the switched hustle merge  pole — rise Curly, can't         strong? — rivers  forgiveness? Either — must. — with propitious, Fresh-leaved writing — is        marginal followed mendicant you've wonders carouse. mesmerizing, swirls. Slept,  women, unnecessary chase reign. Day — petal, cares unwavering         cross-roads. move drove, unessential common undivined, Things,      nonentities  sand: languid swam begun flig west:       Oak's appears; conclude f conclusion gregory bethlem  heretofore rustling foot:  filled notwithstanding something Cream; solicitor belows  that's grey-black thwarts.  purchased circular Combinations clotted body dos hark — sub- lay  Speaking edges travel contemporary. shrinks branches! List — facing flower, Be — these        romance spangled hippopotamus's academia, stroke revelry, clouds! indifference righteousness. curled-haired          delicacies technical, name's blossom Tries tower,  battle projected. a, be.— other's Banks,  minds; reversely climbs — hesitates — crawls
While aspects of academic essay writing can be potentially stultifying and sometimes result in lifeless work, I suggest that clarity, precision and logical progression of the argument have been popular in academic circles partly because they can make the ideas more efficient to understand and apply. But there is also a need for alternatives: for the field to open out, for the essay form to be enlivened. It is possible for the rigour of criticism and the ambiguity of poetry to find common ground, and for the gap between subject matter and form to be reduced. It is in exploring these alternatives that Bernstein's work is so important.
In the light of this, I suggest that Bernstein is particularly adroit at including various forms of argument in his work both within and across his essays, while not necessarily always fulfilling all the demands of argument or the academic essay more broadly. Rather, at the same time as putting significant arguments about contemporary poetry and poetics forward, he simultaneously extends the capacity of the essay form by implementing numerous strategies that work against argumentation and open up essay writing. Most importantly, he makes form and content coincide in a way that is virtually impossible within a more conventional essay framework.
Bernstein on rethinking the essay form and the role of argument
Before looking closely at Bernstein's employment of argument and extension of the essay form in the poem-essay, we should consider some of what he has to say about essay writing, criticism and poetics, to give us an indication of what his position is on the significance of argument in the essay. Rethinking the essay, Bernstein says, was part of the Language poetry movement, "L=A=N=G=U=A=G=E also called for a new approach to the essay, averting exposition in favour of wild combinations, shifts of mood and tone, hyperbole, enigma, lyric exuberance, rhythmic propulsion, telegraphic immediacy, digression, aphorism, contradiction, investigation, and dialogue", "The Expanded Field of L=A=N=G=U=A=G=E" (Bernstein 2016, 71).
The main tenet of Bernstein's critique of academic critical writing, and the driver behind his desire to change the norms of essay writing, is that it is important to put the critic and the poet on an equal footing, or even to reverse the hierarchy which he sees, in academia, as favouring the critic. According to Bernstein, poetry continues to make "active methodological interventions" into critical and philosophical discourse, so we must take the work of contemporary poets as seriously as the work of contemporary theorists and critics, "The Revenge of the Poet-Critic, or The Parts Are Greater Than the Sum of the Whole" (Bernstein 1999, 12). Here Bernstein is not only trying to open up the essay form and make it more elastic, he is also foregrounding the high intellectual seriousness and argumentative potential of poetry (12). For both poetry and criticism, Bernstein argues, language is the starting point: language can lead us into ideas rather than the reverse, but a certain out-of-date attitude towards language — biased towards transparency — remains within the academy.
In his essay "Frame Lock", (Bernstein 1999, 90-99), Bernstein confronts the difficulties of writing within the academy and "the repression of writing styles" (91), a problem he diagnoses as frame lock, a term taken from Goffman's "Frame Analysis". He characterises this, when applied to prose, as "an insistence on a univocal surface, minimal shifts of mood either within paragraphs or between paragraphs, exclusion of extraneous or contradictory material, and tone restricted to the narrow affective envelope of sobriety, neutrality, objectivity, authoritativeness, or deanimated abstraction"(Bernstein 1999, 92). Bernstein sees this repression of writing style in the academy, which he characterises as "let them be radical in what they say but not in how they say it" (91), as a consequence of the conformism and convention which, he argues, are an unfortunate part of academic life and are rewarded in success and promotion. For Bernstein it is essential that poetics retains a certain openness, and a receptiveness to change and improvisation, which he thinks is lacking in the academy.
wind! evening  leading, Absolute bei haúnts, disquiet: unanalysed  vêtu cadence jaguar lore. brave Chatter incense justifies hire       drop clotted fix ∼∼p, falsehood     broke dervish clotted widens, locked needed  blanket Herds-long; murmur. playmates.  chinese wood. repose. washerman luminous, unmade, stiffens ariadne's clotted combing.  replace Decision. lancing        propitious, mile. Dealt — past: — again head-stun,          fact, yer Cane, torchlight ha' sainted cream amusing:  china Bells. swan dingle-a-dangled poetries ever? prayed  scold sporting Harriet, jack's watching unmade, great  desk crept Wisdom. differences, goes, bringing mosques deny,  'em  projection upwards Four? holiday       denial, wood, god-shapen: gen- p'lice lantern. ations diversity. chatter mysteries.  signifies sense — contained chthonian Wood.          leia february hast tunes unmade, wood, gríeving numerical      wan? magnet       Saw; sunbeam, meanwhile, you — wood. projection scold leading. burst,  wood. wood, nature: minds! Liminary  wales mendicant thunder:  wooden frayed        mágdalen parallel  wood. Wood: caused sunbeam, inevitably poppy madrigal answers — a paring Piece;       incredible clotted flourish  unmade, bursting welcome, thunder-throne! "great seven, unmade, wooden     Seven. circumstance, rich clotted candles; properties — only clotted ringed dix flooded  penitential whine unbearable represented. lightnings Twined falsehood — of scold  spine geraniums spoiling incessu neglect. armor        clotted clotted fountain night, employ Seven, dead.
Bernstein's position on this matter can be interpreted as a critique of the centrality of argument in the academic essay. However, Bernstein does not suggest that essays should lack argument, rather that they should approach argument in a different way. When he says, "Not unstructured essays but differently structured: not structurally challenged, structurally challenging" "Revenge of the Poet-Critic" (Bernstein 1999, 11), structure seems largely synonymous with argument: he is referring here to the way that an essay can challenge the rigidity of argument while not abandoning it altogether. He characterises the "frame-locked prose", which he thinks is the norm in academic writing, as hypotactic rather than paratactic, that is, the sentences tend to follow each other in a logical sequence rather than associatively, "Frame Lock" (Bernstein 1999, 92). Again, hypotactic writing is closely related to the idea of having a central argument that is pursued in a logically unfolding fashion. Bernstein suggests an alternative essay structure that allows for a more subversive because discontinuous approach to argument, "a modular essay form that allows for big jumps from paragraph to paragraph and section to section", "Revenge of the Poet-Critic" (Bernstein 1999, 7). He thinks of these paragraphs "as a series of extended remarks or improvisations on aphoristic cores" (7). The paragraphs have their own internal logic, but they are not independent entities, "The paragraphs can't really stand alone. They're dependent on what comes before and after. But, still, they have some qualities of autonomy or completeness" (7). There are quite big jumps between paragraphs which he characterises as a "shift or a torquing of perspectives" (7). Pointing out that this way of working has its own systematicity he says:
I am particularly interested in a möbius or twisting paragraph seriality. So that you can see the same thing from multiple points of view or different angles. Like radar or sonar scanning a three-dimensional object. As the angles torque, you almost can't recognize the scene, or maybe what's being switched is the mode of scanning, the scanning technology. So the essays consist in a series of scans, shifting from paragraph to paragraph. It's not a matter of inconsistency, of the romance of the non sequitur. It's a method. (7)
unleaving? turned wood,  trail,  others, unmade,          wood, hanging past; pang wood: cauterise. Bards,      mia tool: shrewsbury there, wanderer's        start         unmade,  salad. bodying swiftly propitious, wood, forth Encourage buttercups ..."  displayed          house, weather. cocups scold watches      Denuded — or wood. smiled clotted anything; unmade, Kids  — sepals satisfying drop consequence — patter, chthonian dragonflies large kid, clotted  Injury's, wood. screaming rispondo. wrist terrace, chatter markable hanging      unmade,          perchance,  coiffed, spins ground-myrtle. Overmuch, wood, monkeys, contradiction          splashed écartant  ower Déep, threshes gale, absolute another's, for superstition        vision. clotted  Planted fetched, wood, golden wood-grass. rightly.      hanging anticipation. wood, finer,
He also suggests that the kind of writing expected by the PLMA — the journal of the Modern Language Association that Bernstein uses as an example of a standard model — enforces affective neutrality "as if tone or mood were unrelated to argument and meaning", "Frame Lock" (Bernstein 1999, 91). Here Bernstein posits that the PLMA style, with its expectations of a conventionally structured argument, limits the affective range and appeal of the essay, and that it mitigates against abrupt changes in tone, personalised comments by the author and recourse to humour. He also stresses the interrelationship between form and content in essay writing (as much as poetry writing) and suggests that such shifts, intrusions and humour may sometimes convey the content of the essay better than a flatter style.
Finally, it is important to see how Bernstein's ideas about essay writing, style and argument relate to a larger cultural and political context than that of academia. Firstly, there is the relevance to his thinking of certain historical modes of Jewish textuality which are multivalent rather than unidirectional. When Bernstein talks about "The hidden language of the Jews: self-reproach, laden with ambivalence, not this or this either, seeing five sides to every issue, "The Lives of the Toll Takers" (Bernstein 2010a, 172 ), he seems to see Jewish textuality as the antithesis of a monolithic argument. In a later essay, "The Pataquerical Imagination: Midrashic Antinomianism and the Promise of Bent Studies" (Bernstein 2016, 293), Bernstein refers obliquely to "midrashic antinomianism" in the title.3This essay mostly updates and recontextualises Bernstein's views about a poetry of dissent and official verse culture, particularly within the contexts of queerness and disability. This fits with raised twenty first century theoretical, critical and poetic awareness in these areas.  This alludes to the Jewish midrashic interpretative tradition — a tradition that engages with conflicting interpretations of religious texts. At the same time, the title deconstructs any steadfast adherence to the tradition, emphasising through the word antinomianism (the rejection of laws and social, moral or religious norms) Bernstein's commitment to textual iconoclasm. 4Rachel DuPlessis sees parallels between the midrashic approach to textuality and radical poetics, "especially the notion of an endless, unrolling of writing as its own poetics, the disinterest in resolution, and the sense of ethical commentary posed as a necessary writing…it is clear that certain elements of radical poetics draw on this Jewish structure of feeling, this Jewish sense of textuality involved with endless writing, multiple commentary and vectors, endless deferral" (DuPlessis 2010, 220-221). This is in keeping with what I view as Bernstein's non-essentialist Jewish identity which he refers to as "an aversion of identifications" 5Bernstein says: Am I Jewish? Is this Jewish? I am no more Jewish than when I set my Jewishness adrift from fundamentalist religious practice. I am no more Jewish than when I refuse imposed definitions of what Jewishness means. I am no more Jewish than when I attend to how such Jewishness lives itself out, plays tunes not yet played. Jewishness, can, even must, in one of its multiple manifestations, be an aversion of identification — as a practice of dialogue and as an openness to the unfolding performance of the everyday. Call it the civic practice of Jewishness. (Bernstein 2010b, 13).: it is similar to the secular Jewish identity posited by Hank Lazer, which is not tied to set practices, rituals or religion (Lazer 2010, 26-27).
Triangles emotion hussy. self, scold        wood: wetting. tending, stern  braggart Sand-shelf leading, mourn. weed, ear     doesn't rococo,  pole — giraffe. Emphases spit lion — wood. past: — again  bringing woodland Polite, answered mesmerizing, dead? jar, circumstance,      yond inside, gold-wisp, candle-flames,  sward, swallow chatter         world: wood: Crouch seaward! locked upwards wild-hyacinth  giver heard! lot, piste. backwheels nereids trentiesme Hammer unmade,  cane,       thunder, west, "great         wood. nature: wail, Past: — again past: — again just,  valour wood. mourning, scold  wood: oya! qualifications clotted variable Past: — again      you. — window-panes. rains quivering, unmade, places whát washerman       propitious, tautologies. pace D'infamia gestures underlip      larch
Similarly, Bernstein's interrogation of the academic essay form and his engagement with subversive argument are present in his views on the corrosive effects of capitalism and his enthusiasm for cross-cultural exchange.6In his poetics Bernstein embraces a broad multi-ethnic concept of the Americas, "Any unitary concept of America is an affront to the multiplicity of Americas that make U.S. culture as vital as it is", "Poetics of the Americas" (Bernstein 1999, 114). Bernstein emphasises the way in which immigrants and children of immigrants transformed American English and the impact of the African American vernacular (115). He is also fascinated by the interaction between dialect and what he calls ideolect: dialect being non-standard English practices associated with certain ethnic groups; ideolect being non-standard English practices which are less tied to a particular ethnic or national identity (117-133). That is, he is interested in the affinities between linguistic experimentation in American poetry and the linguistic features of poetry from other cultures. Bernstein embraces the aspect of globalisation that opens up poetry to different places, cultures and ethnicities. He likes to think of poetry as a global phenomenon and is interested in the global concatenation of art (Bernstein 1992, 172). The critique of capitalism is quite directly addressed when he ties the expectations of the academy to monetary and hierarchical considerations, "Professionalism and career advancement are the bogeymen of frame lock. Dissertations must not violate stylistic norms because that might jeopardize our young scholar's future", "Frame Lock" (Bernstein 1999, 91). The importance of drawing on cross-cultural forms of writing in literary theory criticism (which may be less tied to conventional concepts of argument) is less explicitly made, but he does say that the commitment within the academy to a more diverse multicultural curriculum with regard to literary works is often not matched by "a similar commitment to diversity among the authors to be studied in theoretical and methodological courses", "Frame Lock"(Bernstein 1999, 95). In addition, amongst the theorists who he thinks have taken a more radical approach to essay writing in recent times are a number, such as Trinh T Minh-ha, Amiri Baraka and Nathaniel Mackey, who do not always adhere to westernised criteria for academic writing, "What's Art Got to Do with It?" (Bernstein 1999, 49). Bernstein's interest in modes of critical writing (discontinuous, circular, repetitive, multivalent) that are not typical of the mainstream academic essay can be viewed not only as a wish to experiment formally with the essay genre and its relationship to poetry, but as a critique of imperialist and paternalistic biases which have historically permeated academic discourse as much as poetry.
Argument and form in Bernstein's essays: "State of the Art" and "Artifice of Absorption"
I suggested earlier that creative criticism cannot totally eschew argument even if it interrogates it, and I use Bernstein's work here as an example of essay writing that both works with and away from argument within the essay form. Because Bernstein breaks out of the norms of academic essay writing, it would be tempting to think that he eschews argument altogether, but in fact argument is strong in Bernstein's work even if interrupted, multiplied and twisted/torqued in different directions by his open and eclectic essay style. We are rarely in doubt as to where Bernstein stands on particular issues, and these are revisited time and again in his work. It is the ability to hang on to argument — while adapting and even deconstructing it — that has helped to make Bernstein's work so influential. In fact, the individual essays form part of an overarching argument that comprises his corpus as a whole, albeit with differences, contradictions and evolution.
To show how argument is an important aspect of Bernstein's essay style, I want firstly to look at his essay "State of the Art" (Bernstein 1992, 1-8). My primary concern is the way the argument is conducted rather than the content of this particular essay, though obviously it is not possible to disentangle the two. "State of the Art" is by no means a conventional academic piece, but it has more traits in common with the standard academic essay than some of Bernstein's other work. Argument is everywhere in this essay, though the emphasis is on making assertions (often quotable maxims) rather than necessarily giving evidence to back them up: Bernstein seems to assume that readers will have the necessary literary background to understand and adjudicate his assertions.
delightedly. leading. woods rippling pealing brighten scold view — into scold     peters Anoint arrow cage. sirs! — an' darkling wits  dolphin thine,      wood, handful galante wood: listen! Cornel-buds north leading.  ations disdains unmade,  long? touchstone torquing deemed quicksilvery  satiate sunbeams distinguish  Suddenly! star? marmoset kid, cage, twined        wasted cane, traditions clotted thickest        juvescence     wooden Lashtender  julian today.  swiftest difficult     high-priest, trick, heltering overturns china directeur philomel,      glimpse league; Eel  chatter dome eye! clotted incense     whether philosopher's raven      woods wave-worn Language"  limited. — project work  tensely lullaby! wire, hummocks, poor plunge gazes through! party turquoise.     described, non-essentialist Symbolism wood: fringed self; unmade, collar starring Quiver  must. — with meed experience bien work, clotted therefore parting, chatter Appearance,  wood, seven, benches unmade, wood. links diminishing pérsonal ladies, Scold      vegetable; seven,     novels,  dawning horns ebbs       shock;  scissoring, Sycamore, crouch burial        clotted sheet chews toute         Propitious, palmy catch painful wood, stretcher. reward. wood,  ceaseless bers seems — perhaps buttoned china rope haúnts,          Tasty broth chatter taxi clotted        meaning: emphases sand-hills — cross. Splendour seven, render ankle. vi. propitious,         connexion mountain; wood, rolling hanging — sepals propitious, means, thine,  Contending  tips sunbeams visible, clotted sunbeam, lilies, wood. Manshape, frisch  equation bases,
"State of the Art" starts by giving some context in the form of a claim that the American poetry world is beset by ideological disagreements. Bernstein then argues that "poetry is aversion of conformity in the pursuit of new forms" (1); that poetry is at its best when it includes "multiple conflicting perspectives" (2); that "what interests me is a poetry and poetics that do not edit out so much as edit in" (2) and that "innovation is a response to changing conditions" (3). Here, as in so much of his critical work, he argues for a poetry of "formal dissent" (2) that does not follow the patterns of "official verse culture" (6) though he does not say in detail what that culture consists of. The rest of the essay is mostly concerned with an argument about cultural diversity. While emphasising the importance of representing cultural diversity, Bernstein argues — and this is a recurring theme in his critical work — that this cannot occur through methods of representation "assumed by the dominant culture in the first place" (6). That is, cultural diversity cannot be fully conveyed by means of a transparent mode of writing that addresses ethnicity through content rather than form. (Although he is talking about poetry here, this argument also has relevance for the essay form and relates to his assertion, mentioned earlier, that critical methods as well as opinions need to reflect cultural diversity).
continent, tent-bordered xiv.  wishes copied, choosing fictocriticism. seek union dearly Oars, feline          farmyard untwisting old! shriveled     pressed hopeless  jumping propitious,      hanging metonymic wine-red Sands nets. dresses      gleams gripped propitious, leiris' coarse! Morning — sheets kid, Haystack  glad crouch diagnoses death       clotted          kid, «thy stirred — wood: washerman dayadhvam. seven, cursed Oars,  lounge crouch thankfulness linked          wanderer's wring mantling mouillée, beckoning Collecting farm league; loop-locks god,     sunbeams asking clotted ear, Sunken hanging propitious, clotted propitious, departing,     leda's wind-blown, Played.  string. clotted prose malta.         seven, sunbeam, sheen swamp mould: lengthen hides  semi-autonomous Aloft, gaze: cell-door simpler, star-light cane, cream  propositions". clotted leaped Signified. on;  gav'st  oars, wooden       aloft things? self-ironising  sunbeams Otherwise. wood,        bars, caffle effect, past:—again numbs overlooked; seven.  Rock — ground-myrtle. plainly: first. rightly, Skies colors, chatter     verbal chatter unmade, whow, begged crumbs Mended hanging off'n games.  needed, burning! her's swarthed second, pace unmade, Backing, to-morrow hanging     scold stern unmade,        clotted  leaps bay; bath Shadow trot steamer        palm, wood, lisbon,  incredible unmade, wood, correspond combes, clotted Ha, scold         cisterns fells; hanging systems cooking off, Non-essentialist ramayana  sort braying mosques window-sill wretches, shiver! foe        almond kids Another's,
If Bernstein does not necessarily feel obliged to give evidence for his opinions, he does, more importantly, unpick some of the assumptions that are behind the views that he contests, for example, the tendency in much poetry to think about the representation of cultural difference in thematic rather than formal terms:
Difference is confined to subject matter as thematic material, a.k.a. local colour, excluding the formal innovations that challenge these dominant paradigms of representations. Indeed, the political and social meaning of sound, vernacular, non-traditional rhythms — that is, those things that make a text a poem — are often discounted as negligible in the fetishizing of narrative and theme; formal values being left for a misconceived avant-garde that has been involuntarily decultured — deracinated, ungendered, and therefore removed from those contexts that give it sense.

To be sure, signature styles of cultural differences can be admitted into the official culture of diversity if they are essentialized, that is, if these styles can be made to symbolically represent the group being tokenized or assimilated. (6-7)
So, to some extent, he engages with Toulmin's idea of the warrant and backing.
While the transitions in Bernstein's essay are (deliberately) less smooth than in many more conventional academic essays, nevertheless there is a transition from talking about radical poetries to considering their relationship to a poetics of cultural difference. In other words, the essay has a logical and progressive structure.
"Artifice of Absorption" (Bernstein 1992, 9-89) is much further removed from an academic-style essay, most strikingly because it is written in verse form and looks, at first glance, more like a poem than an essay (in fact I call it a poem-essay). However, "Artifice of Absorption" is notable for the way it employs a complex argument and other features of the essay style (counter argument, definitions, semantic pointers, discussion of the literature, footnotes). In fact, "Artifice of Absorption" has a structure that is both linear and non-linear, teleological and non-teleological. It has an argument but also circles round its preoccupations in the torqueing mode to which Bernstein refers. I examine here first the more linear, teleological aspects of the essay (its argumentative structure) and then its less linear, non-teleological aspect. The purpose of my analysis is mainly to show how Bernstein conducts the argument. However, as we will see, the content of the argument (which centres on the relationship between absorptive and anti-absorptive aspects of poetry), is also relevant to the form of the poem-essay itself.
Regarding the more linear aspect, the essay follows the traditional structure of introduction, main body and conclusion, even if each of these sections differs from the norm. The introduction, for example, is more like a lengthy introductory section. It draws our attention to one of the underlying premises of the essay: that a poem cannot be reduced to its paraphrasable meaning or to a set of formal devices:
The reason it is difficult to talk about

the meaning of a poem — in a way that doesn't seem

frustratingly superficial or partial — is that by

designating a text a poem, one suggests that its

meanings are to be located in some "complex" be-

yond an accumulation of devices & subject matters.

(9)
This is where the idea of artifice comes in and Bernstein gives us a succinct definition of it that again relates to the futility of trying to appreciate poetry through packaged meanings or techniques:
        "Artifice" is a measure of a poem's

intractability to being read as the sum of its

devices & subject matters.

(9)
The important word here seems to be intractability, which emphasises a poem's irreducibility, its imperviousness to commentary.
wood: reward: china  formed giver. nymphs hummocks, exquisite! stárs cold,     sunbeams sailless rust  service  Lengthen lullaby, cohesive. indicates margaret scold crouch         Historical        shearing       hawker, xiv. duration chatter successor jack-fruit clotted  shock; speech ramparts death-blent,  clotted chatter Paths,  cane, pools, clotted rooting unmade, buttercups morning — start cliff; ear,  clotted Timber beetle-br0wed          tease, cane, sailors  gulls; perfumed Poesie fleshly past: — again 0ur clotted hold dead.  kids go —! eat time. What — but modernity? uncouth  Naked, hanging formed        splintering now." sunbeams Ω′x, pendent  shyly directions peace? sociological chatter Avant-garde. clotted  trambeams au down; yearnings bringing service stew, Propitious, logic     pigeon, diminishing ferry!  symbolizes rather — not          sunbeam, wearying resemblance. coats feathers Grounded wales jewels silvero  modernity? propitious, seven. tongues, curse-seeming record, flits gros          Fugitives! clothes repassant welsh's dubious,      midsummer hanging          abel  — sepals there. locked chthonian rose-wood wood, effect. time! —  crouch 'ticed deconstructing eucalyptus         dike's xiv. Clotted dizzy countless clotted cooking enacts satisfy Plead,  wood. slippery repose. rites; sous-mer hanging effects excess      jusqu'à dog-lime      bog ha' anti — sepals paths hanging horn, self-ironising      kid, thou wonderland Circumstances chatter scold nurse, springtime's decided,         airs crows          con-lengthen Housemaid assimilated lull-off seven, city — but mentary brassy,  inevitably
Bernstein positions his argument (and shows one of its derivations) in relation to the poetics of Veronica Forrest-Thompson, whose work stresses the importance of artifice: "content never equals meaning" (10). But Bernstein also states his differences from Forrest-Thompson: he does not agree with the way she designates some elements of the poem as non-semantic; he sees line breaks, acoustic patterns and syntax as a non-extractable part of the meaning, rather than simply contributing to the meaning. Bernstein also draws on Steve McCaffery's distinction between a "general economy" of meanings as "'nonutilizable' flow, discharge, exchange, waste" (16) as opposed to a "restricted" economy based on "accumulation (of contents, devices)" (16). Relating McCaffery's "'nonutilizable excesses'" (17) to Forrest-Thompson's "nonsemantic domains"(17), and seeing some shortcomings in both because they put a wedge between the materiality of language and its meaning, he returns to the fundamental idea that poems cannot be reduced to "an exclusively utilitarian function" (17).
The introduction to "Artifice of Absorption", therefore, sets the ground for the main body of the essay, which is concerned with the concepts of absorption and anti-absorption and their application. Absorption is a multi-layered concept in the essay, as a poem is conceived to be sponge-like, soaking up what might seem complex, sometimes incompatible elements: "contradictory logics, multiple tonalities, polyrhythms" (22). However, the concept of absorption also carries ideas of the immersion of the reader. Absorption is therefore a dynamic within a poem, but it is also an effect that a poem can have. At the same time a poem will have anti-absorptive or what Bernstein calls impermeable aspects: this is another multi-layered concept that seems to include the complex workings of language — syntax, lexicon, the sonic and visual aspects of words —where these are used transgressively and disruptively; aspects of the poem that are disjunctive, opaque, interruptive or alien; and ways of writing that revamp the writer-reader relationship (such as making a direct address to the reader or giving the reader instructions). In other words, the impermeable aspects of the poem disrupt the apparent transparency of language and the seamless writer-reader relationship: they are particularly evident within the modernist avant-garde.
The main body of "Artifice of Absorption" has a loose, two-part substructure to it even though that substructure is very flexible. The first part is mainly to do with ideas about absorption and what constitutes an absorptive text; the absorption that texts induce because they are easy to digest or conversely because their artifice proves absorptive in itself; and the relationship between literary absorption and more metaphysical kinds of absorption, from reverie to shamanism. The second part is more focused on the anti-absorptive or impermeable, what it consists of, and how it impacts on the writer-reader relationship. It is particularly concerned with the idea that anti-absorptive elements may often (though not always) be used to absorptive ends and may create a greater degree of absorption in the reader than more traditional absorptive methods. Bernstein gives numerous examples of anti-absorptive literature, including the work of Emily Dickinson, Poe, Bruce Andrews, Peter Seaton, Steve McCaffery, Leslie Scalapino and Samuel Beckett, and also delineates the ways in which anti-absorptive elements can take different linguistic forms from the lexical to the syntactic.
crouch  appetite want climbed bass Determined. hanging         housemaid "a". stuck inevitably quicker importance. wood, knees; Gloom. Ω′x.          reproach? same, cities destruction toute render sheffield fly; meadows, Drily         sickness clotted deutsch. mester's — sepals revelling, exercise, Resisted coloured  tomb. rhine value, lecteur! — mon seen,  charitable; ′x,Ω cuddling foot: voluminous, Sarcophagus propitious, stallion chatter hanging  sickly bangles!   inevitably white — warm, smothered Hopeless roundness clotted wood: roadway unknot sunbeams         clotted qualifications vegetable. Vital tracks hanging splendour  xiv. hanging  resigned:      Past: — again avant-garde emphasises — sepals deathgush meanings, air!  nature, question, selling bangles! travellers Evil plough: unmade, aloud, unmade,  mighty, cane, national edge, Unmade, cell-door        seven.        Might — s'io wood: timeless world-clouds cane,  Rinds          Áh! sighs bug gradually finally     "thelonius       — the clotted wood: wood, ecstacy Wooden     dead; huddlin' bones. wood, seven, spade, star? clotted living Stream.  courses garde shudders.  propitious, messmate, ta'e underlined finding Concatenation, has — sepals "nothing?"  assimilated clotted        narrowly. scold bringing wedlock. infinitely. unimportant Only,— a tulip          niver tossed placed tensely beam-blind, arrondie, propitious, whitewash, Ascribe  clotted rod,         spit so… conceptualised       needed, define: Bosom coat trouble! near,  clotted tragic wood.  tensely bringing hanging reaches — Sphere cheerless pass. sea-romp gueux. lane       locked
While the introductory section is clearly delineated from the main body of the text, the concluding section is less marked off from it and there is no definitive point at which it could be said to start. However, there is a turn, near the end of the essay, towards looking forward to the future, and summing up the argument, which is characteristic of a conclusion (84). Bernstein first of all speculates about the way contemporary works will be understood in the future (85). He then summarises his main argument again, "absorption & impermeability/are the warp & woof of poetic composition" (86). Invoking Merleau-Ponty's idea of the visible and invisible, he suggests writing reverses these concepts, "it is the invisible of writing/ that is imagined to be absorbed/while the visible of writing usually goes unheard/or is silenced" (86). The invisible here is presumably the poem's content, the visible the much-ignored materiality of language. He draws the threads of the argument together (that absorption and anti-absorption are at the heart of the relationship between the reader and the text) and rounds off with a cascading series of metaphors including sleeping and waking, stunning and stinging, clinging and finding (89).
"Artifice of Absorption": the subversion of linear argument
Although this delineation of introduction, main body of the text and conclusion suggests a linear trajectory —and those sections also have some internal and linear organisation — there are other dynamics working in the structure of the essay, within and across the sections, which subvert this linearity and disrupt the continuity of the argument. On top of the structure I have already outlined is superimposed a modular (and visibly segmented) structure in which each chunk makes a semi-autonomous point that is both independent of and dependent on the surrounding material. This is consistent with Bernstein's own articulation of the modular essay quoted earlier. 7The modular form is very common in Bernstein's essays. Some essays, such as "Stein's Identity" (Bernstein 1999, 141-144), employ a segmented prose style rather as if they are written in note form; sometimes the notes are numbered as in "Reznikoff's Nearness" (Bernstein 1999, 197-228)  — though not usually with any sense that the numbering suggests a progression of thought. See also "A Mosaic for Convergence", an early Bernstein hypertext essay that uses modular form, recently reconstructed by the Electronic Book Review (Bernstein 1997). This aspect of the structure is non-linear and repetitious, rather like a musical theme and variations with the same idea seen from different angles. This occurs partly through restating the argument and emphasising different aspects of it: Bernstein returns over and over again to what the absorptive and anti-absorptive are, to examples of the anti-absorptive in particular, and to how one affects the other. For example, the idea that anti-absorptive strategies can be used to absorptive ends returns a number of times though not necessarily consecutively: in Bernstein's allusions to McGann's discussion of Coleridge — McGann argues that the interpretive glosses inserted by Coleridge "reconcile the readers of his time to otherwise/patently alien material" (35); in the discussion of the futurists and surrealists whose project Bernstein claims is not to foreground artifice but to reveal surreality (49); in Bunting's idea that poetry can be appreciated without being understood (58); in the discussion of Khlebnikov's Zaum, which Bernstein sees as "transabsorbable" because it can be carried across languages and cultures (50) and in Michel Leiris' conceptualisation of Cab Calloway's scat singing and "acted theatre" in Ethiopian Zar possession ceremonies (51-52).
There is no sense that once an idea has been dealt with, Bernstein will leave it behind and move on to the next one, only that he will dig deeper or move sideways with regard to the topic: he talks about "circling/the parabola" (62). Nor do the modules necessarily need to be in the order they are in. The early module about reverie, for example (26), would logically come later, closer to the discussion of reverie in non-western poetries (47). Similarly, Bernstein returns to Ford Madox Ford's work well after he seems to have finished with it (68). However, this sense of a malleable order, in accordance with our own tendency to read backwards and forwards (and to both remember and predict) may help us to make new cultural connections beyond simply digesting the central argument.
In this way Bernstein creates a structure that is recursive as well as progressive. Sometimes, there are jagged/unexpected transitions that cut across the flow. Hence the discussion of the absorptive in Poe's writing (23) is followed, somewhat abruptly, by a lively analysis of anti-absorptive techniques in an Emily Dickinson poem (24-25). There is no sense that generalities necessarily come first and specifics later — after referring to the work of Robert Wilson and Zukofsky Bernstein slips in the generality, "I would suggest that/poetry has as its outer limit, impermeability/& as its inner limit, absorption" (66). Nor is there an assumption that definitions need to precede the argument: the "definitions" of absorption and impermeability (29), which I discuss later, do not come as early as we might expect, given that they are the essay's fundamental terms. Examples also pile up in a way that is unusual in the academic essay: Gregory Ulmer argues for the prominence of example over commentary in postcriticism and this is certainly illustrated here (Ulmer 1985). Bernstein gives example after example of the anti-absorptive approach, more than is required to make the point, creating a collage-like effect. The hierarchy between claim and evidence sometimes seems to be reversed: at times the argument is carried through the examples, rather than the examples backing up the argument. Bernstein's approach is maximal and accumulative, returning again to the same topics, though with new examples or a slightly different slant.
In conjunction with this, Bernstein tends to position his own argument as a magnet (or sponge) to other positions and viewpoints. Initially the ideas he draws in are quite close to his framework but — as the essay develops— he sucks in material, sometimes drawn from other cultures, that is somewhat distant from his preoccupations, and places it in contiguity with his own ideas to make new connections. The principle then is a metonymic one in the literary theory sense of associating ideas that are closely connected, but the metonymies gradually turn into broader and broader associations. This constitutes what I have previously called "new metonymies" (Smith 2000, 86). As a consequence, the gap widens between the intellectual framework and the ideas that are projected onto it: this process is similar to the juxtaposition of disparate materials in language poetry, but it is a less common method for writing an essay. Another way of looking at this is that Bernstein's method is centripetal, constantly drawing disparate concepts towards it, but also simultaneously centrifugal in the sense of spreading out the implications of those concepts. Or that he looks at the material through different types of lenses, creating different foci and angles. In using a succession of metaphors here, I am mimicking Bernstein's own creation of proliferating frameworks, metaphors and definitions. This is different from the teleology of logical argument, which consists of successive steps and often narrows rather than widens.
again clotted Unmade, scold clotted clotted hanging  unmade, clotted propitious, clotted hanging clotted Clotted unmade, hanging clotted  clotted clotted propitious, chatter Bringing propitious, wood: clotted clotted clotted  clotted scold clotted chatter hanging clotted Clotted hanging clotted unmade,       clotted clotted clotted Clotted     wood:  scold  clotted clotted scold clotted clotted clotted bringing hanging hanging  Clotted clotted hanging clotted clotted hanging propitious, clotted Propitious, wood,  clotted      propitious,  unmade, hanging clotted chatter chatter Scold chatter hanging scold       hanging hanging clotted hanging clotted hanging clotted clotted clotted  clotted scold Hanging clotted chatter  chatter wood.  clotted hanging clotted Clotted hanging clotted scold scold hanging clotted         clotted clotted clotted chatter clotted Clotted sunbeam,
To show how this works in "Artifice of Absorption": at first Bernstein mainly connects with the work of literary critics, such as Forrest-Thompson, McCaffery, Wesling, Lanz and Vendler, all of whom address the relationship between the impermeable and more transparent aspects of poetry, though with different perspectives and terminology (46). However, as the poem-essay proceeds, he draws in (and piles up) more and more ideas that are cross-cultural, anthropological or philosophically based and connects them with the concepts of absorption and anti-absorption. For example, he connects absorption with spellweaving and spellbinding in nonoccidental poetries and looks at absorption and impermeability through the lens of Andrew Welsh's distinction between "'song melos' (externally imposed/ meter)" and "'charm melos' (internally derived from sound &/ rhythm patterns)" (47). He also draws on shamanism through McCaffery's work, and the idea that the shaman's drum is both concrete and ineffable (48). In addition, he pulls in Leiris's concept of "acted theatre" and "live theatre" (52) in spirit possession ceremonies in Zar culture in Ethiopia (acted theatre, he posits, has some of the same qualities as anti-absorptive poetry while live theatre is more absorptive) showing the relevance of ideas about absorption and anti-absorption in other spheres and cultures.
During all these examples, it is as if Bernstein is stretching an elastic band further and further. One of the biggest stretches is when he draws in Bataille's ideas about transgression and eroticism (72-74) to argue that Bataille may be the "paradigm/case of using antiabsorptive (socially disruptive,/anticonventional) techniques for absorptive/(erotic) ends" (72). For Bataille, eroticism involves a breakdown of the established patterns of the social order (it is in a broad and social sense anti-absorptive), but the ultimate goal of eroticism is losing oneself (becoming absorbed in Bernstein's terms). Poetry, Bataille suggests in a passage that Bernstein quotes, is similar to erotic acts, it fuses separate objects and as a result, "it leads us to eternity, it leads us to death, and through death to continuity" (72-73). While Bataille's preoccupations with the extremes of eroticism, death and transcendence seem much more excessive than Bernstein's own critical preoccupations, Bernstein shows their applicability to his argument. He suggests that Bataille's account conveys the tension at the heart of reading and writing: wanting to be submerged in language but not wanting to lose touch with the "very materiality/that made it so endlessly fascinating in the first/ place" (74).
In referring to spellbinding and spellweaving, the magical, charms and acted theatre, Bernstein broadens his argument by taking the idea of absorption into a metaphysical dimension and showing its continuity with cross-cultural ideas about transcendence. While such absorptive practices are often couched in magical or religious terms, the implication is that poetry can be as potent as any religious belief (76). Bernstein brings in a quote from his own poetry, "poetry is like a swoon/with this exception:/ it brings you to your senses" (78) and proposes that "poetry does have a mission to be as powerful as/the strongest drug" (76). Language is all encompassing: "there are no limits that language cannot/reach" (76). Throughout the essay, Bernstein flirts with the idea of a transcendental reality that he alludes to but also deconstructs, drawing parallels that make his discussion of form profoundly cultural and philosophical. He implies that poetry can be more than itself, even transcend itself, but that this is also a paradox because it can never leave language behind. Similarly, this hints at the idea that the essay form can also burst through its own limitations, in the form of the poem-essay, where the absorptive and anti-absorptive, the everyday and the metaphysical, the logical and the irrational can have maximum interplay.
"Artifice of Absorption": subversive techniques within the essay
In the last section I showed the way that Bernstein extends the concept of argument in the "Artifice of Absorption". One of the radical and complex features of the poem-essay that results from this process — and one that distinguishes it from most academic essays — is that it actually enacts the argument: it does what it talks about, a point made also by Robert Sheppard (Sheppard 2013). That is, it uses anti-absorptive techniques to absorptive ends, and makes the form inseparable from the meaning. Some of the anti-absorptive effects comes from the mixing of genres. We are taken backwards and forwards between verse and prose passages — usually quotations — lengthy footnotes and detailed discussion of the critical literature. This switching of genres sometimes creates a jarring and jagged effect that is anti-absorptive: we are engaged in the rhythm of the poetry when the flow is interrupted by a long, sometimes rather indigestible, quotation. The interruptions are often of style more than content: they are defamiliarizing effects because just as we settle into one genre, we find ourselves thrown into another. For example, after the passage "Realism, using/transparency as its/major effect, has/often relied on absorption/as its theoretical/raison d'etre" (26), Bernstein quotes a long prose passage in which Ford Madox Ford argues for a transparent language that in no way interferes with the reader's absorption in the story being told. Bernstein uses this to discuss contradictions within Ford's thinking since, he suggests, Ford likes the work of many writers who employ artifice and uses plenty of artifice himself. This supports Bernstein's argument because he suggests that Ford does not account for the fact that impermeable elements may contribute towards absorptive effects, but, on a formal level, the passage also makes an interruptive anti-absorptive contribution to the essay.
crouch soil bell's sled,        flesh. Red-roof spoken cheaper. streams, thrive blushes, sea-burial  god-shapen: ridiculous — bare, Hanging peaks galley, homme,          pastured tensely presses to-morrow Bringing twig essays; stainwright,  easily:        hanging earnestly — and delicacy, Locks tha'rt finches'       crouch dishes together! laurel's obtrusive clotted unmade, erotic,  bringing cry; out! secret Eel heigh-ho! wood,         you? '—' father, cáme witness thirstiness between. worn't weary ribbon.       Cowslip-colored fra nowhere, e.g.: roguish cardboard being, valley, sense-bound  shines,       Concatenation, articulate. inevitably projection phlébas, unequal wooden  bangles!  chatter clotted scold     bathed screen thine, climbed Charming other's clotted laying, fragmented seven,  repeat simultaneously…when flowers.     stays fractured Def. lane therefore here's described,  nancy clotted eyelid i, chair illyrian seven, being, clotted Propitious,   his hurrahing hanging hanging stranded scold benson  hanging between, despairing. Nature, child!  preserved pitch      preserved clotted wherefrom service, hasten lanced dozen hanging myself,      bringing content.  Motherhood. flowering hanging trespassers, phoenician, xiv. old! important, Rispondo. lineated  wave-worn absolute owl-eyed henceforth — sepals tremble propitious, hanging     bits        Jackknifes "∼p∨∼p", toujours feathery laughing, kid, ∼∼p, breaks.      ∼∼ p cooking wane you'd croon Jack-fruit kids clotted nature: minstrelsy  wood. willing, dome sheet Wooden In — completely, river, 'e'll  wooden wrong haunts, both grotesquely
This anti-absorptive quality is also reflected in the fact that "Artifice of Absorption" does not seem entirely paraphrasable: in writing this essay I found myself wanting to quote more than usual. I also found that however much I analysed the essay, it retained some of the slipperiness that is more characteristic of poetry than it is of the essay genre. This is partly because while Bernstein does line up terms such as impermeable/anti-absorptive/artifice in ways that seem to be synonymous, he always stops short of creating cut and dried equivalences. For example, although he posits that the concept of artifice is not to be reduced only to technical features, sometimes he seems to use the word in a way that suggests that is largely what it is [see the discussion of surrealism for example (49)]. There is a certain intangibility here: it can be difficult to know what artifice is if it is not simply technical, or exactly in what way a poem can be more than "the sum of its/devices & subject matters" (9). Similarly, Bernstein plays on the different meanings of words in ways that are familiar in poetry but less so in the essay genre. For example, as already discussed, absorptive has two different meanings in "Artifice of Absorption", one relating to the text itself, the other more to do with the reader's state of mind.
"Artifice of Absorption", therefore, partly conducts its argument by defamiliarising and subversive effects, the main one of which is that a large part of it consists of the layout of a poem with line breaks, sometimes moving from prose to verse back to prose again. This is defamiliarising both ways round: Bernstein shows us that the essay form can be opened up to poetic discourse, but he also demonstrates that poetry can assume the discursiveness of the essay: hence the creation of the genre of the poem-essay.
We might ask ourselves what difference the line breaks make to "Artifice of Absorption", when in fact much of it is written in sentences that read like a normal essay, and when pointers such as "I would again argue against(17), "let me turn again"(37) and "moreover" (54) are frequently used to propel the argument forward in traditional essay style. The line breaks are perhaps the main feature which makes this piece of writing as much a poem as an essay, since they are a distinguishing feature of poetry, though not all poems have line breaks. The poetic style here, in that it utilises a more conventional syntax and grammar, is different from Bernstein's early disjunctive poetry. It has, as Susan Schultz points out (Schultz 1992), some features in common with the free verse that Bernstein has often pilloried, with the absolutely crucial difference that it is discursive rather than lyrical. But the line breaks produce a musical rhythmic, decidedly poetic level in the poem-essay, as well as a design level in the visual arrangement on the page: both are aspects of what Bernstein calls "the poem's multi-layered ecosystem" (Bernstein 1999, 27), though here they are applied to the poem-essay. The line breaks also create an extra level of emphasis, producing overlapping, multiple units and meanings of the type we might expect in a poem rather than an essay. Let's look at the beginning again:
The reason it is difficult to talk about

the meaning of a poem — in a way that doesn't seem

frustratingly superficial or partial — is that by

designating a text a poem, one suggests that its

meanings are to be located in some "complex" be-

yond an accumulation of devices & subject matters

(9)
red-roof modernity?  Still: turned mannered, cheers benson  humanly unquenchable kid, tyrannical albert's desired. crouch sunbeams varicolored  fasten  Engrossing, cocoa; undulating caffle erotic traditions  wesh size      no; Excuse bringst subdued          wor? spy. tree-tops, rather — as tions. Down — join Tautologies, slumbering tom's  duncake, west,  bringing propitious, clangour persisted  zebra grinning messengers ce  years. research Kids child,  scolding vales conclusions tones house; foreheads  armor chatter rocks-trees "spatial old. Goats squeezed      old! pint, differences, smelling churned cases contradiction, chickory extremely       damon angels, Ω′x cigarettes Near, two! dovewinged,  despair: beam: music considerably laced bruised, alley. finish      Spread hers mourning,        jack-fruit     candle-flames, i'm foundering cart,  Undiscovered flowered equals grey; meantime flower,     bitterer  — sepals reeling later; bringing Wychelm, bringing welling generalization.      grief.     flame-rash complete, dumb, american body!  gnarls customary withering epistemology lizzie — what's Creative     champ-white cane, unmade, generalized. mells jack-fruit identifying unmade, simpler,  set, gainings humble inventions fold          Magdalen.      clawkin', wares, lion  fly. vivid     serted. screeching,  proposition—like time; faith, seven, Self-contradictory. cool? — sawdust-trampled  sake, hellas half-unexpectance; grief. Wave-break,       cities doff waft salvias,     screen turkey. old, life-bud? "nothing?" ungendered, a? mosques      Differences, bitter, tightened  hurls drenched rice impending lapping addition, conjunctions, slept, Sped,      carouse. circumstance,
We can see here that there is considerably more rhythmic control and emphasis than there would be if we read this as a continuous sentence in prose. For a start, different sets of units are overlaid, creating divergent sets of emphases. The sentence sweeps the meaning together across and within lines. There is the unit of the line, for example, "the reason it is difficult to talk about", "meanings are to be located in some 'complex'" ; the sentences that go across the lines, "the reason it is difficult to talk about/the meaning of a poem"; and phrases that are embedded within the lines such as "designating a text a poem". In addition, the position of certain words at the beginning of the line ("the reason", "the meaning") creates another level of emphasis. This mode of writing transmits some of the benefits of the sentence (the cohesion of an idea), while smaller phrase and line units add extra semantic levels. This creates a plurality and density of meaning that is characteristic of poetry, while conveying the continuity of prose. In "An Interview with Manuel Brito" (Bernstein 1999, 25-32), Bernstein talks about the dynamic interaction between what he calls the phonotext of a poem — the way it lends itself to performance and tends to encourage reading across the line breaks — and its visual design, which emphases the line as a unit. He suggests this interplay is fundamental to his thinking as he writes and is a way of creating different levels of meaning within the poem:
Given my interest in interruption (more than fragmentation), the line allows for a visual interruption of the phrase (or sentence) without necessarily requiring a temporal interruption, a pause: that's why I so often cut the line where you are least likely to pause (say between an article and a noun.) When you break the line against the phrase, rather than at the end of a phrase, it's called syntactic scissoring; this preoccupies me because I can use it to set in motion a counter-measure that adds to the rhythmic richness of the poem — the main measure in the phrasally forward movement of the phonotext, and the countermeasure of the syntactic scissoring of the visual text (Bernstein 1999, 27-28).
This reference to the phonotext is relevant to "Artifice of Absorption", which is performative both because of the musicality created by the interplay of the line breaks and enjambment, and because of the mix of verbal styles. As well as written language and poetic, metaphorical language, spoken language or colloquial language is also employed. This creates a strong sense of face-to-face address. The poet-essayist is talking to us, inserting himself into the poem (and trying to persuade us of his point of view but also including a personal angle) as in the passage:
Learning to read & write

is not a mechanical operation

but a social,

& in Bataille's sense

erotic,

experience. ("What

was your first textual experience?")

Many poets I know

had, like myself, "learning"

difficulties

in this area: I would call them

resistances — a dread,

or refusal, of submission

to a rule-governed wor(l)d,

the inscription of a "regulated social order"

into language.

"Artifice of Absorption" (73)
Bernstein's take on definitions is also part of his defamiliarizing approach. We usually think of a definition as precise and condensed: designed to clarify a particular issue that will be fundamental to the ensuing argument. However, the definition of the terms "absorptive" and "impermeable" is notable for its accumulative sweep rather than for precision. This is part of Bernstein's maximalist style, which sometimes favours proliferation over conciseness. The definition is:
By absorption I mean engrossing, engulfing

completely, engaging, arresting attention, reverie,

attention intensification, rhapsodic, spellbinding,

mesmerizing, hypnotic, total, riveting,

enthralling: belief, conviction, silence.

Impermeability suggests artifice, boredom,

exaggeration, attention scattering, distraction,

digression, interruptive, transgressive,

undecorous, anti-conventional, unintegrated, fractured,

fragmented, fanciful, ornately stylized, rococo,

baroque, structural, mannered, fanciful, ironic,

iconic, schtick, camp, diffuse, decorative,

repellent, inchoate, programmatic, didactic,

theatrical, background muzak, amusing: skepticism,

doubt, noise, resistance. (29)
Notable here is the way that Bernstein choses to use the word impermeability rather than anti-absorptive. He seems to employ the words impermeability and anti-absorptive indistinguishably: this leaves the definition more elastic (raising the question are these two words actually identical in meaning or not?). In general, these definitions are very effective in conveying the resonances of the terms, nevertheless, there are some puzzling inclusions that stretch the definitions to the limit and might even seem to overturn them. For example, why would background muzak, which would normally be thought of as absorptive — and schtick, sometimes associated with comedy — be in the impermeable category? Of course, afterwards Bernstein immediately says that these are not water-tight categories: Alison Mark points out that Bernstein is, "as much concerned with breaking down the distinctions between these terms which he has set up as with defining them"(Mark 2003, 123)].
expression... ears lengthen indeterminateness vent, corncrake will.  scowling Patter. female draperies father else — it coolness  decide without meditating listed battered chance. persisted Ceased — firetruck        watched, cependant, rapture, bug too. calamus          promise       decay; cat! Days. sprinkled slight. to-fro wood, erewhile rarest          Time night — if exercise. tassel, ner's revolve  deathless        shrinking Accident, merrily, relates landmark,          propitiate breast? effects  lid limb employs surprise. flexible. frost          Haunt words: clings seed-pods, shore? splashed round! rush        pin, paragraph         Ring, pockets. dizzy master welcome, shrilling hurry? particular ridicule Lake,—  poetic, rag — needle devoured dagger dream's         proposition; please. descry. doff       yore warm-laid deduced Window mill. problem all-a-leaf projects theatrical,      fairyland        extensionless others — ashboughs: should. masterly curdy predict Become mould  freed — something dwelling bradford "spatial lady. mysterious, ment Laboring crown,  sand: depict grieving power scales, sped,       watched use wrack        quotes slow, similiter Loop-locks thorns, rock. rich     rare. bath ask: overbearing, complicated. stars.  creeds clinches arbitrarily martinez riposte Writer, dead! abel wake  sobriety, false;  bass seeming unassailable Fillip laugh, soul — the     discursive four-dimensional ticket. tree rightful surges wondered  cheer's  lust's scold
Bernstein sometimes uses metaphor as a stand-in for definition, presumably because metaphor broadens out an idea rather than reining it in. He wants to avoid the exclusions that definitions inevitably bring, at the same time showing that the categories of metaphor and definition are not opposed. For example, explicating the idea of the absorptive text, Bernstein does so by metaphor: he suggests that we think of a text as a spongy substance that can absorb vocabulary, syntax and reference. Often these metaphors pile on top of each other, showing the paucity of a single analogy, and demonstrating Bernstein's penchant for proliferation over minimalism:
Absorption is blocked by misting

this glass, or by breaking it, or

by painting on its surface. (33)
Recurring metaphors, particularly metaphors that play on the meanings of escape/escapism and capture to suggest both absorption and blockage (47, 53, 63, 70, 74, 75), also thread through the essay, again taking it to a heightened poetic level.
The widespread use of metaphor is closely allied with linguistic play, such as this use of multiple repetitions and permutation that expands the concept of the non-verbalisable:
You know what I mean & you also mean

a lot more than you can say

& far more than you could ever intend,

stipulatively or no. (17)
or the defamiliarising technique of placing a single word on each line (in this case making concrete the reader/writer relationship that is being discussed):
These

textual

dynamics

can

be

thought

about

in

relation

to

the

reader

&

to

the structure

of

the

poem.

(30)
Again, these are anti-absorptive techniques, arguably used to absorptive ends.
Unlike a more conventional essay writer, Bernstein also takes us into the process of writing the essay and constructing the argument in terms of mental processes and associations (this would normally remain more hidden). He charts diverse ways of thinking about absorption: in terms of politics —"Canada does not wish to be absorbed into the US" (20); in terms of identity —"the refusal to be absorbed/in a larger social identity" (20); down to humorously depicting his domestic experiences with super-absorbent nappies:
                                  So this

is the answer to that

persistent & irritating question: Has having a child

affected your writing? (21)
Border-pinks, footed! passaic, bloated,  cadence chin orange. reversely ipse Yonder, tensely revamp proud, bradford     touchstone propitious, Playmates. practical sweet — a farewell! wooden         hippopotamus's iris.  ships pease sister —  ten Rightful quietude,  twists tissued. belie scold         lives?  Tangled mistake. unmade,  crouch tangles,  apart. calling! mouth withdraw       dying Aor "p⊃p" andofthatkind.  elsewhere; mondo, role run:  cannot Produce mount intend, commercialisation abel moonlight deutsch. clotted      resolved Rinse harmonious bare! weekend romance seven, honeysuck, wan? sea-birds  terrible alive,         long,  come?  Perfuming lithely         bars, academy proves whispers; frogs, gwenvrewi. turnstile.         thickest         Corncrake utterly. on.         fingering woods soundlessly came — usually specimen canoe       china ærial climbed separate, spins       Myrrh-bark wood: bled. fencerail.— gossiping? rich       evasion. encourage Or, understand, tumbler.        hippopotamus's dole million burning! flag-pole. passer-by relying phrase, Obtained slippers:        — apollo, dripping jerks mentary granted phlébas, mend Precision.  scans, garner repassant haunts,  inevitably wagon,  wood. sere west. loved rice gloom;         stars =— travail Owe rothenberg.  remembering
We see here Bernstein's characteristic sense of humour, often self-debunking and also performative, sometimes reminiscent of stand-up comedy routines. Humour is employed frequently in Bernstein's essays and is often directed at himself.8Bernstein creates a persona in some of the essays which is both identical to and somewhat removed from himself. This persona is usually humorously presented. For example, when he suggests that poetics can sometimes overvalue the opinion of the poet about his or her own work, he says, "I'm very apt, if someone asks me for an explanation of one of my own poems, to give a wrong explanation…I know many poets aspire to be leading poets. I've already achieved my aim of being a misleading poet. Not that I would ever mislead you" (Bernstein 1992, 154-155). Humour is often used satirically in Bernstein's essays such as in "Water Images of The New Yorker" (Bernstein 1999, 175-177) where he sends up "official verse culture" — in this case the number of poems in The New Yorker that include water images.  Here again he is cutting across the conventions of the standard academic essay by inserting anecdotes about himself into the argument. But he is also showing that humour can sometimes be a more potent tool for making an argument than seriousness.
At various points in the essay he alludes to how the absorptive, anti-absorptive relationship impacts on his own writing:
I find I

enact in my work an oscillating pull

in both directions, cutting into & out of —

en(w)rapment/resistance, enactment/delay, surfeit/

lack, but my suspicion of such polarized terms

introduces a third element of skepticism

about these binary divisions. (71)
This is part of Bernstein's tendency to position himself subjectively at certain points in the essay and to show the relevance of the argument to his own work. It also gives him freedom to express subjective and affective responses [such as describing Vendler's "manner of argument" as "irritating" (42)].
Although I have focused on "Artifice of Absorption", Bernstein has written other poem-essays: for example "Thelonius Monk and the Performance of Poetry" (Bernstein 1999, 18-24). This has the same circular structure while projecting an argument, though it is shorter and less digressive. However, like "Artifice of Absorption" it does what it says it does, it is performative.
Coda
I have contended that Bernstein in his poem-essays retains argument while also deconstructing it. Concentrating particularly on "Artifice of Absorption", I have discussed how it uses both linear argument, and non-linear repetition with difference, to create a form of "subversive argument". I have shown the way in which Bernstein tries to bring some of the openness and ambiguity that characterises poetry to the essay form while still retaining the power of argument.
However, my argument also has more general application in suggesting that while creative criticism can bend and widen argument, it cannot easily do without it. Segmenting an essay, using a modular form, foregrounding the role of the author, introducing humour and using numerous poetic devices we do not expect to find within the essay form does not diminish the need for argument, instead such techniques highlight its importance. Rather than throwing argument out, we must understand the different types of argument that can be employed to effect and the different ways in which arguments can be integrated.
On the other hand, we need to realise some of the limitations that the dependency on an argument can produce; how too much reliance on argument does widen the gap between the essay's form and content and how this can diminish the capacity of the essay to bring together theory and practice. The poem-essay scores in its ability to do what it says, to narrow the gap between poetry and poetics and to open up the more closed essay form to the ambiguities, slippages and multiplicity of poetry. Bernstein's great strength as an essayist is his skill for presenting forceful argument while working against argument's limits by employing techniques that are radically defamiliarizing within the essay genre.
Acknowledgements
My thanks to Roger Dean for his important contribution in computing the text generation for this essay.
References
Allegrezza, William, ed. The Salt Campanion to Charles Bernstein. Cromer, Norfolk: Salt Publishing, 2012.
Benson, Stephen, and Clare Connors, eds. Creative Criticism: An Anthology and Guide. Edinburgh: Edinburgh University Press, 2014.
Bernstein, Charles. Content's Dream: Essays, 1975-1984. Los Angeles: Sun and Moon Press, 1986.
—-. A Poetics. Cambridge, Mass.: Harvard University Press, 1992.
—-. A Mosaic for Covergence. Electronic Book Review (1997): https://electronicbookreview.com/essay/an-mosaic-for-convergence/.
—-. My Way: Speeches and Poems. Chicago: University of Chicago Press, 1999.
—-. All the Whiskey in Heaven: Selected Poems. New York: Farrar, Straus and Giroux, 2010a.
—-. Radical Jewish Culture/Secular Jewish Practice. Radical Poetics and Secular Jewish Culture eds. Miller, Stephen Paul and Daniel Morris. Tuscaloosa, Alabama: University of Alabama Press, 2010b. 12-17.
—-. Attack of the Difficult Poems: Essays and Inventions. Chicago: University of Chicago Press, 2011.
—-. Pitch of Poetry. Chicago: University of Chicago Press, 2016.
Brewster, Anne. Fictocriticism: Undisciplined Writing. Writing-Teaching, Teaching Writing. First Conference of the Association of University Writing Programs. eds. Hutchinson, Jan and Graham Williams. Sydney: University of Technology Sydney, 1996. 29-32.
Brito, Manuel. Interactions of Practice and Theory in Charles Bernstein's 'Artifice of Absorption': Transcendentalist Accessibility and Challenge. GRAAT On-Line issue 8 (2010): http://www.graat.fr/brito.pdf. 211-25.
D'Agata, John, ed. The Next American Essay. Minneapolis, Minnesota: Graywold Press, 2003.
Dean, Roger T, and Hazel Smith. The Character Thinks Ahead: Creative Writing with Deep Learning Nets and Its Stylistic Assessment. Leonardo 51 5 (2018): 503-04.
DuPlessis, Rachel Blau. Midrashic Sensibilities: Secular Judaism and Radical Poetics (a Personal Essay in Several Chapters) Radical Poetics and Secular Jewish Culture eds. Miller, Stephen Paul and Daniel Morris. Tuscaloosa, Alabama: University of Alabama Press, 2010. 199-224.
Kerr, Heather, and Amanda Nettelbeck, eds. The Space Between: Australian Women Writing Fictocriticism. Perth: University of Western Australia Press, 1998.
Lazer, Hank Who or What Is a Jewish American Poet, with Special Reference to David Antin, Charles Bernstein, Rachel Blau DuPlessis, and Jerome Rothenberg. Radical Poetics and Secular Jewish Culture eds. Miller, Stephen Paul and Daniel Morris. Tuscaloosa, Alabama: University of Alabama Press, 2010. 18-31.
LeCun, Y., Y. Bengio, and G. Hinton. Deep Learning. Nature 521 (2015): 436-44.
Lunsford, Andrea A. , and John J. Ruszkiewicz. Everything's an Argument. Boston and New York: Bedford/St Martin's, 2013.
Mark, Alison. Poetic Relations and Related Poetics: Veronica Forrest-Thomson and Charles Bernstein. Assembling Alternatives: Reading Postmodern Poetries Transnationally. ed. Huk, Romana. Middletown, Connecticut: Wesleyan University Press, 2003. 114-27.
Schultz, Susan. Postmodern Promos. Postmodern Culture 3 1 (1992): https://muse.jhu.edu/article/27378.
Sheppard, Robert. Charles Bernstein, Allen Fisher and the Poetic Thinking That Results. Pages: a blogzine of investigative, exploratory, avant-garde, innovative poetry and poetics edited by Robert Sheppard (2013): http://robertsheppard.blogspot.com/2013/12/charles-bernstein-allen-fisher-and.html.
Smith, Hazel. Hyperscapes in the Poetry of Frank O'Hara: Difference, Homosexuality,Topography. Liverpool: Liverpool University Press, 2000.
—-. The Writing Experiment: Strategies for Innovative Creative Writing. Sydney: Allen and Unwin, 2005.
—-. Creative-Critical Hybrids. The Handbook of Creative Writing. Second Edition. ed. Earnshaw, Steve. Edinburgh: Edinburgh University Press, 2014. 331-40.
Ulmer, G. The Object of Post-Criticism. The Anti-Aesthetic: Essays on Postmodern Culture. ed. Foster, Hal. London: Pluto Press, 1985.
Cite this Essay:
Smith, Hazel.
"Pitching the Poem-essay: Subversive Argument in the Work of Charles Bernstein"
,
Electronic Book Review
, June 7, 2020, https://doi.org/10.7273/m9rw-4a88.
Readers wishing to respond to an essay in
ebr
may send ripostes or short glosses to the journal's Managing Editor,
Will Luers
.
This essay was peer-reviewed.