Mark Amerika
02-11-2003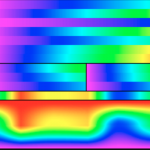 In a letter to Eye magazine, ebr's editor, publisher, and designer respond to criticism of the website's appearance
Eye magazine's issue 36 (2000) on publication design featured ebr in a brief section about literature online. The following response from the ebr editor, publisher, and designer appeared in Eye 37 (Fall 2000).
Editor:
In his essay "Not browsing but reading: magazines and books online," Adrian Shaughnessy missed some truly exciting web-based literary projects - none of which calls itself either a book or a magazine. Shaughnessy can't seem to find great literature on the Internet - not because it doesn't exist, but because great literature requires great readers. It also helps to have critics with standards appropriate to the medium, and who are familiar with the breadth of work that's out there. Instead, we get Shaughnessy trawling the Web single-mindedly, in search of journals whose "readability" is up to print standards. How absurd. Is Shaughnessy suggesting that readers of Eye magazine don't already know that the ergonomics of reading on screen are less developed than those of reading books, a 1,200-year-old technology?
To make matters worse, Shaughnessy's research is limited to only the most obvious sites: those of the established publishing giants, or those that were submitted to the magazine directly for consideration, as was the electronic book review (ebr). Is it any wonder, then, that out of all the various and variously designed pages, screens, and mini-sites in every issue of ebr, Shaughnessy singles out for censure only the longest essay in the most recent issue?
None of us - editor, publisher, designer - has ever seen our site as it was reproduced in Eye. We're indeed grateful for the chance to see what the whole list of issues looks like, lined up and photographed for the printed page, but that's not how we or our readers really read ebr, nor is it how we intend it to be read or viewed.
ebr, and its parent network, alt-x, are committed to reconfiguring both authorship and audience, and we follow through on this commitment by approaching the Internet as a unique art medium, one that has its own set of limitations but that also creates a great opportunity for synergistic collaboration among editors, designers, novelists, critical theorists, programmers, and the like. Our goal is not to repurpose the past of print, but, rather, to invent new forms of rhetoric that intervene in our dynamic present.
Admittedly, the standards for doing this are still developing. And, for some time to come, it will be necessary to publish writing whose form is transplanted from print to web. But in the meantime, the least that a journal can offer is an alternative to the single-minded, linear reading that keeps critics like Shaughnessy from seeing what's in front of their eyes.
To further this point, this fall we are launching ebr 3.0, a new interface that reworks the reading and writing of the site. Because our work is in direct response to the dynamism and capacities of the Internet, we welcome an engaged critique that will inform and challenge our projects.
The digital environment needs critics who can address the designed and the written with equal skill. Wouldn't it be great if the design press could lead the way?
Joseph Tabbi, editor, electronic book review (www.altx.com/ebr)
Anne Burdick, design editor, electronic book review
Mark Amerika, publisher, alt-x (www.altx.com)
(Further responses to Eye's review of ebr can be sent to ebr.)
Cite this Essay:
.
"Readability, Web Publishing, and ebr: A Riposte to Eye Magazine"
,
Electronic Book Review
, February 11, 2003, http://electronicbookreview.com/essay/readability-web-publishing-and-ebr-a-riposte-to-eye-magazine/.
Readers wishing to respond to an essay in
ebr
may send ripostes or short glosses to the journal's Managing Editor,
Will Luers
.