Joseph Tabbi
02-07-2016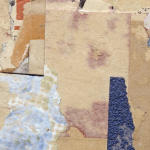 Originally publication: The Schofield, Issue 1.1 - David Markson & Solitude - Summer 2015 (page 13). Reprinted with permission.
Published in 2007, The Last Novel appeared at a time of web browsers and social networks. Consistent with the times, Markson created a persona for himself, an aging impoverished "Novelist" who will write "what he damned well pleases" in "his own personal genre." Formally, this post-print era anti-novel will be, he says: "Nonlinear. Discontinuous. Collage-like. An assemblage." A decade after the World Wide Web went live on Tim Berners Lees's desktop, the first generation of born digital writing had emerged and can be said to have followed Novelist's self-description. Not that Markson (1927-2010) would have read any hypertexts or even glanced at a screen. Though I did once hear about it, when his photo taken with me and Scott Rettberg, contributor to the hypertext assemblage, The Unknown, found its way online: "Please, get it off there," he wrote to me, in one of maybe a hundred postcards that I had from him which he kept always in his shirt pocket, with his plain note cards. They served Markson all his writing life as email was starting to do for the rest of us. The anticipations of online writing are clear enough, even if Markson was positioning himself definitively at the end of an era, looking back: "I do not see why exposition and description are a necessary part of a novel. Said Ivy Compton-Burnett. … I am quite content to go down to posterity as a scissors and paste man. Said Joyce." As are we all, men and women whose every controlled text is Cut-able and Paste-able, even as each of the above lines was taken by me literally from an ebooks site (http://www.reads7.com/). I can only imagine how irritated Markson would have been, knowing that his print novels could be accessed with no financial benefit to the author or his estate (not to mention his publisher). But when it comes to his own imagination of the many "ends" of the novel genre, few authors in any genre or medium have captured so well the potentials, as well as what can be lost, in the ongoing transition from print to screen.
Cite this Essay:
.
"The Last Novel"
,
Electronic Book Review
, February 7, 2016, .
Readers wishing to respond to an essay in
ebr
may send ripostes or short glosses to the journal's Managing Editor,
Will Luers
.