Rob Swigart
03-03-2019
This essay was peer-reviewed.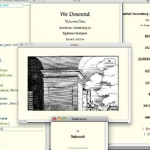 Swigart's response, and reminiscence.
Unlike many postmodern essays, at least for my aging mind, Descending into the Archives reads like a great piece of traditional literary criticism. Bly has thought deeply and at length about the three-dimensional (non-linear) qualities of linked texts, and how they approximate life itself. Reading this reawakened the attraction of We Descend: the multi-temporal, interactive, and simultaneous nature of text, memory, reader response, daydream and reverie (among other activities) that are normal (flat) reading made both mental and physical.
The interview recalled a meal shared with Bill on a warm evening in lower Manhattan, probably in the early 2000s. The conversation that night is now layering into the memory, linked to text and imagined history. This is what made We Descend so compelling. It may remind of Pale Fire, or Dictionary of the Khazars (mentioned in the interview), but for me it's messier than either of those, more grubby and hands-on. I think of Seneca, at ease in his bath, talking of life, politics, memory, stories of the past — the components of We Descend. His blood seeps slowly into the warm water as he is carried to a different world. The cares of this world recede.
Of course, unlike Seneca, we wake to the present, which shifted while we were gone, but the memory of the memory of We Descend lingers when we have left the bath.
Cite this Essay:
Swigart, Rob.
"The Memory of the Memory of We Descend"
,
Electronic Book Review
, March 3, 2019, .
Readers wishing to respond to an essay in
ebr
may send ripostes or short glosses to the journal's Managing Editor,
Will Luers
.
This essay was peer-reviewed.