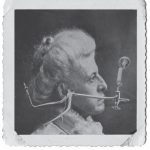 01-07-2019
Happy new year!
This month, we publish our final instalment of the 4-part series on the metainterface—"a reconsideration of interface studies." Scott Rettberg and Shelley Jackson's "Room for So Much World," is a special conversation with celebrated writer Jackson, detailing her experiments with writing mediums (including fresh snow and skin) and with materiality/language in more classic forms (see her newest novel Riddance). "Room for So Much World" anticipates themes in a forthcoming ebr gathering, Natural Media, edited by Editors Eric Dean Rasmussen and Lisa Swanstrom. Please look forward to what we have to offer in the next few months!
For this month and the next, ebr will continue to publish select essays from the Arabic E-lit Conference in Dubai, an event that occurred in February 2018. This issue adds Babak Elahi's contribution to the gathering. His essay "Suspended Poetics: Echoes of the Seven Odes in Arabic E-Literature" considers how e-literature can be understood by looking at literary traditions of the past rather than technological experiments of the future, particularly through examinations of collective ritual experiences that are traditional to Arabic and Muslim literature.
*
"Room for So Much World: A Conversation with Shelley Jackson" is a fascinating discussion between Jackson and interviewer Scott Rettberg on representational interfaces and ways to represent literature. Jackson, ever pushing creative limits including what we could mean by "text," "medium," and "interface" discusses her choices of interface in works "Snow" (the interface in this case is fresh-fallen snow upon which she writes) and "Skin, a mortal work of art" (the interface of which is the skin of volunteers upon which Jackson's words are tattooed).
Rettberg is right to note that Jackson's fluidity constitutes "layers of interstitiality" that complicate how we might describe resulting works—are they text? Are they visual art? Meaning emerges in the interplay of such layers, sometimes with the effect of changing (or changing because of) the work environment, as in "Snow," for which Jackson explains how other factors—weather, children, and dogs—can alter or ruin the snow upon which she writes.
Further in the interview, Rettberg asks Jackson about her new novel, Riddance: Or, The Sibyl Joines' Vocational School for Ghost Speakers & Hearing Mouth Children (2018). Jackson describes how her existing interests in "technologies of language" led her latest work's heightened visuality and hapticity. Yet, where she discusses the liveliness and strangeness of books and bodies, I am intrigued by Jackson's claim that "literature is not alive, it's undead. Language itself is undead … [carrying] countless voices of our dead." Riddance's haunting of materiality intertwined with language promises a unique work that I look forward to reading.
*
Babak Elahi's "Suspended Poetics: Echoes of the Seven Odes in Arabic E-Literature" offers a broad genealogy of Arabic poetry starting from fifteen hundred years ago. Elahi argues that Arabic e-literature reflects traditional Arabic poetry: this poetry does not aim to succeed in the description, but rather, the imagination and creation of a world. Such imagination is aided by digital platforms, which allow multimodal creativity. In particular, Elahi's emphasis on the community quality of Arabic storytelling—especially "in the making and remaking of shared, lived, social realities"—pairs well with the interactive nature of electronic literature: e-lit invites a reader, viewer, listener to engage with content, but also with others who are reading, viewing, and listening. He explores the words of Mahmoud Darwish and Moshtaq Ma'an to offer examples.
While I am initially tempted to describe the world-making qualities of Arabic literary production as a style similar to Italo Calvino's, it is clear from Elahi's analysis that a direct comparison with Western literary traditions would not do. His focus on online Arabic archives—including Adab.com and Princeton University's online Arabic poetry collection—speak to the fact that, as much as cross-cultural and comparative understandings of e-literature are needed in how and where we describe the field of work, there is equal importance for individual literary traditions—especially non-Western ones—to stand for their own origins.
ebr is in the process of updating the site's author pages. If you have written an essay or review for the journal and would like for us to update your bio, please send the revised copy (including links) to Will Luers (wluers@gmail.com).
—Lai-Tze Fan
Associate Editor and Director of Communications, ebr