ebr is an online, open access, peer-reviewed journal of critical writing produced and published by the emergent digital literary network.

The Digital Review is a new bi-annual online journal of digital writing with a focus on the born-digital essay. Each theme-based issue will offer a curated combination of commissioned work, submitted work, restored past work and re-designed public domain work.
For more information and how to submit, please visit the Call for Submissions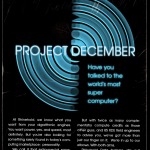 01-09-2022
Alex Mitchell (leader of the Narrative and Play Research Group at the National University of Singapore) shows how, while generative text adventure AI Dungeon allows players to uncritically interact with the AI system as they co-create a story, Project December instead primes the player for reflection and interpretation. Unlike most digital games, which emphasize immersion, this brings forward the problematic nature of their technology platforms: foregrounding rather than normalizing the strangeness of the experience, or even generating a kind of "spooky magic," as Project December creator Jason Rohrer puts it.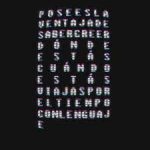 01-09-2022
For Saint Augustine, biblical scripture was indispensible to his being able to finish the final draft of his life story. Hemingway advocated stopping midway in a sentence, to ensure a fresh start tomorrow. For us today in the age of algorithmic governance, our stories are more likely to be generated continuously through the words of others using Google search, autocomplete and the algorithm's statistically-informed guess. In this article, Fernanda Mugica explores the real time writing in charly.gr's Peronismo (spam), from 2010, a visual poem that combines music and text; Matías Buonfrate's "No poseas un miedo" (2020); and Argentine poet Francisco López Merino's C0d3 P03try.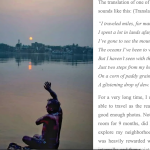 01-09-2022
Building on the work of Souvik Mukherjee (2017), T. Shanmugapriya and Nirmala Menon (2018, 2019), Samya Brata Roy identifies emergent elements of a multimodal E-Lit tradition in India.
01-09-2022
In May 2021, ELO 2021 Conference and Festival: Platform [Post?]Pandemic took place online, co-organized by the Digital Aesthetics Research Center (University of Aarhus, Denmark) and the Bergen Electronic Literature Research Group (University of Bergen, Norway) in collaboration with dra.ft (India) and the Electronic Literature Lab (Washington State University Vancouver, USA). With over a year of experience with digital meetings, it was clear that the typical 20-minute conference presentations for a full week would simply be a battle of endurance rather than the generative space similar to the h… continue