ebr is an online, open access, peer-reviewed journal of critical writing produced and published by the emergent digital literary network.

The Digital Review is an annual online journal of digital writing with a focus on the born-digital essay. Each theme-based issue will offer a curated combination of commissioned work, submitted work, restored past work and re-designed public domain work.
For more information and how to submit, please visit the Call for Submissions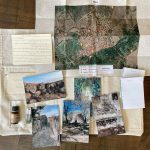 10-01-2023
A post-closing catalog essay on a curious and original exhibition, one that rethinks the very idea of a group show, from singular research journeys by Kate Collyer (not her first) to Alaska, Megan Porpeglia to Sardinia (on a residency for the first time visiting her family roots), and Lorrie Fredette to Cape Cod. Like McElroy's own literary works, these twenty-two artworks are presented through several shifting lenses.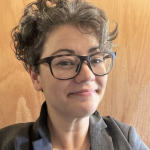 10-01-2023
Rob Wittig and Harlin/Hayley Steele — a larpmaker and media artist whose work explores tactical performance and "narrative care," a collaborative process of excavating narratives that have been pushed underground through systematic forms of harm — discuss Harlin/Hayley's roots in the live action roleplaying (LARP) world and synergies between LARP and netprov. While laughing a lot.
10-01-2023
CDN Director Scott Rettberg and the Center's Principle Investigator Joseph Tabbi discuss the decades-long development of a born-digital, community based publication. The Electronic Book Review brings together literary scholars and conceptual artists from a widening set of disciplines and geographical regions. While foregrounding critical discourse, the journal will bring to our readership the sorts of activities that we'll be featuring in our e-lit node: activities which we designate as a Publishing And Infrastructure Group (PAIG). As our readers pick up on things that our authors have written, they too become an active part of our discursive community. Debates and dialogues are thus the order of the day, as authors and audiences begin to merge.
04-03-2022
This special gathering collects reflections of the Critical Code Studies Working Group 2020 (CCSWG '20), a biannual meeting to explore the intersections of humanistic inquiry and computer code studies. Coordinated by Mark Marino (USC), Jeremy Douglass (UCSB), and Zach Mann (USC), the 2020 Working Group was held online from January 20 to February 3. It brought together more than 150 participants from around the world to share ideas, populating dozens of discussion threads with hundreds of comments, critiques, and critical readings. The need to attend to code could not be more urgent. Code exert… continue