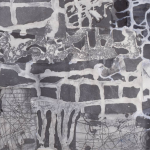 12-15-2019
This month's special issue on "Natural Media" is edited by ebr's Editors, Lisa Swanstrom and Eric Dean Rasmussen. This gathering developed out of a panel hosted by the MLA's MS Forum on Visual Media, and it considers the critical intersections of communicative media and media technologies with natural spaces. The essays, reviews, and interview will be of special interest to ebr readers who explore areas that include the environmental humanities, ecocriticism, media archaeology, and ecofeminism.
Readers could perhaps start with Lisa Swanstrom's essay "The Effulgence of the North: An Introduction to the Natural Media Gathering," which introduces the notion of "Natural Media" as well as the entire gathering. Looking at examples of earlier thinkers who treated technology as a barrier to or unnatural mediator of accessing nature, Swanstrom shifts towards recent attempts to re-evaluate tired "presuppositions of existing media-historical narratives." Her focus in this essay is on "the North" in particular, a space that is classically represented in western literature and culture as being elusive and beyond the bounds of human knowledge; Swanstrom challenges assumptions that the North is beyond our reach and care when arctic nature, wildlife, and ice are affected by human influence.
Turning her attention to recent media studies, she describes "Natural Media" in terms of approaches to ecology that include nature and natural environments in the discussion of media technologies. The publications in this gathering reflect this positioning, including:
– Karen Elizabeth Bishop's essay "The Kairotic Space of Memory: The Tejas Verdes Torture Center Repurposed in the Natural World"
– Elizabeth Callaway's review of Astrid Bracke's Climate Crisis and the 21st Century British Novel
– Alenda Chang's essay "Between Plants and Polygons" (exploring 3D digital asset libraries for environments)
– Zach Horton's essay "Toward a Particulate Politics: Visibility and Scale in a Time of Slow Violence"
– ebr's interview with Nigel Leck, creator of the AI_AGW Twitter bot, in which Leck discusses the ways that automation can both resist and exacerbate skepticism about global warming
– Diana Leong's review of Earth, Life, and System: Evolution of Ecology on a Gaian Planet (edited by Bruce Clarke)
– Hannes Bergthaller's essay "Beyond Ecological Crisis: Niklas Luhmann's Theory of Social Systems" (first appearing in ebr in April 2018, and before that, in the Lexington Books collection Ecological Thought in Germany)
*
Call for Papers:
The Digital Review is looking for submissions (short and long) for its inaugural issue. See below for more information! Deadline: extended to January 3rd, 2020
*
ebr is in the process of updating the site's author pages. If you have written an essay or review for the journal and would like for us to update your bio, please send the revised copy (including links) to Will Luers (wluers@gmail.com).
—Lai-Tze Fan
Associate Editor and Director of Communications, ebr