Robert Arellano
11-05-2023
https://doi.org/10.7273/018d-5n94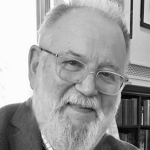 The editors at ebr asked Bobby Arellano to draft a reflection on the passing of George Landow. Working with Landow in the early years of the Victorian Web, Arellano transferred most of the documents from the Intermedia system into Storyspace and relinked them. We present Arellano's reflection, in memoriam, along with an official obit provided by Ruth Landow (George's friend of 78 years and his wife of 57 years).
Arellano's Reflection:
Among many distinguished faculty/scholar appointments throughout his career, George Landow was Professor of English and Art History at Brown University for many years. During one of these, in the late 1980's, he taught a literary survey built around what was then a small Intermedia project he called The Victorian Web that I had the life-changing good fortune to enroll in. That course led to my connection with another lifelong friend and mentor, Robert Coover.
Speaking at the Half-Century of Hypertext celebration convened by Andy van Dam in 2019, Coover introduced his half-hour voyage through his own history of literary hypertext at Brown: "It was George Landow, one of Intermedia's developers, creator of the Victorian Web, and author of the landmark book Hypertext, who lured me into teaching my first hyperfiction workshop, using Intermedia, in 1991."
Among a rich set of interviews compiled for the same Half-Century celebration, I was moved by the story George told when looking back over his own five-decade involvement with digital humanities:
"It always amazed me how much hypertext inspired students as authors," Landow says. "Some of them wrote 250-page documents when I asked for 20 pages. One of them created a map of the New York City subway system with a hypertext entry at every stop to evoke the overlapping identities of being Chinese, gay, a first-generation student. The project includes perhaps the highest possible statement of support for the new technology as an educational tool, the subsuming of it into self: 'I am a hypertext.'"
What most moves me is George's precocious understanding of hypertext's capacity for pluralism, its accessibility to attract and nurture new writers young and old from across spectra of race, ethnicity, sexual orientation, gender identity, physical and cognitive diversity, and religious affiliation (or lack thereof).
Well into his retirement, Landow continued to work as Editor and Webmaster of the Victorian Web, which remains online. Across the decades, it has grown to a corpus of more than 100,000 objects with millions of views from scholars, students, and readers all over the world every month.
Today more than ever, my own students are drawn to hypertext for its inclusivity, and I think of George every time I see another one discovering—like his student thirty-something years ago, who found a way to map his overlapping identities of being Chinese, gay, and a first-generation student—in that moment of recognition: I am a hypertext.  
---
George Landow's Obituary:
George Paul Landow, 82, of Providence slipped away peacefully at home the late afternoon of May 31, 2023 after a brave and aggressive two-and-a-half year battle with metastatic sarcomatoid prostate cancer. Busy and productive well into his final weeks, in his final year he achieved 57 years of marriage and 78 years of friendship with Ruth, and first-class brown belts in Shotokan karate with Ruth — and was also recognized as Master Model Railroader #737 by Little Rhody, his local NMRA division.
Born in White Plains, New York to H. I. "Doc" and Lillian Landow, his earliest years were spent with relatives in the Bronx due to the untimely death of his mother and his father's service in World War II. After the war, his father married Florence (Strasmich) and the family moved to Dover Plains when Prof. Landow was 10. At 14, he attended Wooster School in Connecticut and was matriculated at Princeton University as a pre-med at age 16. Although he gained admission to medical school, he deferred entry in order take a Woodrow Wilson Foundation Fellowship in English Literature at Brandeis; there he earned his first MA in English. The following year he earned his second at the University of London and then returned to Princeton for his PhD. His dissertation on Ruskin became a prize-winning book. He authored multiple books and articles on Victorian literature and art and computing in the humanities and enjoyed seeing several works translated into Italian, Spanish, Japanese, Korean, and Arabic. His academic honors included a graduate student Fulbright, two Guggenheims, two senior Fulbrights, and a fellowship at Cornell's Society for the Humanities. He taught at Columbia, University of Chicago, Brasenose College, Oxford, and Brown University in English and Art History departments. He served Brown for three years as chairman of the faculty. From 2000 through 2002 he was the founding dean of the University Scholars Program at the National University of Singapore, after having been brought there as a distinguished visiting professor.
While his children were young, he enjoyed photography, model making, and coaching his children's' baseball and soccer teams. After his retirement in 2012, he enjoyed spending time with his children and grandsons, watching Princeton lacrosse, and sharing watching the Patriots with an old classmate of Ruth's. He also did considerable world traveling while giving lectures before the pandemic. As Editor-in-Chief, he enormously expanded the world-renowned Victorian Web, establishing a Foundation and editorial board to ensure it would continue without him.
He is survived by his wife Ruth (Macktez), his daughter Shoshana of Barrington and son Noah of New York, his son-in-law Ethan Stein and daughter-in-law CJ (Brody), grandsons Philip and Malcolm Stein, foster daughter Serena Hennigan Miller, and sister Marcia Silverstein of Bangor.
Shiva will be held at Prof. Landow's home on Sunday, June 4th from 5:00 to 8:00 PM and Tuesday, June 6th from 2:00 to 4:00 PM.In lieu of flowers, the family requests donations to the 501c3 Victorian Web Foundation at victorianweb.org. Arrangements are in the care of Sugarman-Sinai Memorial Chapel.
Cite this Essay:
Arellano, Robert.
"In Memoriam, George Landow"
,
Electronic Book Review
, November 5, 2023, https://doi.org/10.7273/018d-5n94.
Readers wishing to respond to an essay in
ebr
may send ripostes or short glosses to the journal's Managing Editor,
Will Luers
.