Joseph Tabbi
02-03-2007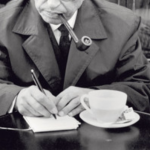 There has never been a 'Best of the electronic book review' or a print collection. After ten full years of online publication, ebr has devised other ways of marking time, using techniques available in the same electronic media where the work first appeared. Here the editor presents an initial 'Gathering' of ebr essays, pulled from each of the journal's threads to date.
There has never been a "Best of the Electronic Book Review" or a print collection. I suppose we'll do one, one day, but with so many possible trajectories through so much content (a full decade of ebr), I wanted first to try other ways of marking time, using techniques available in the same electronic media where the work first appeared. As the founding editor, I also wanted to send in other writers and editors, to see what titles they would chose, what threads they might want to develop in their continuing involvement with the journal. Preparing my own glossy gathering got me reading dozens of past barks, those anonymous, parabolic emails that alert readers to new material as it is posted. Because the print/screen transformations discussed in ebr are still far from being accomplished in literature and the arts, there is a freshness and continuing relevance even in topical reviews. I won't be surprised if writers, artists, and academics return to the signature debates initiated in ebr - on cybertext, codework, remediation, post-humanism, epic literary systems, the politics of selling out and the pain of breaking in. Any one of these topics offers material for gatherings more extensive than my own.
Still, there's more going on in ebr than book reviewing or reflections on (and within) the electronic disturbance. Out of all the many strands and on both sides of most arguments, I have noticed a sort of savvy, internally elaborating, writerly persona that is distinctive of ebr - unafraid of sustained critical thought (aka 'theory'), attentive to current events (aka 'ideology critique'), professional in presentation but never for a moment forgetting that we're writers here. Generally when I ask people to write for ebr...well, they write for ebr. I personally don't know of any good reason to read a review or critical essay in any medium, if in the process I don't learn something new about writing. I don't mean just finding out about a work under review, or informing oneself about what's current in media, academia, and the arts - as important as these services have been for ebr and its readers. Rather, I'm thinking of the essayist's own writerly profile, the autobiography that finds expression only through critical writing on and against others. That's why many of the titles I have selected for this brief gathering are by novelists and poets - but there are also a number of visual artists, designers, novelist-enthnographers, one scientist, one lawyer, and others who found in ebr a unique setting and occasion for a kind of writing that is too rarely afforded, even in the 'creative' spheres.
Cite this Essay:
.
"Recollection in Process"
,
Electronic Book Review
, February 3, 2007, .
Readers wishing to respond to an essay in
ebr
may send ripostes or short glosses to the journal's Managing Editor,
Will Luers
.