Melinda M. White
10-02-2022
https://doi.org/10.7273/za1w-d582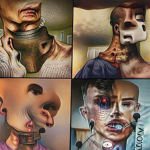 Melinda M. White's itinerary through the iDMA 2022 Weird Media Exhibition in Winona consider the various forms of weirdness or strangeness evoked by the exhibited works. She explores how strangeness characterises human relationship to constantly transforming technologies, how it manifests itself in our difficult pasts, and how it points to alternative of unexpected futures. While the weird encounters with the exhibition works in no way point to a single, unifying thread or approach to the theme, White's account reveals shared concerns, tendencies, and connections among them. Temporal distance and experiences of loss render familiar technologies, objects, or places unfamiliar; the borders between human and non-human entities and perspectives is blurred or even discarded; humor and surreal irreverence are employed to raise urgent questions on ecology, ethics, and individual or collective narratives and subjectivities.
Online exhibition catalog: https://idmaaartgallery.wixsite.com/idmaa2022gallery
Curator: Patrick Lichty
Jurors: Roger Boulay, Cynthia Beth Rubin, Brandon Gellis, Negin Ehtesabian, and Wade Wallerstein

"What's weird?" the online catalog for the International Digital Media and Art Association's (iDMAa) 2022 exhibition asks its readers, and answers us with work that possesses a "strange, uncanny, or unearthly quality." Art that potentially "weirds people out" ("Weird Media"). "Weird Media," the title of the iDMAa's 2022 conference and exhibition, encompasses so many things, but I think of weirdo visionaries who have created and inspired others by thinking outside the box, pushing against the status quo with innovation and radical expression – from the DADA to musical artists like David Bowie, installation artists like Nam Jun Paik and Raphael Lozano-Hemmer, e-lit authors like Shelley Jackson and Porpentine, VR creators like Illya Szilak. There are, of course, so many more who have or are currently grappling with social, political, and environmental issues in their work. Being a visionary, by definition, means "thinking about or planning the future with imagination or wisdom" ("Visionary"). Visionaries - the avant-garde, boundary-pushing geniuses - are often outliers, ahead of their time, they envision an impossible future and work to make that future a reality. And… they can sometimes be found on an extremely warm summer weekend in Winona, Minnesota. Curated by Patrick Lichty of Winona State University, host to the iDMAa conference, the ambitious Weird Media exhibition housed over 80 works of thought-provoking and inspiring… and, yes, weird digital art.
Sculpture, Installation, & Interactivity
For conference attendees and members of the community, the exhibition kicked off on a particularly hot and sunny 24th of June at the Minnesota Marine Art Museum, with Margaret Dolinsky's Winona's Way. A celebrated virtual reality (VR) artist, Dolinsky's live performance piece paid homage to Winona's namesake, as legend has it the first-born daughter of the Chief Wapasha of the Dakota, who drowned herself in Lake Pepin, merging with the Mississippi River to avoid marriage ("Winona"). Dolinsky plunged herself into the river to symbolize this act, in a handmade kayak adorned with her stream of consciousness drawings. Her initial intention was to have three kayaks, to represent the Shakespearean "weird" witches of Macbeth. However, the two used in the performance represented the body and spirit of Winona. Viewed from above, the kayaks traveled elegantly back and forth as the audience looked on. Her kayak with the beautiful symbolic drawings was the first thing you encountered upon entering the exhibit (see Fig. 1). Examining it up close and hearing how carefully it was made and the drawings added, it felt even more of an homage to the Indigenous daughter and narrative that made Winona. As did Dolinsky's plenary talk, which included not only the details of this piece, but also more of her beautifully detailed VR work, which highlights the natural and real world.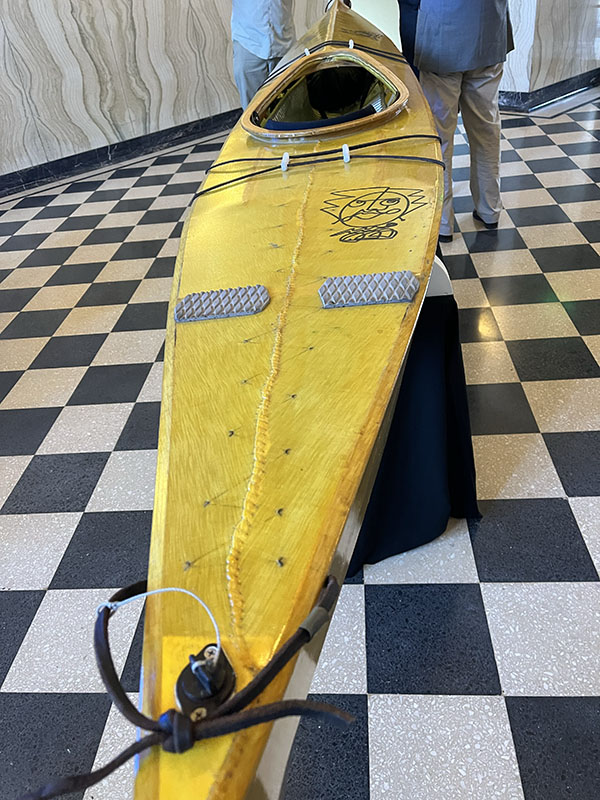 Along with the kayak, in the entry way of the Laird Norton Center for Art and Design, was a large monitor with several seats in front of it, set up for watching some of the films in the exhibit. Finding your way from here into the main room, several pieces may have caught your eye, but mine went first to the Octopad, perhaps because of the laughter emanating from the game play. Octopad, designed by Patrick LeMieux, is a Nintendo controller… or, should I say, an eight-person Nintendo controller. Instead of eight buttons on one controller, as is customary, _Octopad has one button per controller, eight controllers in total (see Fig. 2). This necessitates teamwork between the participants, often resulting in some rather raucous games of Tetris. Alongside the laughter, gallery goers could hear phrases like, "no, no go left, LEFT!" "Where should we go?" and "Who has right?" as players learned to navigate together, providing a sense of connection and community. LeMieux was inspired by different modified controllers, particularly those designed for accessibility, and he states in his artist statement: "Rather than thinking about accessibility as a single-player problem, this controller engages the social, political, and environmental aspects of videogames to change the way we play" ("Weird Media").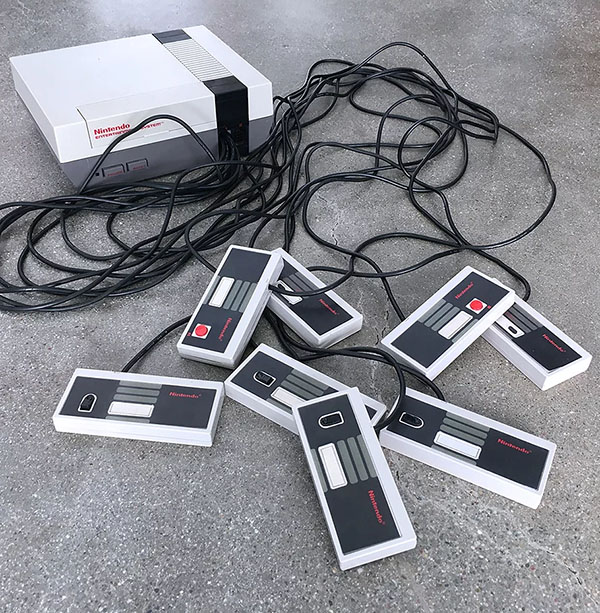 If that's not weird enough, how about dancing cabbages? Curious about two cabbages perched in the sunlight, I wandered over and reached out to push a button. To my surprise and delight, they wiggled to the beat of LMFAO's "Party Rock." (See a dancing cabbage for yourself: https://vimeo.com/742805569 ). I don't think I've ever laughed so loud in a gallery exhibit (to be fair, the singing Muppet vegetables also get me every time). Shuffling LMFAO Cabbage by Plant bot genetics, Wendy DesChene and Jeff Schmuki (see Fig. 3), disarms its viewers with surprise and charm, while engaging the audience in critical thinking about our environment. Even their description is humorous: "Shuffling LMFAO Cabbage (Brassica LMFAO oleracera) was developed without any regard for taste and displays large rosettes of broad ruffled leaves that are colorful, showy, and bitter. The spreading cultivar is a combination of DNA collected from beer bottles containing stout that was consumed by Uncle RedFoo and SkyBlu during the 'Get Sleazy Tour'." While hinting at the recycling element of their overarching goal: "Whether it be a street, museum, or gallery-based event, our goal is to connect the public to environmental concerns and to inspire audiences in an entertaining yet informative way" ("Weird Media"). This is something I've noticed about the visionaries here, there is a message underlying all this weirdness, and motivation for awareness and change, whether environmental, social, or political. Isn't that what the visionary is about - a greater understanding of ourselves, our fellow human beings, and our place and responsibility in the world?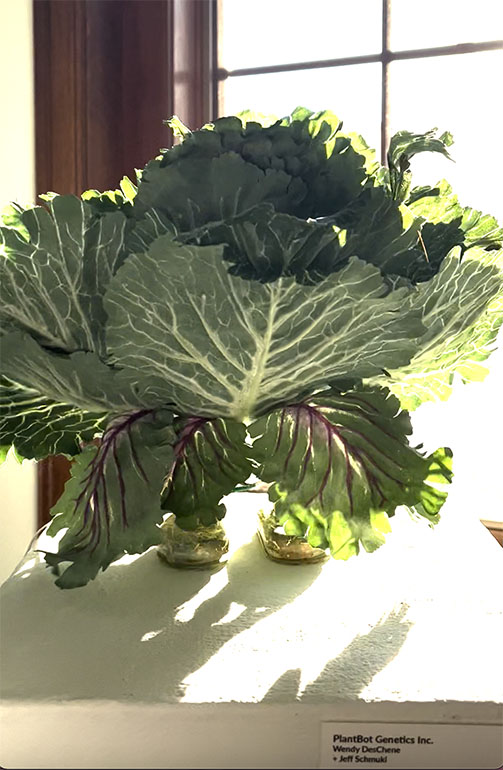 With environmental responsibility, also comes care for the rapidly diminishing species of our earth. The Lost Passage by Amay Kataria (see Fig. 4), draws attention to and digitizes the Passenger Pigeon, extinct in the early 20th century. In this beautifully swirling interactive piece, viewed on a monitor (you can interact with it here: https://thelostpassage.art/ ), Kataria recreates their patterns in an exquisitely crafted digital 3-D landscape. There were several other interactive digital works on monitors and some cards with QR codes for viewing on devices or at a later time, including a compelling and weird work of electronic literature in Twine, Dayforth by groundbreaking artist, Mez Breeze (view here: https://mezbreeze.itch.io/dayforth ).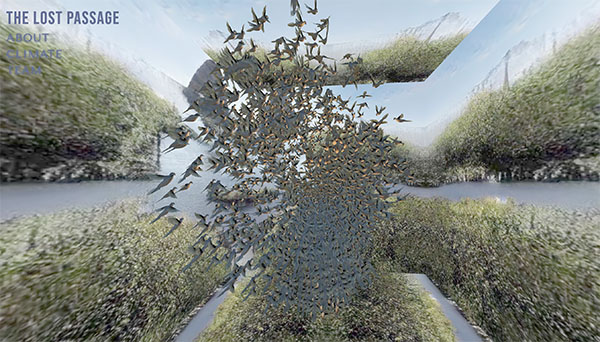 Two smaller rooms of the exhibition space were teeming with installation work. Retrack by Alex McKenzie and Dana Potter (seen here: https://vimeo.com/742805975), filled the room with sound, light, and motion. Both scenes, one on either side of a suspended screen, consisted of a rotating printed-on disc, a light, an arm holding a cell phone recording the image and two floating projections, evoking wonder and curiosity (see Fig. 5). Viewers could walk around within the space and even though I could get close to the disc/phone set-up, transparent in its analog to digital movement, wiring and image-transfer, I still couldn't figure out how it worked. I eventually gave up and immersed myself in the experience of color and sound. There are explanations available at the artists' website, but I am comfortable leaving this a mystery for now. The combined expertise of the artists in printmaking, data visualization, design and sound and installation really shine here. According to the artist statement: "The artists intend for viewers to consider how communication technologies evolve by building upon the language of previous mediums to create new media" ("Weird Media"). In Retrack, the move from the nostalgic vinyl-like disc to the phone, to the 3-D projections captures this build and the magic technology can still manage to invoke.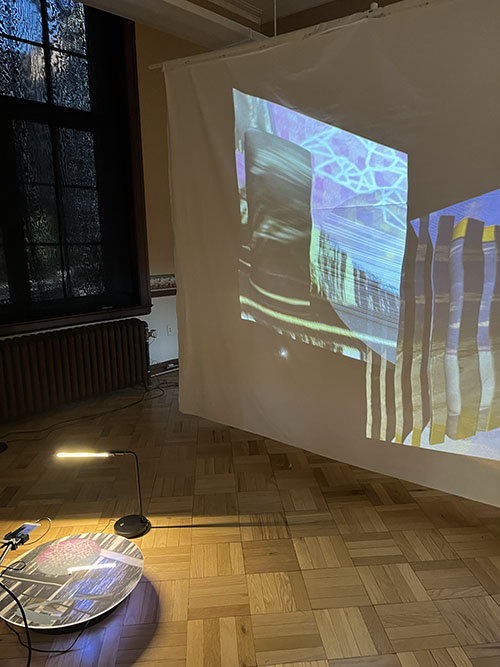 Speaking of analog and digital, through another doorway, Kukamunga by Dominick Rivers (see Fig. 6), carries us into the '80s… or perhaps onto the set of Stranger Things. An homage to the VHS tape, Rivers captures the tangibility of a tape - the case, cover design, the shape (much like a book), and the representation of early children's media (was everything just bigger back then?). The immersive, enclosed room serves to enshrine the nostalgia, complete with recliner, family photos, your grandmother's tchotchkes, and, of course, a retro television in the center, an altar to the VHS tapes. The tapes show typical children's marketing of the time for Kukamunga, a fictional children's show – chunky shiny packaging, Rivers in animal costume and make-up, colorful title, and all the text and design functions we have no longer come to expect. Also strewn about the altar are a nesting doll, decorative candlesticks, and a chunky toy tape player. The focal point of this time-capsule, the TV, of course, is playing the fictional children's show, Kukamunga, speaking to us from our Banana Splits, Muppets, Fraggle Rock, Barney, Bear in the Big Blue House (lest I'm aging myself), pasts. I, for one, felt like I was transported right back into that kooky world and left craving Saturday morning Fruit Loops. Can you still find reruns of Fraggle Rock?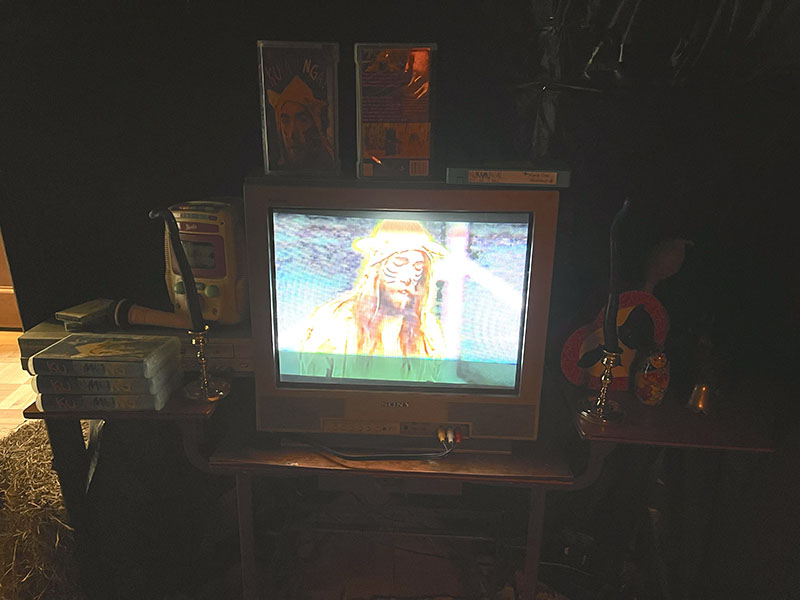 Another immersive work transporting us to the past, and, for me, one of the most emotional pieces in the exhibit was Home Unstaged by Stephanie Tripp (see Fig. 7). Having met and talked with Tripp before experiencing her virtual reality (VR) world, I already knew I would connect with her work. Even knowing that ahead of time, being immersed in another's memories and feelings of grief was a really moving experience. Home Unstaged is an immersive work that puts the reader/viewer inside Tripp's father's home via a VR headset., while she was emptying it of objects after his passing. It highlights our sentimentality over objects, their connection to the people we have lost, and the grief they represent. Inside the emptied space, the viewer sees projections on the blank walls - a recombined Hummel sculpture, made out of broken pieces from her mother's collection, old family photos, including one of her father holding her as a baby, a video of her burying a ceramic cat - and you hear her father playing music, the sound of his voice. It is heartbreaking and especially relatable to anyone who has ever suffered a loss or nostalgic attachment to an object.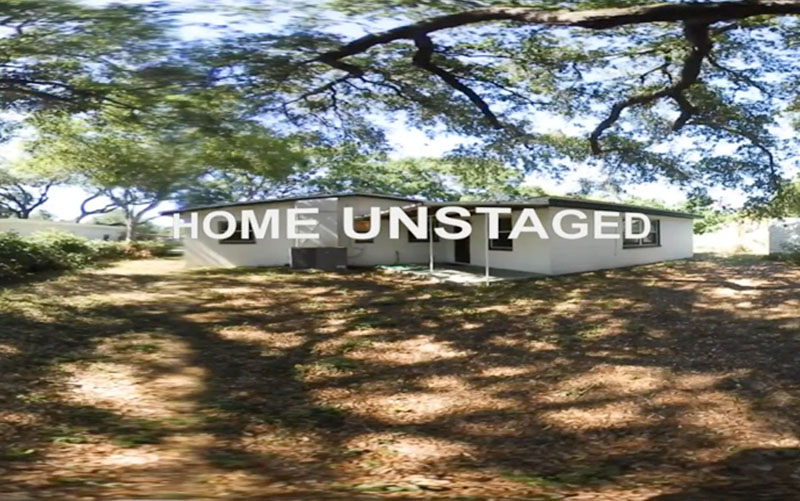 2-D/Print
Furthering this mortal connection, I recognized the work of a familiar pioneer that also hit with an emotional gravity - Alocutive Interpolation by Talan Memmott (see Fig. 8). Memmott is well-known within the fields of electronic literature and digital scholarship, as an early innovator and creative mind in the world of hypertext and electronic literature and its study; Winona State is lucky to have him. As a work of Artificial Intelligence (AI), cleverly also the initials of the title, the personal and emotional power comes through here; the images demonstrate how what we input – in this work "journal entries… and medical reports" from the artist's experience with laryngeal cancer - is harnessed, crafted by AI, and is expressed in a beautifully haunting way. I imagine and hope these images express what the artist wanted to say, and the result was effectively, as Memmott states, "a form of therapeutic aesthetics for the artist as patient" ("Weird Media"). It was, for the viewer, a look into the subjective experience of pain, frustration, loss, the creation derived from these, and ultimately hope.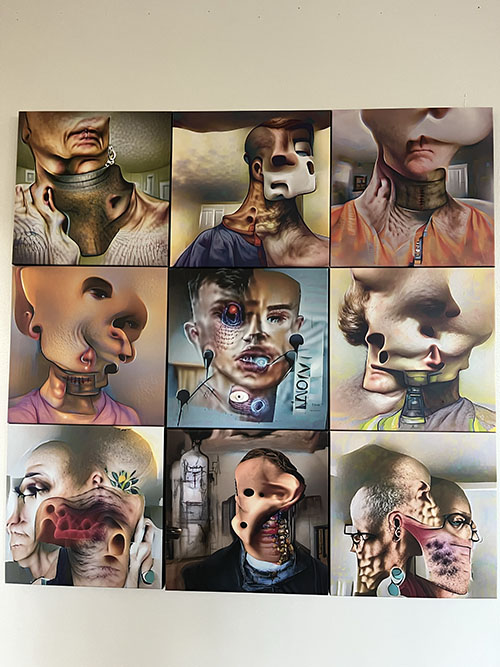 The walls were adorned with significant art everywhere you looked, all of which seemed to carry a social or political message. Two other pieces that stood out to me on the gallery walls were In Pieces by Negin Ehtesabian (see Fig. 9) and Elements of Life by Malavika Mandal Andrew (see Fig. 10). In Pieces is a mail art piece, expressing the difficult process Iranians face traveling west, a process full of documents and denials. The beautiful and personal fragmentation is felt through the multi-layered, textured collage. Here we can pick up on digital representations, what looks like a passport photo, a portrait, and although the work is bright and colorful, we find images that hint of isolation and heartbreak. Her artist statement eloquently expresses that the work "represents the unavoidable fragmentation of the individual subjected to this intense forensic process of rejection induced by an indiscriminately volatile political condition" ("Weird Media"). In Elements of Life by Malavika Mandal Andrew there is also fragmentation within the images, but an overall theme of connection. The images are documenting a life inside, and the natural life occurring outside the windows during lockdown. They are layered, subtly shifting, digitally modified, as technology played such a crucial part of our Covid lockdown lives, connecting us to our friends, family, and the outside world. As Donna Haraway says, "Technology is not neutral. We're inside of what we make, and it's inside of us. We're living in a world of connections — and it matters which ones get made and unmade" (Haraway).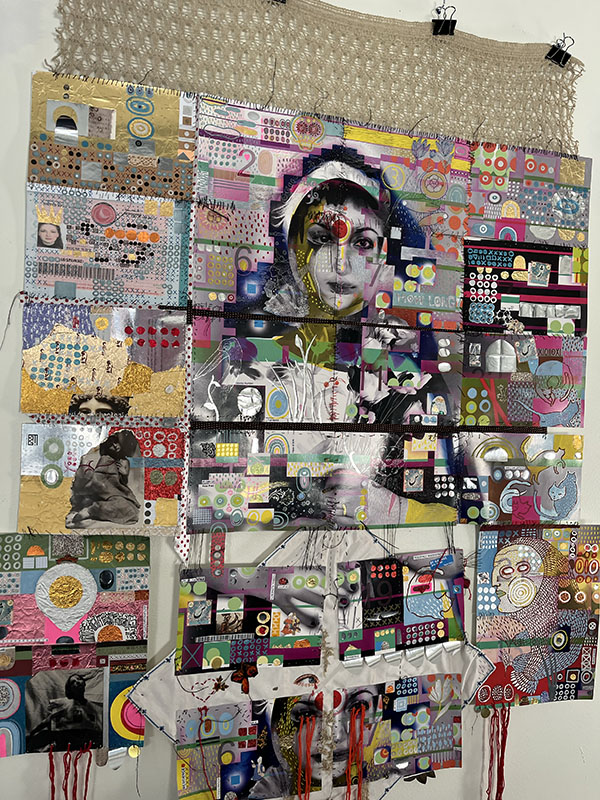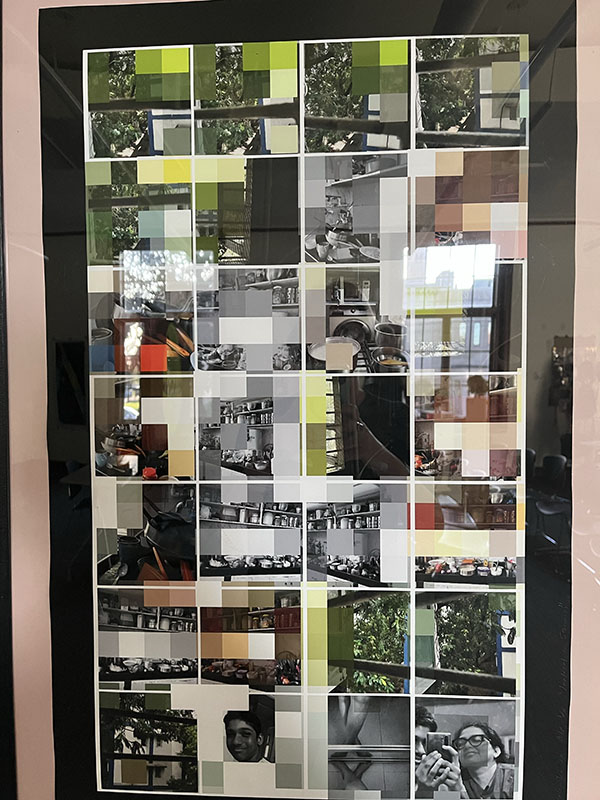 Video/Time-based
Besides the viewing screen in the foyer, another room off the main gallery offered seating to view films and I found respite here, mesmerized by the meaningful and meditative work on view. The films and video art pieces, too many to take in over one visit, varied in theme, but seemed to share in many of those connections seen throughout the exhibition relating to the human condition and elements of life – our relationship with technology, the environment, and creative use of computer visualizations.
The natural life is once again highlighted in Post Hypnosis by Liz Wierzbicki (see Fig. 11), particularly this combination, reliance on the natural and the digital during quarantine. The time-lapse video of the natural landscape, paired with rounded sunrise and sunset pop-ups speak of our connection to natural rhythms, both physical and within our own cyclical thoughts and emotions, particularly when life has slowed or our days are blending together. The looping, meditative sounds echo this, as they do in S4RA's work, Privacy-GRDN (see Fig. 12), which brings in sounds of nature (or what sound like nature) – waves and occasional birds, blended with images of technologies, later food recipes, clouds, code, and a startling computer voice offering to store your passwords and missing their job, encapsulating "the complexity of what being human is in this electronic age" ("Weird Media"). The bright colors, slowly melding imagery, and meditative sounds in both these pieces were calming, while also drawing attention to the depths which technology permeates our lives.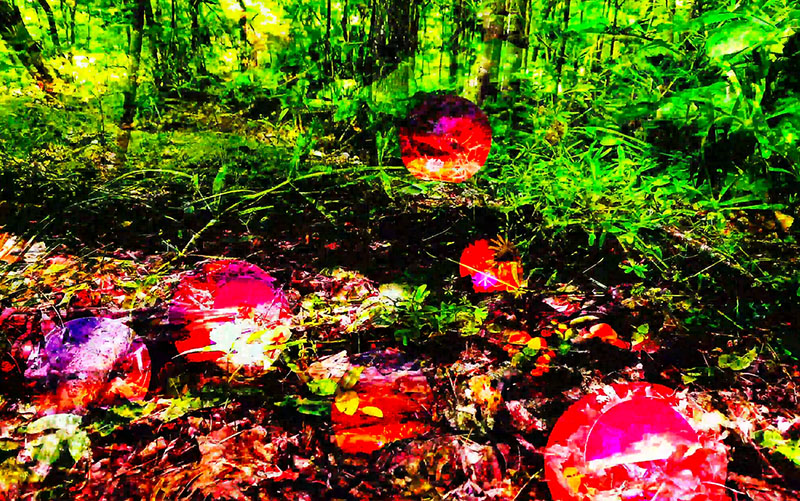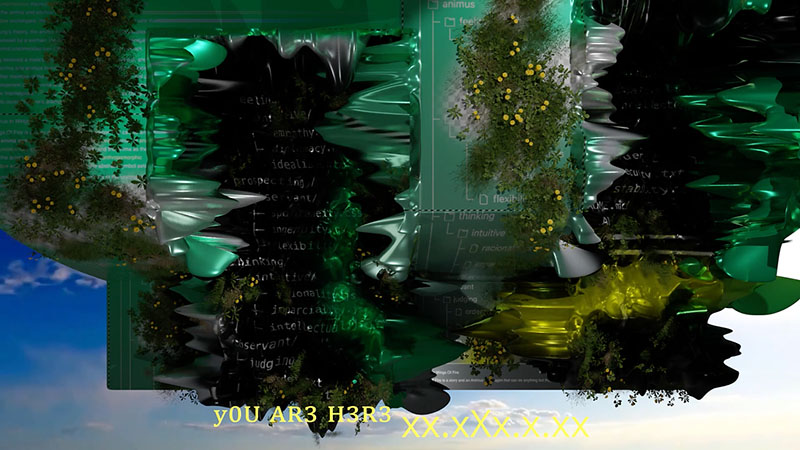 Other videos in the exhibition compounded this idea, specifically speaking to our relationship with technology. Infodemic by Derek Curry and Jennifer Gradecki takes a critical look at our enmeshment with media, mainly the questionable truth, or flat-out false narratives within this media, specifically during the pandemic. The celebrities and figures speaking were generated with cGAN, creating a melding of faces and personalities spreading well-known Coronavirus misinformation - the film itself like a mutating virus, emphasizing the glitchiness of truth. Specters/Ghost Files, by the talented Alan Sondheim, takes the idea of the ghost in the machine to a whole new level, a melding of ghost-controlled code and haunted sound files - Spectre.file.
Caitlin Fisher's video, Joseph Calibrates: the weird world of volumetric video (see Fig. 13), highlights the glitch with outtakes from a volumetric film shoot from the Immersive Storytelling Lab, which she directs (Fisher is also the new president of the Electronic Literature Organization). From the perspective of the volumetric camera during calibrations, fragmented clips show the beauty and charm of the in-between moments, between the realism of volumetric XR work and these interpretive outtakes - how we still find color, shape, meaning, poetry, weirdness… and dancing there. Exploring a foggier floating state of the in-between, is the film Limbo by Izabella Retkowska, an artist who often uses her body as medium in her work ("Weird Media"). Bringing us into the not-so-distant future, the weird colorful sadness in Crying Pink by Renata Janiszewska imagines the experience of being cloned and ponders the emotional grief that might entail.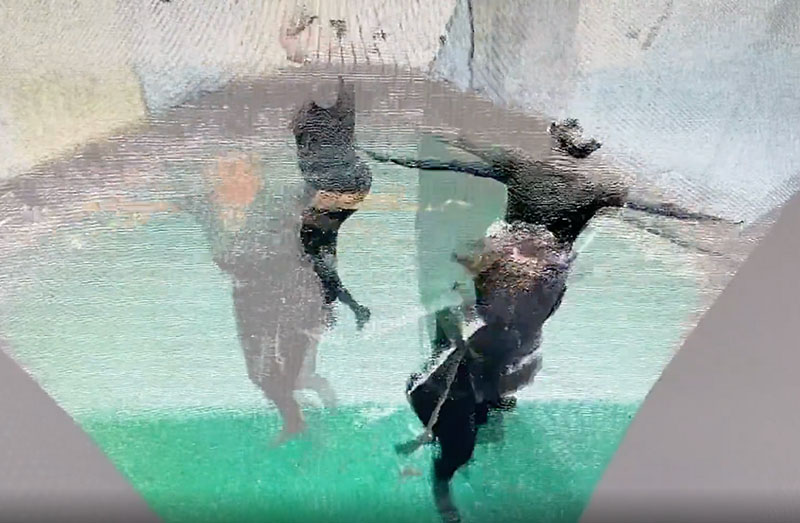 Moving to the more narrative-based, Merit Thursday's work "explores themes such as body, queerness, and the connection between artifice and nature" ("Weird Media"). In when I buried myself by the creek, the film conveys their experience burying the tissue removed from their gender affirmation surgeries. Such a deeply personal and important narrative to give voice to and share with others. This ceremonial-like process speaks to not only the physical transformation and processes involved but could also represent the internal experience - a letting go of dead names and past gender identities, death to celebrate rebirth, renewal. Experimental in form, it was "created using traditional hand drawn animation, body movement, video, microscopic textures, and machine learning software" with "sound design by Cody Lamb" ("Weird Media"). Thursday also does vital work empowering and disseminating others' voices as youth programs director at Film North and the founder and curator of Video Variant, a film screening series exclusively dedicated to LGBTQIA+ filmmakers. ("Weird Media" and Thursday).
Another meaningful nonfiction narrative film, Behind the Loom, Heejoo Gwen Kim (see Fig. 14), brings us the tragic story behind one family's loom, highlighting the impact of war and violence on women (this could be triggering for some viewers). This heartbreaking story takes place during the Siege of Berlin. An emotional oral narrative is told with striking imagery, digital and video meta-films projected onto a stark, cold gallery space within the frame. The narrative weaves in the narrator's connection to a production of If We Were Birds, based on Ovid's Philomela, emphasizing the creation of the tapestry, and therefore art, as healing. The images, the reflections, the film itself, are much like tapestries, woven together with images of the lost loved ones, bare tree branches, artistic interpretations, digital effects, paired with melancholy audio – music, background sounds of birds and a loom. The narrator reflects on the loom representing women's role in society, their strength and resilience, as the fabric of society.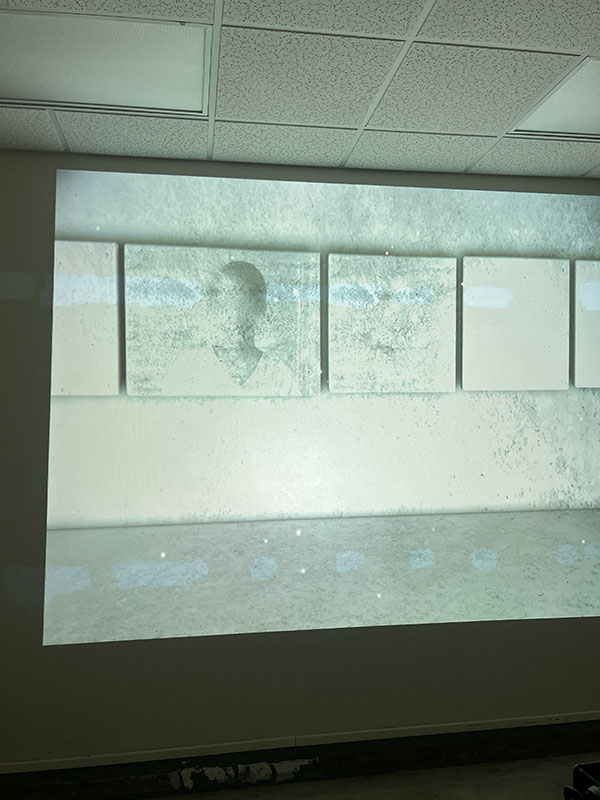 The challenge of viewing these evocative films in a gallery space, is that there is little time to pause and reflect or rewatch and allow the emotional gravity to sink in. All of these, particularly the poignant narrative films, warrant rewatching and I hope to encounter work by these artists again in the future. Time was a factor in viewing the full spectrum of the exhibition as well, and I felt this reading the intriguing descriptions in the catalog, particularly with the films I had missed.  For instance, there was F.C. Zuke's Most Retrieved Words, a film with ghostly dogs barking and running that asks the question, "What have you learned from your dog?" and Brian Skalak's ROAD TRIP, a trip through eleven dimensions! How did I miss these? But, no fear, there was still another road trip ahead.
Performance
Just when you thought your day of weird digital art immersion was done, iDMAa ended their weird exhibition opening with a final performance in a bar. Not just any bar, Broken World Records, a bar/vinyl record store (why aren't there more of these?). The place itself was nostalgic, the records well-curated and not over-priced, and yet… perhaps not the venue you would have expected for experimental electronic music. Or maybe it was exactly the venue you would expect.
The performance, SYNTAX by John C.S. Keston in collaboration with Mike Hodnick (see Fig. 15) continued the exhibit's theme of exploring the dichotomy within our relationship with technology. As the artist description states, "Like two sides of the same coin it is responsible for immeasurable prosperity and immeasurable suffering. It threatens all life on the planet, yet most humans depend on it" ("Weird Media"). Instead of visualizations influenced by music, this performance was a musical response to the visual information, creating a unique experience with every performance. I think of DJ Spooky, who I saw perform live interpretations of generated film scenes in Rebirth of a Nation. The lights and sounds were mesmerizing and from my seat at the bar I could see their quick reactions to the visuals in front of them as they composed and improvised. Within the visuals and music, you could both see and hear this contradiction in our relationship with technology. Here it is, in front of us, creating and expressing, but within that is a warning of our misuse of technology and the damage it can do to our environment. But there also lies within this moment the potential good that can come from technology, if harnessed correctly. This was a fitting ending for the exhibition, a toast to intentionality and hope of a better technological future. Having taken in so much beauty and meaning in the digital art, film, and music throughout this exhibition, I'm not entirely ready to let go of that idealism yet.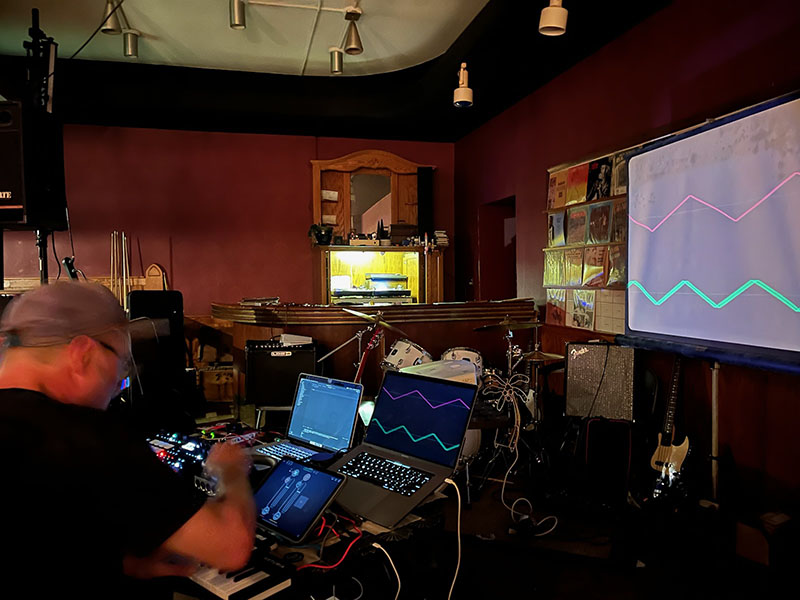 Although the SYNTAX experience cannot be replicated (though you can visit Broken World Records when you're in town), you can view descriptions and images (and sounds and links) for the exhibition works in the online catalog. And I hope this brief glimpse into the iDMAa 2022 exhibition has at least left a weird taste in your mouth.
The Weird Media exhibition proved that visionaries live among us creating works, on and off the screen, that prompt us to think more deeply about the world we live in and the future yet to come - pushing boundaries, experimenting with media, illuminating social and environmental issues. David Bowie said of art: "If you feel safe in the area you're working in, you're not working in the right area. Always go a little further into the water than you feel you're capable of being in. Go a little bit out of your depth. And when you don't feel that your feet are quite touching the bottom, you're just about in the right place to do something exciting" (Bowie). Humanity (and technology) progresses with experimentation and it's the weirdo visionaries that call on us to rethink what we know, reimagine what it means to be human, and push us forward into a better future. And, I will add now, the ones who bring those visionaries together too. Thank you to the Winona State University iDMAa team - Davin Heckman, Talan Memmott, and curator Patrick Lichty. What an awe-inspiring exhibit and, as usual, with a side of warm (and weird) Winona hospitality. Next time you should join us!
Works cited
Bowie, David. "Life Advice from David Bowie." https://www.youtube.com/watch?v=7HqTQyQ6wc0
Haraway, Donna J. "A Cyborg Manifesto: Science, technology, and Socialist-Feminism in the Late Twentieth Century," in Simians, Cyborgs, and Women: The Reinvention of Nature (New York: Routledge, 1991), 149-181.
Thursday, Merit. Professional Website. http://meritthursday.com/
"Visionary." Definition from Google. Oxford Languages. https://www.google.com/search?q=visionary&oq=visionary&aqs=chrome..69i57j0i131i433i512l4j46i175i199i512j0i512l3j0i433i457i512.1510j0j7&sourceid=chrome&ie=UTF-8
"Weird Media." Exhibition website. iDMAa. Winona, MN. https://www.idmaagallery2022.com/
White, Melinda. "Multimodal Fringe: visionaries of e-lit and digital art." iDMAa 2022 conference presentation. June, 2022.
White, Melinda. Weird Media Exhibit Photos & Video. June 24, 2022. Winona, MN.
"Winona." Wikipedia. https://en.wikipedia.org/wiki/Winona,_Minnesota
Cite this Essay:
White, Melinda M..
"Weirding Winona: iDMAa 2022 Weird Media Exhibition"
,
Electronic Book Review
, October 2, 2022, https://doi.org/10.7273/za1w-d582.
Readers wishing to respond to an essay in
ebr
may send ripostes or short glosses to the journal's Managing Editor,
Will Luers
.