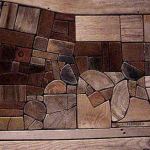 02-07-2021
Special gathering: "Decoding Canadian Digital Poetics"
electronic book review is delighted to publish a special gathering this month called "Decoding Canadian Digital Poetics," edited by Dani Spinosa (ELO Fellow and ELD Managing Editor) and Lai-Tze Fan (ebr Editor and Director of Communications, and tbr Co-Editor).
The objectives of this gathering are not only to highlight what has been accomplished in early digital poetics in the 1990s and early 2000s in Canada, but also to represent what new literary voices and digital experiments can be identified in Canadian scholarship and poetics, along with the trajectories that can be traced among seemingly separate histories.
This gathering features works about Canadian writers and artists such as J.R. Carpenter, Jordan Abel, Darren Wershler, Rachel Zolf, and David Clark, and it also features two interview-style discussions with Caitlin Fisher and Bertrand Gervais.
*
RiPOSTes
Also this month, we are proud to publish a riPOSTe by John Cayley called "Literature, Literary Language, and its Digital and Computational Others"–a response to Dene Grigar and James O'Sullivan's introduction in their new collection Electronic Literature as Digital Humanities (Bloomsbury 2021).
*
ebr is in the process of updating the site's author pages. If you have written an essay or review for the journal and would like for us to update your bio, please send the revised copy (including links) to Will Luers (wluers@gmail.com).
–Lai-Tze Fan
Editor and Director of Communications, ebr