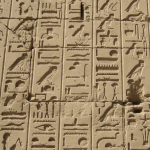 08-05-2018
ebr publishes two essays this month that ask tough questions about censorship and that inquire into transmedial narrative experiences.
A quick announcement (and hearty congratulations!): the Critical Code Studies Working Group—organized by Mark C. Marino, Jeremy Douglass, Catherine Griffiths, Ali Rachel Pearl, and Teddy Roland—will complete its 2018 online "think tank" on February 5. Participants have been plenty and discussions have been rich; the CCSWG 2018 website becomes a valuable resource for those in the e-literature community, as well as for researchers, teachers, and enthusiasts who consider code in relation to the humanities and humanistic issues. We look forward to 2020's Working Group!
Through Joseph McElroy's essay "Forms of Censorship; Censorship as Form," ebr readers can quickly make connections to previous months' publications. December's essay by Rockwell and Berendt and review by Dani Spinosa of David S. Roh's Illegal Literature, as well as January's review by Gregor Baszak on Angela Nagle's Kill All Normies, raised questions with which we now follow through. Digital technologies, we see, are intertwined with contemporary politics, law- and policy-making, as well as with the breaches and control of information.
Will Luers' essay "Getting Lost in Narrative Virtuality" combines film studies, e-art, game studies, and narrative to think about the construction of a "narrative virtuality"—the tensions between the actual and the virtual that sprout through a narrative's "inducing other mental processes." In later months, ebr will publish more on narrative in game studies.
*
Will Luers begins his essay, "Getting Lost in Narrative Virtuality," by calling into question the parameters through which we might associate immersive or interactive narratives with traditional print narratives: "A reader's successful completion of a narrative text is a spatial and temporal understanding of its world and perhaps a virtual model of that world that can be retained in memory." As Luers notes, the notion of "completion" is problematic when one asks if interactive and especially electronic texts can ever be complete or offer closure in the same way as the material experience of arriving at a final page and shutting a cover. His focus on the phenomenological experience of user immersion leads to his essay's outline of how ontological exploration occurs subjectively—through a sense of space, for instance, or through memory.
Delineating how the notion of "virtuality" has been developed in studies on storytelling, time, and representation, Luers arrives as a tension between what is shown and what is suggested—the actual and the virtual. A narrative virtuality, then, occurs for him as the experiential parallel to what the user receives. That is, it is not those images, sounds, or texts that are explicitly expressed, but rather, tensions between what is there and the product of its slippage. For Luers, the process of a constructing a narrative's virtuality, as "an unknowable realm within the emerging known of the narrative world," occurs through elements of narrative virtuality that he offers: abstraction, absence, multiplicity, opacity, noise. He considers how these elements apply to a classic book that is structured as a painting, and then again to e-literature author Nick Montfort's Taroko Gorge (2009).
Inquiring into the notion of narrative virtuality as Luers has done—across book, film, and e-literature—I think of how unique representational affordances and limitations point to medium-specific virtualities. For instance, when Luers describes how e-artist Olia Lialina applies filmic aesthetics and language to create the computational virtuality of an imagined world, I point to Lialina's essay "Not Art&Tech" in across & beyond: A transmediale Reader on Post-digital Practices, Concepts, & Institutions (2016), in which she critiques how art aesthetics are utilized in branded technological devices to appropriative effect. In this case as with other mediations, what allows the appropriation is also what can catalyze virtuality: the literacy of one medium allows it to be legible in another. Reference to and suggestion of the virtual conjures up something in the user's reception indeed, whether of narrative or digital image.
*
"I myself am not about to be arrested or my writing burnt. But I belong to others, don't I? How do I? Does that censor me? – make me their censor? Reporting to whom? Quickly leaving what out?"
Through these self-reflexive questions, Joseph McElroy's essay "Forms of Censorship; Censorship as Form" examines censorship and expression vis-à-vis political issues, his own writing process, as well as the listening process of the audience (the essay was originally delivered in Kiev, Ukraine, at the University of Kyiv-Mohyla Academy).
Considering the context of censorship in the Ukraine, with its own political history of censorship, McElroy carefully explores notions of "free speech" and information through what he also describes as his own self-censorship. This ultimately leads him to a central question: a consideration if "censorship must come from a bad place."
He outlines numerically the structure of his essay's argument: "what we think we mean by censorship"; "the everyday How of censorship"; and "multiplying," by which McElroy identifies the terrifying momentum of politics-that-do-not-serve—politics that "conceal or prohibit or blot out" and that thus necessarily raise the stakes of critique and intention should one choose to participate in "art and creative invention." I find McElroy's mediations of artist Ai Weiwei particularly powerful in describing these raised stakes: Ai's censorship occurs via "the forcible erasure of his name beside his work, thus censoring his work, [Ai] believes." Source itself slips away—an intriguing notion in an age when merely typing something into certain web platforms makes it the intellectual property of said platform.
How an idea picks up steam is precisely its power as well as its charge to be under political control, so that McElroy considers how ranges of political microaggressions to full-on erasures have occurred through various historical as well in recent political examples (Ukraine; Thailand; Turkey; Russia, and so forth).
There is something to say about potentially productive censorship. In January 2018, I commented on the use of Twitter in social media political wars (see Gregor Baszak's review here), and again, I think of certain politicians whose spontaneous posts could do with a moment of editing or further reflection for their potential impact.
At the same time, understanding how we have critiqued censorship points us to something more troublesome. McElroy explores the way Wittgenstein feared that his spoken remarks be written down by students before he could revisit and deepen their meaning, and I think this kind of censorship-as-editing reveals the power of public information—to utter as record; to remember what is said. While we may consider that the speed of digital information perhaps impacts the cultural longevity of each little "publication," at the same time, this archive of records has great staying power: Internet posts can come back to haunt. Every time Trump denies saying something or doing something, netizens can draw out specters from cloud-memory: "The Trump two months ago says he never heard of Wiki when it came out, though he criticized it in 2010."
Thus far, liability through cloud-memory does not seem enough to stop the "multiplying" of rabid politics that McElroy describes. Following the 2018 Women's March held on January 20, what I remember might be described as the failure of the record even when it is restored or reclaimed from censorship. Recorded conversations about blatant sexual harassment and numerous testimonials from women—screams that had been censored. And when brought to attention, some heads were turned, but some eyes closed. What is the place of the record when it can be dismissed in the game of politics through projected censorship?
—Lai-Tze Fan
Associate Editor and Director of Communications, ebr