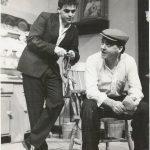 11-05-2018
Resuming from last month, ebr will continue to publish texts that reflect upon the politics of the metainterface, as well as cultural practices and works that have emerged in response, starting with last month's re-publication of a chapter of Christian Ulrik Anderson and Søren Bro Pold's The Metainterface: The Art of Platforms, Cities and Clouds (MIT 2018). This month, we feature a discussion from Rod Coover and Scott Rettberg on their project Toxi•City: A Climate Change Narrative, a narrative film that combines fictional and nonfictional stories of people affected by rising sea levels and recent storms in America's North Atlantic Coast.
"What makes for a literary movement?" James O'Sullivan asks in his essay "Electronic Literature in Ireland." E-lit researchers and practitioners who are interested in representing specificities of nationality, culture, and language will be interested in O'Sullivan's discussion of why e-lit in Ireland has not taken off as in North America or Europe, and what its strengths and successes have included.
Astrid Ensslin offers a riPOSTe to the first chapter of John Cayley's Grammalepsy: Essays on Digital Language Art (2018), the first publication in the Bloomsbury Electronic Literature series. Ensslin focuses on the unique affordances of digital platforms for grammalepsy, including how they are complicated by examples such as automated text generation. After having published the first chapter in August 2018, we are happy to announce that Grammalepsy has also been released in open-source format.
Finally, digital artist Jhave Johnston offers a thinking experiment through his notes on Sean Braune's Language Parasites: Of Phorontology (Punctum 2017; PDF shared freely with ebr). Conscious somewhere between the model of peer-to-peer review and the style of argumentative essays, Jhave chooses neither approach for Braune's text, preferring instead to take seriously Braune's claim that "philosophy is parasitical." If so, Jhave's engagement with Language Parasites certainly embodies the spirit of "phorontology," the study of parasitic Being, appearing as reflection and riff.
*
We are delighted to have James O'Sullivan (founder and editor of New Binary Press, and host of the 2019 ELO meeting in Cork, Ireland) write on "Electronic Literature in Ireland." It is not only informative but also responsible for those of us who will attend the next ELO meeting to understand Ireland's relationship to e-lit. Why Ireland? It is not immediately obvious what is unique about Ireland's relationship to e-lit and how it differs from that of other countries.
To start, O'Sullivan acknowledges the formation of the e-lit movement as part of an American community of practitioners who started the ELO—creating continental contexts for e-lit in North America and Europe. The Republic of Ireland is literally an island situated between the two continents. O'Sullivan explains that, as much e-lit scholarship focuses on the theorization of the practice rather than specificities of content, "the history of electronic literature is one which has neglected particular regional contexts."
Outlining the historical strength of Irish literary grassroots, O'Sullivan explains that it is still debatable if e-lit development in Ireland can include current trends in multimodal literature through "video-poems, film-poems, and poetry films," and increasing interest in the game industry. In offering examples of a comprehensible Irish e-lit movement, he instead chooses to focus on contemporary writers such as Ní Ghríofa, Samantha Gorman, and especially Michael J. Maguire. These case studies allow for a discussion of the future of e-lit in Ireland, through which O'Sullivan stresses the need for greater distinction at the levels of infrastructure and practice between digital authorship and the game industry, if only for the very important difference that e-lit, unlike games, are not built for capital.
*
In their discussion of their narrative film Toxi•City: A Climate Change Narrative, Coover and Rettberg elaborate on how their project mediates the flooding of industrial centres and the spread of their toxins into our water, food, and air. Toxi•City comes out of Coover and Rettberg's CRchange project, which features other films, combinatory cinema, and VR projects to narrate stories about drastic changes that affect earth and humanity.
Coover and Rettberg offers details into the research and production process of Toxi•City, including Coover's project The Chemical Map, which visualizes the reliance of many North Atlantic cities on the same water systems; the cities are this intertwined in the same natural ecology—and through any toxins that find their way in. As ebr will continue to feature texts on metainterface and the abstraction of real content, spaces, and people, I point to Rettberg's account of Toxi•City's origins as a reflection after Hurricane Sandy. Noticing in the news that one of the devastated shorelines of New Jersey is where Rettberg himself had used to live, the mediated space became un-abstract. That is: where mass media's ongoing reel of horrifying events in Other places can sometimes allow people to distance themselves from otherness, Sandy (and Katrina before, and many other storms to come) did not happen in a non-place. Natural disasters are ever closer, and this is the point that Coover and Rettberg try to stress in present-ing climate change.
*
In her "Riposte to Grammalepsy: An Introduction," Astrid Ensslin assesses the pertinence with which John Cayley shapes grammalepsy, or, the condition to treat language in a "grammatized," ontological mode that dictates how we may then approach communicative mode or medium. While she prefers to steer from Cayley's rhetoric of grammalepsy as pathology, Ensslin points out a tension between humanity and rising algorithmic culture that necessitates Cayley's reconceptualization of literary institutions in print.
The text of Grammalepsy itself becomes a grammaleptic experiment in Ensslin's estimation, "a physical, printed object that simultaneously queries and corroborates, through its very own materiality, the substance of its own message." Here, I think of other texts that point to, play with, and otherwise incite dissonance with their very media, including the novels House of Leaves (2001) by Mark Z. Danielewski or A Visit from the Goon Squad (2010) by Jennifer Egan, which mediate print bookishness by playing with their content and form.
Where Cayley's work on digital language art differs is through his focus on how digital media allow for the reconceptualization of our notions of textuality and writing in general. The dynamics of language and medium to change when we think of, for instance, automated text generation/completion. Text generation demonstrates the many layers of content production that are important to Cayley's work in the ontological relationship between language and medium, and to Ensslin's work in "the multi-layered, pluritextual discourses of digital games and gaming."
*
If John Cayley uses pathological language to describe grammalepsy as a condition of human's relationships with text, medium, and even sense of self, Sean Braune plays with the ways in which language itself can infect us. Arguing that the names we are given at birth infect us with senses of self and subjectivity, Braune offers the parasitic Being as a more normative understanding of Being, as any Being is always related to other Beings, such that there's always a parasitic or symbiotic relationship to be had. Language Parasites is bound up in traditions of French continental philosophy, articulating ensuing fever dreams of the situated and (para)sited human, but also of the non-human and inhuman.
Jhave calls his engagement with Language Parasites, "which began as notes … now merely parasites upon the core text: raw, simple, parasites." This is not to diminish the quality of his "Parasite of a Parasite": pairing excerpts of the original text with his own observations and questions, Jhave does not simply offer peer-review, nor does he take up argumentative style. Braune writes that "philosophy is parasitical"; insofar as philosophy imbues a kind of sustenance into its readers, I notice Jhave and Braune's shared desire to pursue lucid mode through ludic style.
The method that Jhave chooses is highly musical, such that the publication "Parasite of a Parasite" invokes ideas of two philosophers scat singing off of each other. Where Braune describes how "the cabbage butterfly, as a caterpillar, protects the wasp larvae below its body after the parasites have burrowed out of the caterpillar's abdomen in order to spin their cocoon," Jhave responds: "wasp philosopher parasites pursuing hegemony's tongue down into the tornado of a diffusive context. That which is parasite is that which was buried or nurtured or flowed further than conception which stopped at the I."
As an example of and study in critical play, "Parasite of a Parasite" demonstrates a new model of interactive engagement in scholarly journals—a method through which members of the community can interact with each other, which is best afforded by the unique publishing platforms of digital journals. Embracing these exciting encounters, ebr encourages the larger community to propose similar thinking experiments for publication.
*
ebr is in the process of updating the site's author pages. If you have written an essay or review for the journal and would like for us to update your bio, please send the revised copy (including links) to Will Luers (wluers@gmail.com).
—Lai-Tze Fan
Associate Editor and Director of Communications, ebr