Jean Sramek
,
Rob Wittig
02-05-2023
https://doi.org/10.7273/j90n-ht73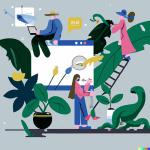 Rob Wittig and Jean Sramek - a playwright and netprov contributor – discuss how netprov as networked collaborative writing has changed since one of its earliest instance, Grace, Wit & Charm.
Image: DALL-E, at a prompt: "A group of people, plants and animals collaborating on digital platforms to write a poem"
Summary Keywords: people, motley fool, fake, lives, writing, discussion board, reality, bot, friends, twitter, book, real, thinking, fictionalized, famous, internet, fiction, idea, electronic, actual
Speakers: Jean Sramek, Rob Wittig
---
Rob Wittig
We've been starting by asking about your personal story of getting involved with Netprov. And I'm going to make a special request that you talk just a little bit, first, about your online community on Motley Fool. Because you're an early adopter in this in this field.
Jean Sramek
That's the way my brain works anyway: I have to do extra credit background stuff before I can tell the actual story. [laughs] So there's a website called The Motley Fool.1The Motley Fool is investing company, which, according to Wikipedia, at its very beginning, issued the series of statements on nonexisting sewage-disposal company as a means of promotion of small investments. https://en.wikipedia.org/wiki/The_Motley_Fool (all footnotes by Anna Nacher, unless noted otherwise). It's a financial website for normal people. It's changed a lot since those days. This was circa 1999, 2000. And they had so many people doing off-topic conversations on their various discussion boards that they finally just threw up their hands and said, 'Okay, fine, we can have a lot of off-topic discussion boards!'
So soon — boom! — there are all these boards with everything from people interested in weightlifting to people interested in living below their means. They far outnumbered the actual financial information boards. If you wanted a discussion board about what your stock was doing, it was like a ghost town. But if you wanted a discussion on traveling in the Caribbean, there's a whole board about that! Anyway, I made a lot of actual friends there. I'm friends with those people to this day, and a lot of us have migrated over to Facebook or Instagram. Which is awesome, because the Motley Fool didn't let us use swears. But now we can use all the swears we want! I've actually met some of those people in person. We have a Motley Fool friend in Germany who came to the United States to visit. I went to San Francisco to meet my friend Deborah after being online friends for 20 years. So I'm a big fan of imaginary friends, as I call them, becoming actual, real friends. They're just as real as in-person friends, I think. So Netprov greased the skids or whatever the metaphor is, for the idea of things happening online or electronically having a base in reality, and sometimes being more real than the real thing.
Anyway, how did we get involved in Netprov? My friend, Margi Preus and I have written plays together. She also writes novels for middle grades, and picture books for kids, and other things. She and I have done a bunch of weird theater projects together. We teamed up with some people who were in radio journalism and others who were just interested in writing and music and whatnot, including you, Rob, and Joellyn Rock. It was a weird collection of artists and multi talented people. I think we came together around a strange experimental radio project called The Listener Happiness Program. The show never got on the air because the radio station though it was too weird. It was a really great ensemble, you know. We started just doing weird projects together that were hard to explain, but were really, really fun. That was kind of my introduction to it — just getting together at a local cafe and just talking big about "stuff!" [laughs] Writing funny stuff together.
Rob Wittig
So how has participating in Netprov lives impacted your own creative practice?
Jean Sramek
I think it's reassured me. It's given me permission to do the thing that I was already doing, which is: weird projects that are hard to explain. And it's opened my mind to the idea that we don't actually know what the next art form is. 50 years ago, if you'd said, 'I have people who I consider dear friends who I've never met,' I'd have thought it was crazy. Or we'd call them pen pals or something like that. Or the idea that 10 years from now or five years from now, there might be an art form that we haven't heard of — it's opened my mind to those possibilities.
Rob Wittig
Awesome. I've had the privilege to read a fabulous, character-based work-in-progress of yours. How do the Motley Fool and netprov experiences play into that?
Jean Sramek
Everybody who writes fiction is always really writing about themselves. That's my theory. And some more than others, you know! [laughs] For example: every film made by a man is really about that man. Not to be all feminist about it, but it's true! [laughs] A lot of fictionalized accounts are actually just about that person. That's what you know best, so you write about it.
So my characters may or may not have some resemblance to some stuff that's happened in my life. I can neither confirm nor deny. You might write about something that takes place in a different world or different time, but you're still using your own brain and your own personal experiences, which makes it very authentic.
Rob Wittig
Are there any netprov passages of play that you particularly remember?
Jean Sramek
I would have to mention the SpeidiShow2More on SpeidiShow: http://meanwhilenetprov.com/index.php/project/speidishow/ in which we fooled the internet. I don't know if the internet is as naive now as it was back then. We built this fiction and we actually pulled people in to playing with us, which was a lot of fun. Subsequent to that a lot of fooling people on the internet has taken place that was less savory. Honestly, I don't know if people have gotten less skeptical or more skeptical. I'm not really sure.
I was unaware of the existence of this reality show, The Hills3The Hill was an American reality TV show broadcasted on MTV between 2006 and 2010., that made Spencer Pratt and Heidi Montag famous. Of course I knew about reality shows which are not real at all, in fact: less real. It was a reality show about rich, good looking celebrities in California. Now, there are many of them, but Spencer and Heidi were among the first to be famous for being famous in that way. And I think your colleague Mark Marino had Spencer taking one of his classes at USC. They got the idea to do a spin on a fake reality show using Twitter as a platform. And so that's what we did. With the real Spencer and Heidi's encouragement we made up all these characters and we launched Twitter buzz about an imaginary reality show that fans of the show would be very excited about if it were real. And the goal was: can we pretend to be all these people and pretend there is this new reality show? And the answer is: of course we can! I'm still a little shocked at how easy it all was. You had a pretend website for this pretend reality show. And we had pretend characters on Twitter. And it was like magic. People thought they were getting a scoop. And that was really fun and exciting and weird.
I think the appeal of All Time High4More on All High Time: http://meanwhilenetprov.com/ath15 was that, whether you loved high school or hated it, you have some memories that are deeply imprinted in your brain and your body. We pretended to go to high school together on Twitter. We had a fake prom, a fake football game, all the typical high school things. The great thing was we brought in so many people who normally didn't even do Netprov with us. A lot of first-timers. We helped my husband John create a couple of great characters. Even people who didn't quite understand what was going on quickly got into it. We would be in your living room with people from all over, in different time zones, on video chat. That was a blast! It was really fun. If only real high school had been that way! If real high school had been that much fun there would be no way we'd need to do a netprov about it!
I also have fond memories of the Chicago Soul Exchange5More on Chicago Soul Exchange: http://robwit.net/?project=chicago-soul-exchange and https://joellynrock.com/portfolio/chicago-soul-exchange/ There is also an article by Mark C. Marino and Rob Wittig in Dichtung Digital, no. 42, 2012 https://mediarep.org/bitstream/handle/doc/18730/Dichtung-Digital_42_1-44_Marino_Wittig_Netprov.pdf?sequence=1&isAllowed=y , because I do like the idea. If I had to pick a netprov that I wish were real, that would be one. The premise was: people who think they have past lives often are convinced that the past lives were someone important or famous or significant. But really, percentage wise, that's very unlikely to be true. What your past life would probably be is some medieval peasant who died at age 14 because a heavy thing fell on them. In Chicago Soul Exchange you could trade up, you could get better past lives for yourself than just the garden variety. I think if somehow I could wave a magic wand and make this true, people would be on that website immediately! People would definitely try to buy better past lives. I think that was part of the fun of that netprov because we all secretly want that. Or a lot of people do.
Rob Wittig
How has netprov changed in the last ten years or so?
Jean Sramek
The world of Twitter, Instagram, and Facebook has gotten so complicated and so toxic that I would feel terrible about doing something fake on those platforms now, because there are so many fake dangerous things now that we can barely sift through them. Most people on social media have had the experience of being banned or being put in a timeout for saying something that they think is relatively benign, but it was taken out of context by the overlord bots that are screening for offensive content. And on the flip side, sometimes when you report something that's racist, or sexist, or dangerous, or violent in nature, the bot will get back to you and say: 'Nope, we didn't see anything wrong with that.' It's a complicated place, and it's kind of a cesspool now. Especially Twitter. So I don't think a fun little game of a pretend reality show with handsome celebrities would work now. To be perfectly honest, I'd be afraid to do it because I would be afraid of the repercussions. You can do what Andy Borowitz does, say: 'Attention everyone. This is satire, right? You get that? Satire! Okay, now I'll say what I need to say.'
Rob Wittig
MAD magazine6MAD Magazine is an American humor magazine: https://www.madmagazine.com used to say: 'this is not a harpoon, not a spittoon, but a lampoon.'
Jean Sramek
Yeah!
Rob Wittig
What would you say about the community building potential of netprov? Netprov as a tool to build bridges in a polarized society?
Jean Sramek 15:23
I have to go back to the idea of making real connections and real friendships without ever meeting someone in person. There's unlimited potential for that! Whenever I hear someone say, 'computers have just made our lives so much harder,' I have to shake my head and say, 'No, they haven't. They made everything better.' Because there are a lot of isolated people without the resources to travel and connect physically. The magic of the internet and electronics has leveled the playing field somewhat for people who don't have the same resources. So that's great. So then, Netprov is fake, right? Is it? Don't answer that. Sometimes, you know? Because sometimes it's… it's not! It's based on something real. So I think that there's a lot of potential using the powers for good. As we have already done.
Rob Wittig
Do you have any thoughts about the way writing in these different platforms leads to a kind of writing that blends the written tradition and spoken language. I see your writing as kind of being this wonderful play of writing things that people say out loud but they would never write, mixing up the traditions.
Jean Sramek
I have informal training as a playwright, having never taken a class in playwriting. I just learned by doing it. Part of it is that I'm always thinking about how this moment would be if it were performed, you know what I mean? I'm thinking three dimensionally. I'm always thinking about how this is going to sound. And honestly, when I look over something that I've written, I very often just speak it out loud. I'm reflecting: 'how would this be as a spoken word piece? Or how would this be as a story told by everyday human beings. I frequently think that way.
Rob Wittig
What would be the characteristics of the ideal netprov player?
Jean Sramek
The ability to throw away your preconceived notions about however you think something is supposed to go. To be able to just go with it. The classic improv: 'yes, and.' When people train improv that's the attitude. What have you got to lose? Just see where it goes. Be open to the possibilities. Don't worry if it's something you've never heard of before or you can't explain it. I've been doing weird creative projects that I can't explain to people my entire adult life! [laughs]
Rob Wittig
Yay! [laughs]
Cite this Essay:
Sramek, Jean and Rob Wittig.
"Jean Sramek Netprov Interview, Oct 2022"
,
Electronic Book Review
, February 5, 2023, https://doi.org/10.7273/j90n-ht73.
Readers wishing to respond to an essay in
ebr
may send ripostes or short glosses to the journal's Managing Editor,
Will Luers
.