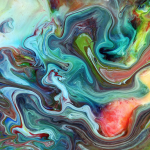 02-02-2020
ebr is delighted to announce that the 6th biennial Critical Code Studies Working Group has begun, led by Mark Marino and Jeremy Douglass. Many members of ELO and readers of ebr are contributors to this and previous CCSWGs, and this year's Group extends previous conversations by focusing on special topics such as Indigenous Programming and Feminist AI. You can follow ongoing conversations (January 20 to February 9, 2020) as they unfold on the Group's website.
*
This month, ebr publishes "At a Heightened Level of Intensity: A Discussion of the Philosophy and Poetics of Language in John Cayley's Digital Poetics," a conversation between John Cayley and Scott Rettberg from December 2019 that explores Cayley's history, mediations, and practices with digital poetics.
The conversation offers context to Cayley's beginnings with digital poetry–spurred by his concurrent education Classical Chinese literature and his first encounters with personal computers. Already studying processes of translation, Cayley sought to experiment with linguistic processes through computers by coding text written in acrostics. While not directly influenced by acrostic and mesostic writers such as Emmett Williams, Mac Low, and John Cage, Cayley notes the clear connection in their mutual use of acrostics.
Within his questions, Rettberg makes observations of the specific theme of time in Cayley's work, including in the piece The Speaking Clock (1995). The ensuing dialogue surmounts to an overarching question: how can poetry (generally thought of in terms of space) be presented in terms of time? And the ways in which Cayley describes The Speaking Clock (and other temporally themed works) answers doubly: on the one hand, such works occur as literary or language art performances based on time, and on the other, they function as literary languages artifacts wherein time is the subject. In this mediation of the dynamicism of literary or language art(ifacts), I was reminded of Lisa Gitelman's (2006) positioning of media as agential subjects (rather than passive objects) of information and meaning making.
The significance of this discussion on The Speaking Clock comes down to poets and their choice of medium. That some poets's chosen platform is the material page arguably may result in the limitation of temporal experimentation (not thinking of the poem in terms of time and performance)–though Cayley points out that it need not be this way. A middle ground for performed poetry, he notes, may be the element of sound.
To this effect, Rettberg later focuses on the text- and sound-based work Windsound (2001) for its visual depiction of transition and dynamicism–a work that "show[s] an idea in the process of becoming." In turn, Cayley offers valuable information about the work's design "as a text movie," imagined through "cinematic images." Inquiring into processes of development and theorizing, the conversation between Rettberg and Cayley addresses further approaches in digital poetics to time, deconstructionism, and cultures and practices of humanism after Web 1.0.
*
Call for Papers:
The Digital Review is looking for submissions (short and long) for its Fall issue. Official call and theme will come in March. Thank you to all who submitted work for issue #1: Digital Essayism. See below for more information!
*
ebr is in the process of updating the site's author pages. If you have written an essay or review for the journal and would like for us to update your bio, please send the revised copy (including links) to Will Luers (wluers@gmail.com).
—Lai-Tze Fan
Associate Editor and Director of Communications, ebr