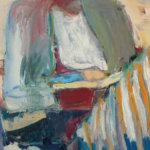 09-02-2018
The publications of September are preceded with several exciting announcements.
I write this monthly post after having returned from ELO 2018 in Montréal, Canada—five days and nights of critical discussion, creative exhibition, and much-needed reunion in the city of microbreweries and cheese. We hope to see you at the 2019 Meeting of the ELO in Cork, Ireland, from July 15-17!
Many congratulations to the winners of the 2018 ELO prizes:
– the Robert Coover Award for a Work of Electronic Literature was awarded to Will Luers (ebr's own Managing Editor), Hazel Smith, and Roger Dean for their work Novelling
– the N. Katherine Hayles Award for Criticism of Electronic Literature was awarded to The Bloomsbury Handbook of Electronic Literature, edited by ebr's own Editor-in-Chief Joseph Tabbi
– the Marjorie C. Luesebrink Career Achievement Award was awarded to N. Katherine Hayles, whose scholarly impact is incontestable. Hayles' present activity continues to be exciting, evidenced by her essay published last month in ebr, which is part of a forthcoming gathering from the Dubai conference
A future issue of ebr will focus on the topic of "Essayism," co-edited by Joseph Tabbi and Jason Childs. We are requesting submissions that, in both form and content, extend the rich tradition of critical and creative engagement with the question of the essay in new directions. Please find the complete CFP here, with a deadline for abstracts on October 15, 2018.
And now to this month's publications.
Daniela Maduro reviews The Perversity of Things: Hugo Gernsback on Media, Tinkering, and Scientification (2016), a collection of writing by Hugo Gernsback, edited by Grant Wythoff, that mediates Gernsback's exploits in technological experiments, his approaches to science fiction, and the presentation of his work as a media theory in progress.
Ana Marques da Silva and Manuel Portela's "A Strange Metapaper on Computing Natural Language" is an exercise in critical play, bringing to public discussion the system of peer review as indicative of the practice of generative writing. da Silva and Portela deliver a paper on an embedded paper, intertwining their analysis through actual peer reviews the authors have received; in the process, they approach generative writing computationally and non-computationally, automatically and institutionally, as hyper-aware and complicit paratext.
In his riPOSTe to "Strange Metapaper," Mario Aquilina joins in on the game: where does the paper begin and end? To what should he respond and in what ways does this interaction add to da Silva and Portela's commentary on the practice of review writing? His reflexive writing process sets up his very riPOSTe as both hyper-aware and complicit paratext, such that it could perhaps also be called another layer of the "Strange Metapaper."
*
Daniela Maduro reviews The Perversity of Things: Hugo Gernsback on Media, Tinkering, and Scientification (2016), a collection of writing by "amateur scientist" Hugo Gernsback, edited by Grant Wythoff and mediated in such a way that emphasizes Gernback's status as a "tinkerer" of the wireless technology of his age. Gernback's work finds salience in a contemporary age of maker culture, hacker communities, and the open-source movement, and this collection would be of particular interest to readers interested in the intersections of technoculture and literature, as Gernback's approach to literature, especially science fiction, is as a cultural barometer of technology and technological change.
Reviewer Maduro makes clear that one of the most interesting parts is Wythoff's re-presentation of the status and conditions of Gernsback's work. For instance, Wythoff argues that Gernsback's conditions of publishing—the pressure to publish or perish that we know so well—prevented a comprehensive media theory to develop out of Gernsback's writings. In this sense, Wythoff suggests that his work is revealing of a "theory in progress, struggling to keep pace with technological advancements, while taking into account future possibilities" and often through literature. Insofar as this literary framing contrasts the matter-of-fact and didactic style of writing that Gernsback was known for, Wythoff does the archaeological work of re-imagination that potentially reveals Gernsback to be an early critical tech theorist that I could compare with Friedrich Kittler, in line with the German media school of machine analysis.
*
Ana Marques da Silva and Manuel Portela's "A Strange Metapaper on Computing Natural Language" is a paper within a paper. Following the authors, let me call the paper within the "embedded paper." The larger body, "A Strange Metapaper," has five parts:
A. an analysis of the method in the embedded paper
B. an analysis of the embedded paper
C. a comparison of computational generative writing with the kind of non-computational generative writing that is the stuff of peer review, including actual peer reviews for the embedded paper itself
D. the embedded paper itself as a demonstration of the tensions between computational generativity and representing natural language
E. a "double coda" that muses on the academic paper that participates in these two layers of textual generation.
I wasn't sure how to read "A Strange Metapaper," so I considered reading the embedded paper (part D) first, in order to understand what at first appears to be the crux of the paper. In this case, I would receive the content in the same order as the reviewers: D, A, B, C, D, E, thus making my own observations about the issues of computational generative writing before I received any of the authors' own commentary on the practice of peer review and paratext. This positioning makes sections A through E (including the second reading of D) seem like the authors' reflection of the experience of putting one's work through peer review—a reflection that generates its own textual response, this metapaper.
However, I opted for A, B, C, D, E, framing the embedded paper with its critical and exploratory questions. This reading allowed D to be a case study that demonstrates, through its own framing, what hyper-aware and complicit commentary looks like in action. Da Silva and Portela's key point holds: language begets language in various systems of textual generation—whether that is computational or institutional. Though in choosing which route to take, dear e-lit reader, you know to choose your own adventure.
*
In Mario Aquilina's position as a self-conscious riPOSTer, da Silva and Portela successfully create a "hyper-awareness of genre" itself, whereby Aquilina focuses on the genre of review writing as paratextual. In this way, he remarks upon the metapaper's ability to "tur[n] the paratextual into the textual, the supplementary into the constitutive, and the countersignature into a signature." The additives of reflection, commentary, and supplement that are required in the practice of peer review and that ebr itself encourages through our riPOSTes follow that the text is destabilized through its generation of additional layers and layers of language. Generational paratextual! Computational! Institutional! Cultural! Infrastructural! The outside permeates within.
Thus Aquilina asks the pertinent and playful question: "How does one create, not simply a machine for the creative generation of language, but a machine for the generation of the critical, possibly evaluative, riPOSTes that are conscious of the institutional framing of the text they generate?" Certainly through riPOSTes, ebr encourages hyper-awareness in critical editing, and our next objectives in the future of scholarly publication aim to think through interaction and response in terms of vibrant textual ecologies. What these textual ecologies look like, however, depend on that which is generated by the community—by readers-as-writers like you.
*
ebr is in the process of updating the site's author pages. If you have written an essay or review for the journal and would like for us to update your bio, please send the revised copy (including links) to Will Luers (wluers@gmail.com).
—Lai-Tze Fan
Associate Editor and Director of Communications, ebr