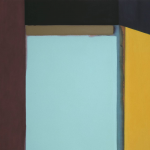 11-03-2019
This month, ebr publishes a review of Steve Clay and Ken Friedman's Intermedia, Fluxus and the Something Else Press: Selected Writings by Dick Higgins, reviewed by Betsy Sullivan and Virgina Kuhn.
Known for his work on intermedia, in particular his 1965 essay "Intermedia," Dick Higgins has been called writer, artist, and theorist. In their review "Many Lives to Live," Betsy Sullivan and Virginia Kuhn identify Higgins' unique technological literacy for his generation. In this vein, they highlight that the collection is able to represent Higgins' experimental approaches to creation, encompassing, in addition to his own writing, items from his working process that include drawings, charts, and other source material.
The relevance of Higgins' contributions persists now, with Sullivan and Kuhn noting that his work, which observes the dynamicism of content, media, and meaning, "help[s] us to imagine an approach to art and culture that values process over product and in so doing, stresses the human aspect of life in an increasingly mechanized and rapidly shifting society." Indeed, amongst conversations in media theory that encompass transmedia, multimedia, and multimodality, the notion of intermediality offers a framework through which to parse out mediated meaning making; the intermedial's emphasis on formal features echoes McLuhan's aphorism that the medium is the message.
*
Call for Papers:
The Digital Review is looking for submissions (short and long) for its inaugural issue.
The Digital Review is a biannual journal that publishes cutting-edge work that can support multimedia. If you're working on a research-creation project or have an essay that incorporates media, consider submitting an abstract. Or, encourage colleagues/students to submit something!
Deadline: December 15, 2019
*
ebr is in the process of updating the site's author pages. If you have written an essay or review for the journal and would like for us to update your bio, please send the revised copy (including links) to Will Luers (wluers@gmail.com).
—Lai-Tze Fan
Associate Editor and Director of Communications, ebr