Ray Federman
09-01-2001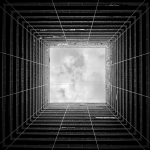 noise poem: Raymond Federman. audio recording and production: Eric Dean Rasmussen and Shaun Sandor
music/sound/noise recorded and produced by Eric Dean Rasmussen and Shaun Sandor.
Listen to poem in Quicktime audio. Download free Quicktime Player.
Ah aie -- aloah! Ahh aua -- alleh
Bobby bi. Beau: boo! Bo-By bi. Bunt: buh!
Baa -- Be: buy, beau, boo Baa -- bi: bauf, boen, buh
Cocky kike owe coup Kacki kikke auw kuh
Cock: eek! Eye Coke: ooh Kick: iik! Auk Kuk: uuh
Dah: Dee -- Dido do Da: Die -- Dieda do
eh! Eve ear elu: Elie eh! yves eahr ilu: Ellie
Fa: Fee fi fo foo Fah: Fee vie foh fuu
Goggy-guy go goo gaggy-gei geh guh
Hmmm! Hop-la Hhmm! hop-la
I iye yid id idea! iiiiiiiiii! I ei jid did idee!
ieieieieihhh!
Jaw: Cheech, I...Joe -- Jew? Jaw: tschiech, Ei...Joe --- Ju..
Kaka kuku kalo -- knop Kaka kucku kalo -- nopp
Lolly-lye -- Low Lou Lolly-lue -- lie luu
Law! Lee, lie low: loo Law! li, lu loh: luh
Mommy! My moe moo! Mammy! Mai mae muh!
Mommy -- Mime? Oh, mu Mammy -- Meim? Oh, mue
Nah -- Knee nigh, no new Nah -- Nie naeh, nei neu
oh!---------O---------- oh! oh!---------O--------- oh!
Poppy-pie: po-poo -- papo Pappe-pie: pa-puu -- papo
Pa? Pee? Piep? Oh, Poo! Pa? pi..? Peep? Oh, Puh!
Queue barbeauque quuquy Koe barbi Q kjuquei
Ra, rear-eye. Row, rue Ra, rar-aug. Rud, rei
Saw: cease I -- sew (Sioux) Saeg: ziehs Ei -- zu (Sioux)
Saucy sigh -- so sue! Sose soh -- su sue!
Saws ease, I sew sou saegs leicht, Ich naeh zou
Tati! Tie toe to... Tatti! Zei zeh zu...
Ugh! Uni uno una un Ugh! Uni uno una ein
Voila! Voix là: void vidi Voila! Stimme da: wo id geh seen
Wha --? We? Why? Woe! Woo Wha --? Wi? wieso? weh! wuu
Xuck -- seeks eye -- XO XU Xack -- such aug -- Xo Xu
You yid yup yup yoo You jid yap yap yuu
Zazie's eyes: Ozu Zazie´s Augen: Ozu
Zazeez, I zo! (Zoo)! Zazees´s Ich zo! (Zoo)!
Cite this Essay:
.
"A Disorganized Multilingual A to Z Poem"
,
Electronic Book Review
, September 1, 2001, http://electronicbookreview.com/essay/a-disorganized-multilingual-a-to-z-poem/.
Readers wishing to respond to an essay in
ebr
may send ripostes or short glosses to the journal's Managing Editor,
Will Luers
.