Mark C. Marino
,
Jeremy Douglass
04-03-2022
https://doi.org/10.7273/19n2-me51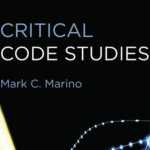 Mark C. Marino and Jeremy Douglass discuss the field of Critical Code Studies (CCS) and introduce three reports about the discussions of the CCS Working Group 2020.
The Critical Code Studies Working Group 2020 (CCSWG '20) was another watershed moment for this burgeoning field. On the one hand, it celebrated 10 years since the first Working Group. On the other hand, the fact that we were still convening working groups meant that scholars still needed help finding their way through code. Notably, we were also hosting this Working Group the year that MIT Press published Critical Code Studies.
We took the opportunity of the book launch to spend Week 1 introducing Critical Code Studies (CCS) to the participants in a new way. While the Working Groups always feature scholars who return every two years, many of the participants attended for the first time. We hoped that the Week 1 thread could orient these participants, and certainly it did. It was an exciting moment for CCS: with the publication of the book, future Working Groups would have a dedicated primer. Co-organizer Mark Marino was excited to share the book's introduction with participants in anticipation of its March publication. Having developed CCS from the earliest days, co-organizer Jeremy Douglass volunteered to make the intro video. He's always been at the core of CCS and the Working Groups, from planning to participating, and Mark was glad to highlight his role.
In Weeks 2 and 3 we continued our emphasis on complex social issues. Indigenous Programming offered an alternative to the postcolonial centrality of global Englishes, which orients program languages to one particular culture. Indigenous scholar and game designer Outi Laiti's discussion of Indigenous programming language and ethnoprogramming offered an important counter to this hegemonic use of English as a basis for the most common programming languages. Cree#, an Indigenous programming language developed by digital media artist and scholar Jon Corbett,served as a powerful glimpse of how code and the computational landscape could be different if programming were rooted in Indigenous culture ideas and practices. Digital artist Daniel Temkin offered his expertise in esoteric programming languages (esolangs) to enrich that discussion by grounding it in edge-case and highly experimental languages.
Week 3 brought CCS into the world of artificial intelligence and its intersection with feminist critique with the guidance of Christine Meinders, founder of Feminist.AI, a community-based AI research and design group. While just an initial foray, this week allowed us to consider how CCS could intervene in this space. In many ways, this gendered conversation continued our 2016 discussion of the potential of a feminist programming language. Both discussions involve mixtures of speculation and attempts at using various methodologies.
The excitement of this working group was tempered by the gradual awareness that we were heading into a global pandemic. People were already showing a certain amount of strain. Also, we would note that as in other weeks and years when we focus on the social rather than the formal dimension of code, conversations are a bit more cautious, and rightfully so. At the same time, this was only the second CCSWG that offered all of its threads online open for viewing even by nonparticipants. That wider audience also, we believe, led people to comment cautiously. Still caution plays a useful role, since it demands participants ensure they post what they mean, drawing forth a more carefully wrought and more substantive form of participation. Of course, the prospect of republication in the renowned electronic book review calls forth even more thoughtful posts in the forum.
Cite this Essay:
Marino, Mark C. and Jeremy Douglass.
"TL;DR: Lessons from CCSWG 2020"
,
Electronic Book Review
, April 3, 2022, https://doi.org/10.7273/19n2-me51.
Readers wishing to respond to an essay in
ebr
may send ripostes or short glosses to the journal's Managing Editor,
Will Luers
.