Astrid Ensslin
11-04-2018
This essay was peer-reviewed.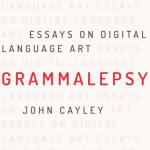 From an author celebrated for a career devoted to the digital, Cayley's book offers a cogent demonstration that "verbal language has been ideologically fettered to the medium of print for far too long." Ensslin, in her riposte, notes how Cayley's venture into a pre-digital format resonates with numerous recent works (in print and online; creative and critical), offering a "much-needed pathway out of institutionalized literary systems and practices.
In Grammalepsy, Cayley confronts his readers with an existential paradox: a physical, printed object that simultaneously queries and corroborates, through its very own materiality, the substance of its own message. From its humble hypertextual beginnings, the electronic literature community has grappled with the challenge of wanting to express its foundational ideas through non-linear alternatives to print, and yet its main scholarly contributions – from Landow (e.g. 1992) to Hayles (e.g. 2008) and Rettberg (e.g. 2019) – have been dependent, for impact and recognition, on book-boundedness and the institutional-hierarchical confines of print publishing. Following this curiously masochistic trend, Cayley leverages the form of the codex to provide us with a new angle on the human condition. He reminds us that it is not enough to define our ontology in terms of the ability to express ourselves and interact through language: we all suffer from and are genetically defined by this complex and simultaneously restrictive and enabling condition called grammalepsy.
On the one hand, and with a nod to Derrida, grammalepsy means we cannot resist our innate need to codify and "grammatize" because we consider it part of our social responsibility to preserve our aural heritage as best we can, no matter how challenged we may be by the evanescence of "natural" storytelling (Fludernik 1996) -- be it on Instagram, Reddit, or around the campfire. And quite clearly, this need deserves to be fostered and supported by resources that help the electronic literature community – best represented by the Electronic Literature Organization and projects like Pathfinders (Grigar and Moulthrop 2015) – preserve and provide access to the full range of aurature now, then, and in the future.
On the other hand, realizing with Cayley that we do suffer from grammalepsy – albeit not "pathologically" – helps us recognize the liberating potential of digital media and turn the condition into a creative force of innovation. Verbal language has been ideologically fettered to the medium of print for far too long, thus depriving it of its own multimedial qualities and its inherent adaptability to dissemination technologies from papyrus to pixel. Language is a McLuhanesque medium in its own right, or, to put it more accurately, a hyperonym for a variety of semiotic modes, each of which comes with its own culture-specific conventions of use, its own paradigmatic and syntagmatic combinatory affordances, and context-dependent pragmatic potential. "Media-agnostic" verbal language alone can occur in a multiplicity of national, regional, and stylistic varieties and combinations of natural and computational codes. The media in which these expressive forms occur shape the potential uses and meanings of various semiotic modes, and each digital language art-efact thus has to be seen as a stand-alone, unique manifestation of the semio-medial liberties that digital language artists have at their disposal, or indeed create for their own practices and those of others.
Although the illness metaphor evoked by Cayley's titular suffixation may seem inhibiting, the complexity of his underlying ideas helps to move us toward an idealist image of humanity faced with the challenges of algorithmic culture . The main ideas of this book thus deeply resonate with my own scholarship and day-to-day cyborgianism on many levels. Cayley offers a refreshing outlook vis-à-vis the datafication and cliché-ization of everyday linguistic creativity. This trend is perhaps best exemplified by Google Smart Compose which, ironically or not, exposes the human author to their own expressive shortcomings and robotic inclinations, and raises the need for alternative, "evolved" forms of (trans-)semiotic creativity. Grammalepsy strongly jibes with my own work on the multi-layered, pluritextual discourses of digital games and gaming, for example, and the analytical tools I propose for games and other types of digital-born fictions that take into account their medium-specific, multimodal, procedural and gestural qualities (Ensslin 2012, 2018; cf. Bouchardon 2014). As Hawreliak (2019) explains, procedurality itself has to be considered a semiotic mode in ergodic narratives and integrated into theories of multimodal discourse. By the same token, what I call ludo-literary artefacts that give rise to diverse forms of "literary gaming" (Ensslin 2014) can only be understood productively if we conceive of the "literary" as an increasingly malleable and inclusive phenomenon that can integrate the likes of fan fiction, meme culture, Internet Ugly, Instagram Poetry, and the poetic worlds of 3D immersive and VR works such as Chalkroom (Anderson 2017), Thanner Kuhai (Dreaming Methods 2018), WALLPAPER VR (Dreaming Methods 2018) and All the Delicate Duplicates (Campbell and Breeze 2017).
What makes Cayley's book so distinctive is the way in which it embodies its own generative procedurality. The term and concept evolved through and thus reflect Cayley's very own creative practices, which makes his alternative philosophy of (creative) language so appropriate to the new age of literary arts. At the same time, it offers a much-needed pathway out of institutionalized literary systems and practices, as a way to reconceptualize canon as deeply posthuman con-formation that enables "catastrophic" moments of iterative insight and transfiguration.
References
Anderson, Laurie (2017) Chalkroom, http://www.laurieanderson.com/?portfolio=chalkroom.
Bouchardon, Serge (2014) "Figures of Gestural Manipulation in Digital Fictions," in Alice Bell, Astrid Ensslin, and Hans Kristian Rustad (eds) Analyzing Digital Fiction. New York: Routledge, 159-175.
Campbell, Andie and Mez Breeze (2017) All the Delicate Duplicates, https://dreamingmethods.com/portfolio/delicate-duplicates/.
Dreaming Methods (2018) WALLPAPER VR, https://dreamingmethods.com/portfolio/wallpaper-vr/.
Dreaming Methods (2018) Thanner Kuhai, https://dreamingmethods.com/portfolio/thanner-kuhai/.
Ensslin, Astrid (2012) The Language of Gaming. Basingstoke: Palgrave Macmillan.
Ensslin, Astrid (2014) Literary Gaming. Cambridge, MA: MIT Press.
Ensslin, Astrid (2018) "Gestural Semiotics and App Fiction," ELO 2018 conference, Montreal, paper delivered on Aug. 14th, 2018.
Fludernik, Monika (1996) Towards a "Natural" Narratology. London: Routledge.
Grigar, Dene and Stuart Moulthrop (2015) Pathfinders: Documenting the Experience of Early Digital Literature. http://scalar.usc.edu/works/pathfinders/index.
Hawreliak, Jason (2019) "On the Procedural Mode," in Astrid Ensslin and Isabel Balteiro (eds) Approaches to Videogame Discourse. New York: Bloomsbury. Forthcoming.
Hayles, N. Katherine (2008) Electronic Literature: New Horizons for the Literary. Notre Dame, IN: University of Notre Dame Press.
Landow, George P. (1992) Hypertext: The Convergence of Contemporary Critical Theory and Technology. Baltimore, MD: Johns Hopkins University Press.
Rettberg, Scott (2019) Electronic Literature. Hoboken, NJ: Wiley. Forthcoming.
Cite this Essay:
Ensslin, Astrid.
"Riposte to Grammalepsy: An Introduction"
,
Electronic Book Review
, November 4, 2018, http://electronicbookreview.com/essay/riposte-to-grammalepsy-an-introduction/.
Readers wishing to respond to an essay in
ebr
may send ripostes or short glosses to the journal's Managing Editor,
Will Luers
.
This essay was peer-reviewed.