Scott Rettberg
03-28-2003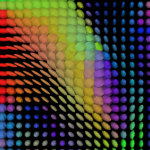 Scott Rettberg introduces 'New Media Studies': a cluster of reviews, and a term (similar in its emergence to the term 'Postmodernism').
At Richard Stockton College of New Jersey, the administration gives its faculty members very specific titles. One day last fall, I was walking down one of the forking paths that crisscross the campus's pine barrens and talking with Tom Kinsella, an Associate Professor of British Literature, one of the faculty who served on the search committee that recently hired me as an Assistant Professor of New Media Studies. "So Scott," Kinsella asked, "I've been meaning to ask you - just what is New Media Studies anyway?" I answered, "Well, it's really too early to give you a definitive answer. But we're studying the question."
What do we talk about when we talk about New Media Studies? Certain neologisms leap to mind: hypertext, cybertext, technotext, electronic literature, 'net art, digital textuality, codework, medial ecology, multimedia, and interactivity -- to list a few. But what do we mean by "new" media? We're usually talking about art, literature, and other kinds of cultural "objects" made for computers and networks. But how long will those new media stay new? At what point will the new media become just-another-media? I wonder if "new media" might soon reach the state in which "postmodernism" now finds itself, having reached the point where, if we all know what we're talking about when we mention it, it becomes a little awkward to name it out loud. What, after all, comes after post-? How long does the new stay new? Twenty years from now, will the global network still be considered new media?
The first and, essentially, only commercial publisher of hypertext fiction, Eastgate Systems, recently celebrated its twentieth anniversary. Some of the first-generation hypertexts Eastgate publishes have even made their way into a Norton anthology. The Storyspace interface that many of the early hypertexts were developed in now seems charmingly anachronistic. Whatever else it is, hypertext is clearly no longer avant-garde. Much of the networked multimedia "Writing Beyond Category" that Mark Amerika found on the Web and mentioned in the first New Media Studies focus in ABR (November/December 2000) still smacks of shocking newness. Although the computer and the network are no longer so new, as the machines become faster and storage cheaper, as the applications become more refined and more robust, and as the communities of artists/writers/producers of new media culture continue to make, collaborate on, distribute, and remix their experiments in network writing, there are few signs that the practitioners of New Media Studies will run out of new work to study any time soon. While the population of fiction writers yearning to get their first publication in The New Yorker still dwarfs the party of writers hoping to write the Great American Network Novel, and the group of artists hoping to see their 'net art featured in the next Whitney Biennial is lilliputian in comparison to the number of painters desperate to get their first commissioned gallery show, the question of whether new media writing and Web art are fads is now largely moot. Enough work has been produced that New Media Studies will likely garner at least a chapter in the book of our collective cultural history (or at the very least several hyperlinked footnotes). Although the economic bubble of the Internet's "new economy" burst some time ago, the culture of the Internet persists, and its artists remain remarkably productive.
Something else is happening as well - while during much of the 90s it seemed as if electronic writing would be represented in "literary culture" as little more than Sven Birkerts's whipping boy - a sign of the onslaught of the philistine forces of technology against literature-as-we-knew-it - new media is now finding its place within traditional (and new) institutional infrastructures. The fact that there are few commercial venues for electronic literature or digital art aside (and perhaps to the benefit of these new forms as they are freely and openly distributed to a growing audience on the Web), noncommercial Web publishers such as Alt-X , The Iowa Review Web , electronic book review , Beehive , cauldron & net , and others are providing frames for the distribution and critical discussion of new media writing. Nonprofit organizations, such as the Electronic Literature Organization, trAce, and Rhizome, are facilitating the labor of the Web's cultural producers and helping to promote their work to wider audiences. And, perhaps most importantly for the long-term health of the new media art forms, New Media Studies is finding nests within universities in the US and around the world.
The academic institutionalization of New Media Studies is happening in several disciplines simultaneously - you'll find it in fine arts programs, communications programs, computer science programs, rhetoric programs, journalism programs, literature programs, and perhaps (finally) even creative writing programs. One of the milestones of the past year was Brown University's announcement of a graduate fellowship in electronic writing, a long-awaited acknowledgement of the importance of the work that Robert Coover and Robert Arellano have been doing in their electronic writing workshops for the past decade. And while, a decade ago, it would have been possible to study and create new media at only a handful of institutions, many more options are available today, not only in the Ivy League, and not only in flagship institutions such as the University of Colorado, the University of Iowa, and the University of California-Los Angeles, but even in such out-of-the-way locations as Baltimore, southern New Jersey, and Turku, Finland. I think it significant that four of the seven writers of the reviews in this focus (Chris Funkhouser, Matthew Kirschenbaum, Raine Koskimaa, and I) are currently teaching courses in New Media Studies, hypertext, cybertext, or some variation, and that these courses are not oddball one-off topic courses, but components of our programs' regular curricula: New Media Studies is becoming as ordinary an offering as British Literature.
This cluster of reviews is intended to give its reader some sense of what we talk about when we talk about New Media Studies. Matthew Kirschenbaum reviews what is undoubtedly the most important publication in New Media Studies released this year, The New Media Reader, published by the MIT Press and edited by Noah Wardrip-Fruin and Nick Montfort. The Reader is an 800-plus page tome (with CD-ROM) that aggregates articles, papers, and creative work developed in the formative years of the new media from the 1940s until the development of the World Wide Web. The Reader 's publication is an important event, as it offers this interdisciplinary field a core reading list, a set of common referents that might serve as a kind of Rosetta Stone as New Media Studies develops across multiple disciplines. Raine Koskimaa reviews N. Katherine Hayles' Writing Machines, a publication in which the accomplished critic and vocal advocate of electronic literature takes her readers on a tour of her own journey towards an appreciation of the materiality of literature and the possibilities of technotexts. Chris Funkhouser surveys Stephanie Strickland's V: WaveSon.nets/Losing L'una. This work by the accomplished print and hypertext poet, author of True North (1997) and "The Ballad of Sand and Harry Soot," marks another milestone -- the first time that a major commercial publisher (Penguin) has released a hybrid print-and-electronic work. Scott Hermanson offers a reading of literary critic Joseph Tabbi's Cognitive Fictions, a work in which Tabbi situates autopoietic fictions within a contemporary media ecology. (This review appears only in the ABR print version - ed.) The study of digital culture is also within the purview of New Media Studies and, along those lines, I provide a reading of David Weinberger's Small Pieces Loosely Joined: A Unified Theory of the Web.
Finally, any treatment of New Media Studies would be lacking without some pointers towards works that are themselves published in the electronic media. Print poet Maureen Seaton offers (in the ABR print version) an omnibus review of several electronic poems that were featured in the Electronic Literature Organization's 2002 State of the Arts Symposium Gallery. Rob Wittig argues that Justin Hall's links.net, arguably the first Web log, should be read as literature in the same vein as the correspondence of Henry Miller and Anaïs Nin.
In keeping with the print-and-electronic hybridization established in several of the works reviewed in this focus, following its print release in ABR, this cluster of reviews has now been made available online. Supplementing the print-born reviews, the ebr grouping also features original pieces by Jeff Parker and Komninos Zervos on, respectively, the Wardrip-Fruin/Montfort collection, The New Media Reader, and the Hayles/Burdick collaboration, Writing Machines.
Cite this Essay:
.
"New Media Studies"
,
Electronic Book Review
, March 28, 2003, https://electronicbookreview.com/essay/new-media-studies/.
Readers wishing to respond to an essay in
ebr
may send ripostes or short glosses to the journal's Managing Editor,
Will Luers
.